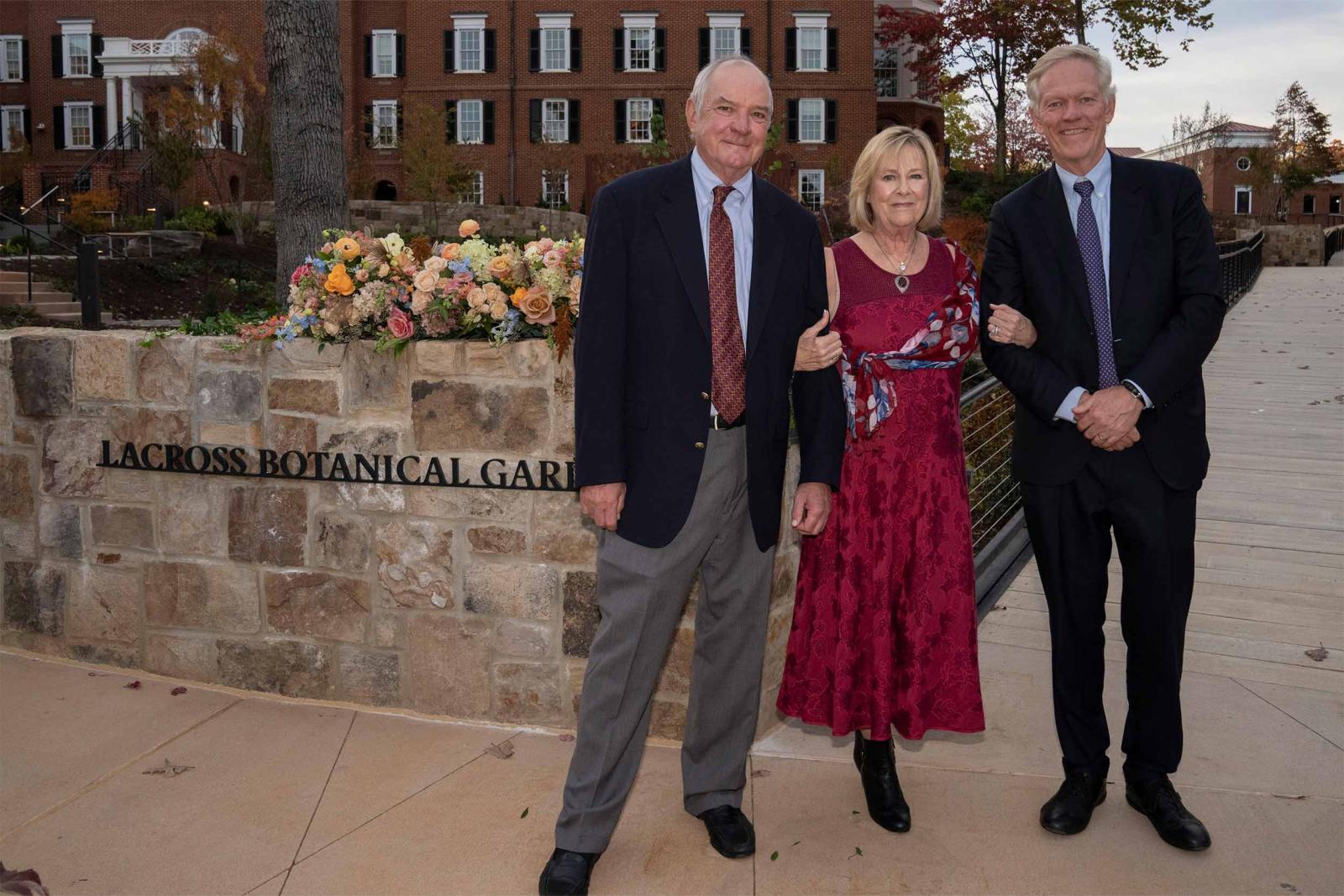 Darden Receives Largest Gift in School History
History was made Thursday night in the picturesque setting of the Goodwin Family Grounds at the University of Virginia's Darden School of Business.
In the newly minted LaCross Botanical Gardens behind The Forum Hotel, Darden Dean Scott Beardsley announced that alumnus David LaCross and his wife, Kathleen, updated their gift to Darden to more than $100 million.
The LaCross family made an initial gift of $44 million last October, which totaled $50 million with matching funds from UVA. Thursday's expansion will help pioneer artificial intelligence and a new residential college at Darden.
The gift is the largest in Darden's 68-year history and is among the top 10 donations to any business school. It puts the LaCross family among the top five donors to the UVA Honor the Future campaign.
"I would like very much, in the next 10 minutes, to be the second-largest donor," David LaCross quipped to a crowd that included the Darden School Foundation Board of Trustees, members of Darden's Principal Donors Society and UVA President Jim Ryan.
LaCross said he supports his alma mater because his Darden education "made his career trajectory possible." The 1978 graduate had a 10-year career at Bank of America, then founded Risk Management Technologies. His wife, Kathleen, graduated from UVA's College of Arts & Science in 1976.
"I admire Dave and Kathy so much," Ryan said. "The way that they have gone about their philanthropy in a thoughtful and understated way is truly admirable. They are making a difference not just for Darden, but for the entirety of the University, and I couldn't be more grateful."
Image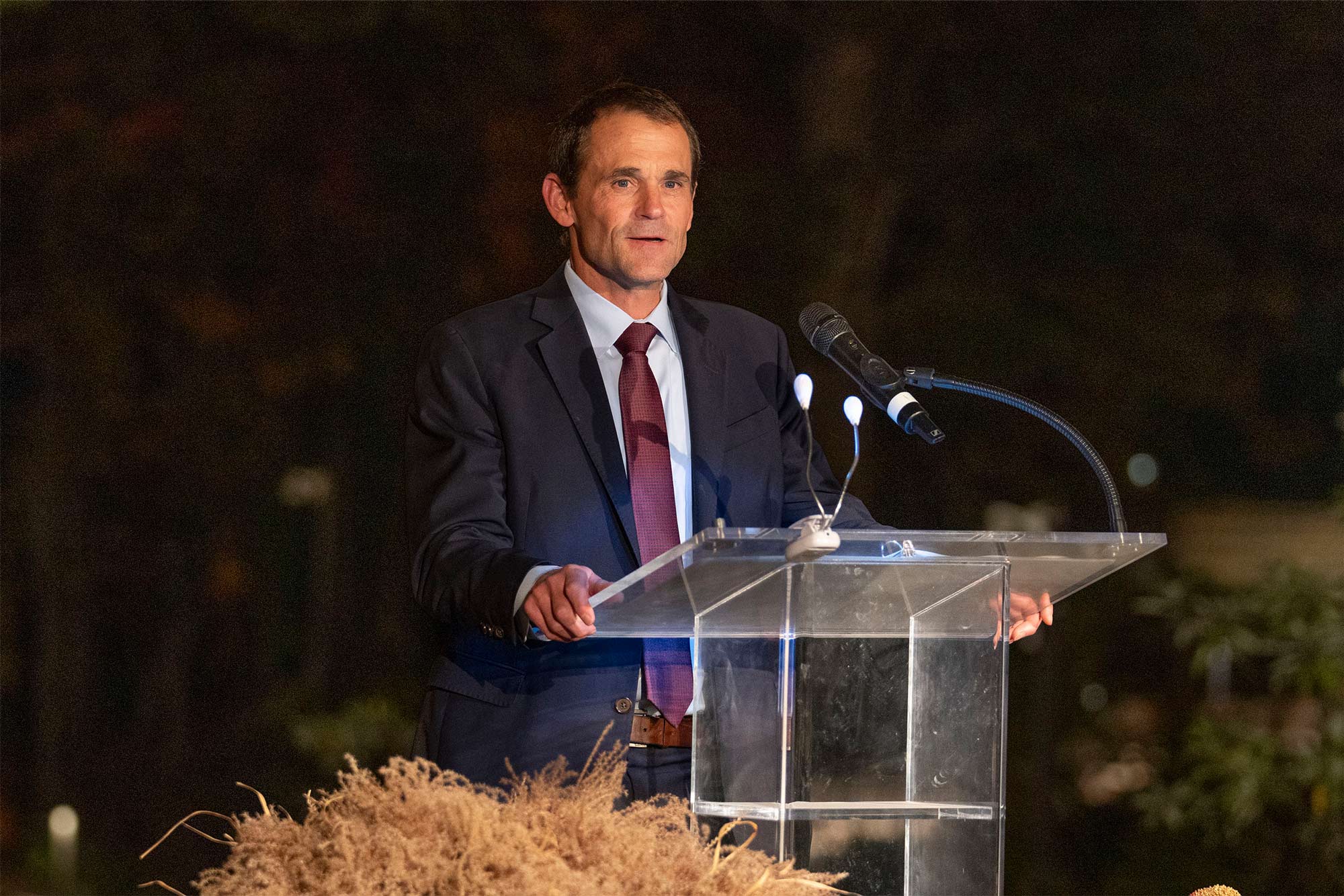 UVA President Jim Ryan said he "couldn't be more grateful" for the generosity shown by the LaCross family. (Photo by Dan Addison, University Communications)
October was the start of what's being called Milestone II of the Darden School's "Powered by Purpose" campaign, "Faculty Forward." The second milestone builds on the first, which achieved its $400 million goal two years before its expected 2025 conclusion.
The LaCross bequest fulfills one of Milestone II's top five priorities: to position Darden and UVA as trailblazers in research, teaching and deployment of artificial intelligence and other innovative tech applications in the business landscape.
The gift will fund research and instruction in artificial intelligence, its ethical implications for management, and the challenges and opportunities AI presents for business and society and well-being.
Darden's Artificial Intelligence Initiative was launched by LaCross' initial 2022 bequest. The new work on AI will involve both Darden's Institute for Business in Society and the Olsson Center for Applied Ethics.
Image
Beardsley, the LaCross couple and Ryan take a moment to commemorate a historic night for the Darden School of Business. (Photo by Dan Addison, University Communications)
The LaCross gift will enhance the Darden Centers of Excellence by advancing cutting-edge research, investing in new courses and modes of learning, and engaging with practice.
That is especially meaningful for LaCross, who said he's been interested in AI since the data analytics company Fair, Isaac & Company acquired Risk Management Technologies in 1997.
"At that time, we studied extensively if neural networks could help improve Fair Isaacs's credit score propositions and credit card fraud detection software," he said. "While we did not believe AI was ready at that point, I felt it was only a matter of time before AI technologies would be ready for prime time."
That time is now, he said.
Image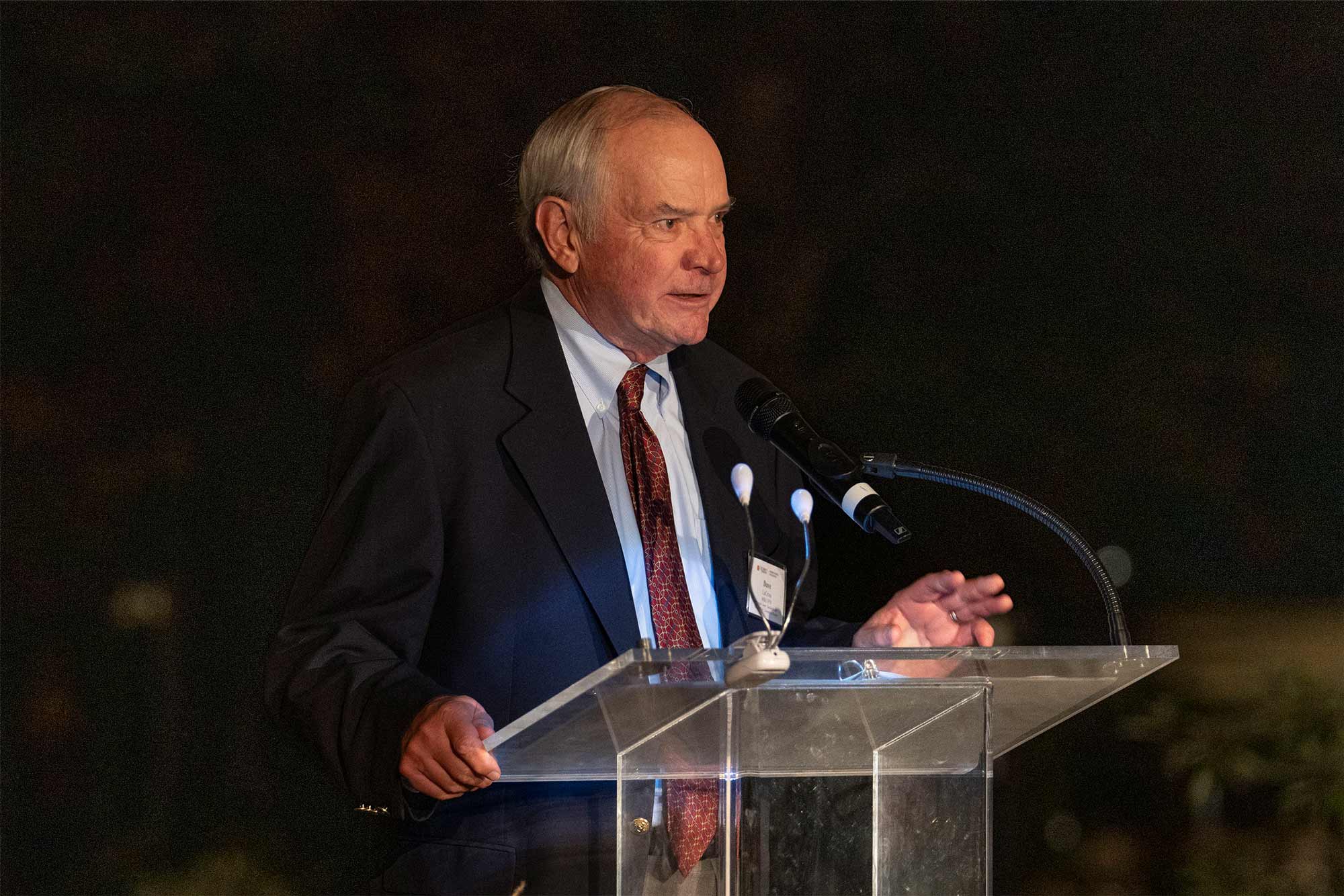 David LaCross is a 1978 Darden graduate who went on to a successful career at Bank of America and Risk Management Technologies, the company he founded. (Photo by Dan Addison, University Communications)
"Students need to be exposed to AI in meaningful ways, and there is no business school better positioned to teach managers how to work with AI in ethical and responsible ways than Darden," he said.
The LaCross bequest also will contribute to Darden's involvement in the Digital Technology and Society focus area of the University's Grand Challenges Research Investments.
As part of the LaCross family's initial gift to Darden, they named the abundant botanical gardens behind the façade of The Forum Hotel. The gardens serve UVA as an educational space and feature an outdoor classroom, pond, bridge and more than 7,000 trees and shrubs, including many varieties found at Monticello. The gardens were dedicated just prior to the gift announcement.
The LaCross family also provided the lead gift and seed funding for a new residential college at Darden. Approvals to begin the project will be sought in early 2024.
"The LaCross Botanical Gardens, in their full fall splendor this evening, prioritize connection and community and the importance of nature for our well-being," Beardsley said. "I can think of no better moment to name these gardens for David and Kathy LaCross and their family as they breathe new life into the Darden Grounds through their inspiring generosity."
Image