Image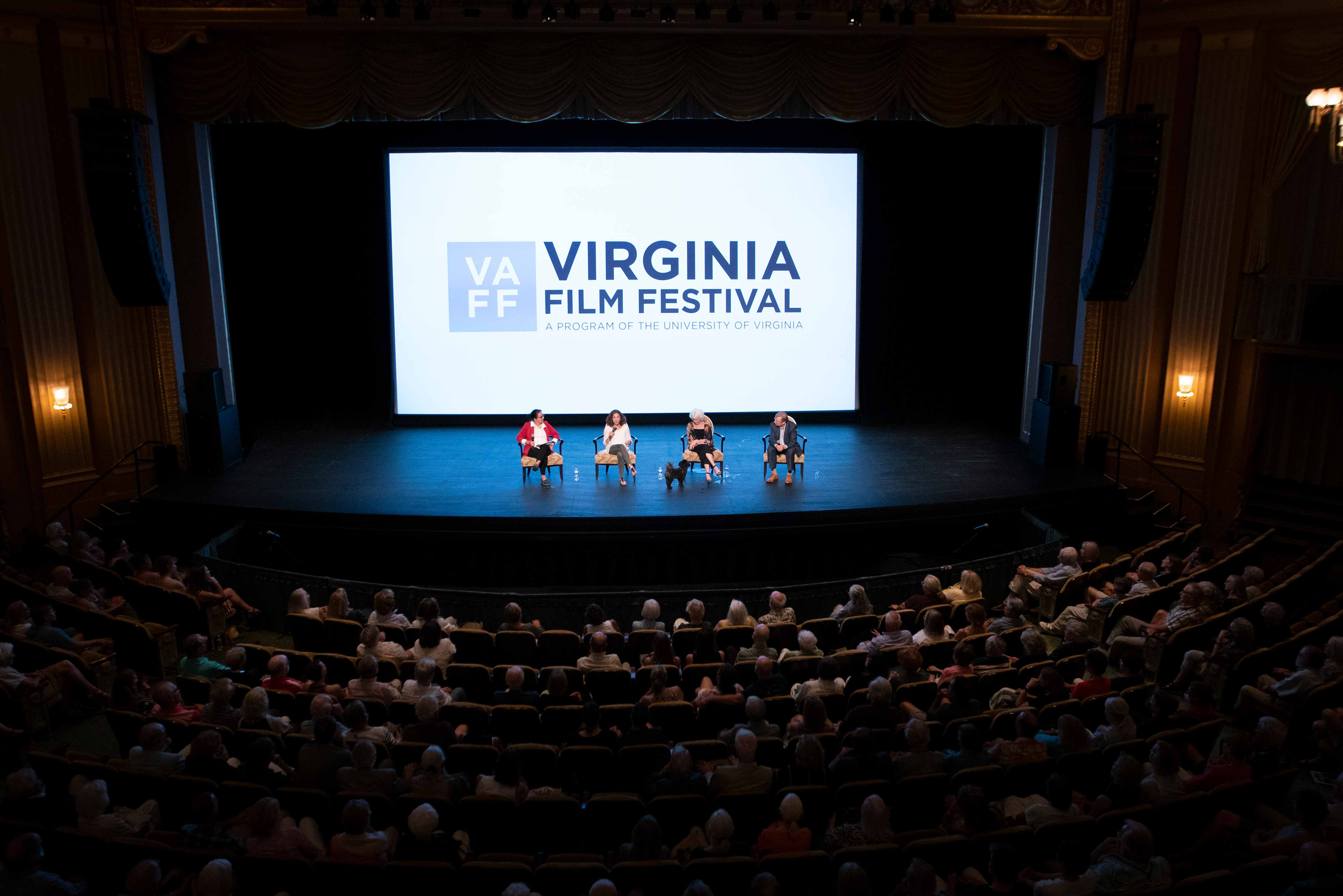 Diane Naughton (second left) was the executive producer of a documentary that received a special screening prior to the 2021 Virginia Film Festival.
"Kramer vs. Kramer" won Best Picture at the 1980 Academy Awards and went on to become one of the most popular films of the year. While it's not what most people consider a date night movie—it's not exactly "Urban Cowboy"—it holds a place of honor for Diane (Col '83) and Tim (Col '83) Naughton. They had their first official date at a screening that year in a Northern Virginia cineplex. Forty-something years later, they're still united as a couple and in their passion for the University.
Diane, who graduated with a degree in psychology, went on to receive her master's in health policy and management from the Harvard School of Public Health. She's worked in hospital administration at the National Institutes of Health Clinical Center, running programs in the areas of mental health, bioethics, and technology transfer. Tim, who received his MBA from Harvard Business School, has had a long career in real estate in the Northern Virginia area and is the chairman and CEO of AvalonBay Communities, Inc., a public real estate company.
Over the years, the Naughtons settled on giving to areas of the University that were important to them as a couple—and as individuals. Initially, they became involved in the ways that a lot of alumni do, through sporting events, reunions, and Greek organizations. After about 20 years, they started to look for ways where they could contribute more to the fabric of the University.
Image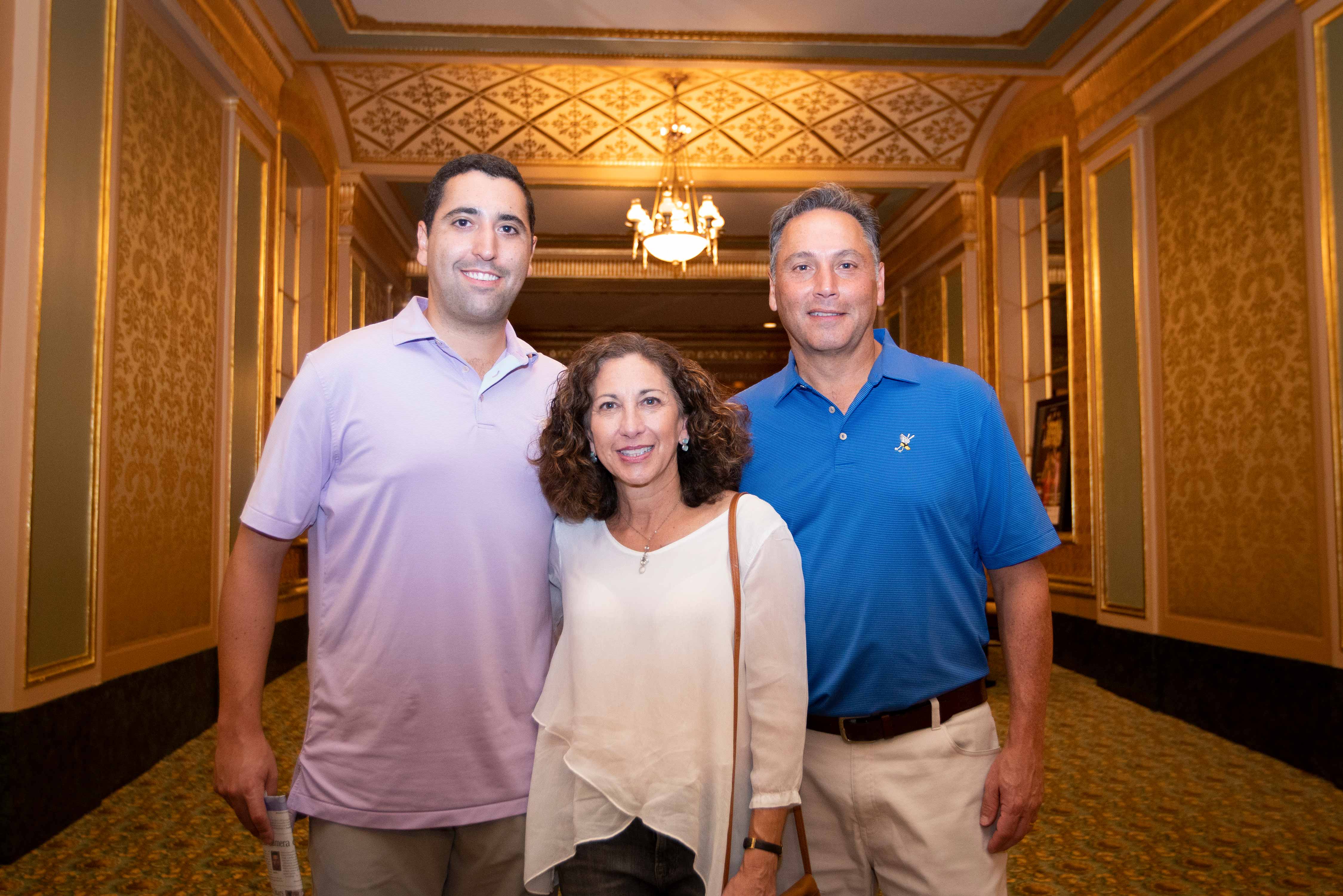 Diane and Tim Naughton, with son Danny (left), at a special July screening of "When My Time Comes" for the 2021 Virginia Film Festival.
Through her volunteer work at two Washington, D.C.-area nonprofits, the Medical Care for Children Partnership Foundation and the Arlington Free Clinic, Diane began producing and directing short promotional videos. "That was kind of my first foray into actually creating films myself," she said. "Then Tim and I got involved together as investors in two film funds." As a partner in Cavalier Films, she worked on script development, casting, marketing, and distribution strategy for Cavalier's first feature, "Familiar Strangers," where she also served as an assistant director during a three-week shoot in Staunton, Virginia. "That was a great adventure, and it showed me how collaborative and creative the filmmaking process could be."
Diane is executive producer of the 2019 documentary, "When My Time Comes," about the right-to-die movement in the U.S. The documentary, starring NPR's Diane Rehm, recently aired on public television and received a special screening prior to the 2021 Virginia Film Festival. She currently serves on the festival's board. "Getting involved with the festival seemed to be a good way to blend my interest in film with getting more involved in a substantive way at UVA," she said.
Opening Doors
The couple's collaborative efforts extend to a series of merit- and need-based scholarships they have created to assist in-state students. The first—the Timothy and Diane Naughton Bicentennial Scholarship—is a need-based scholarship established in 2017 for students from Virginia. It supported five students in 2019-20. "The first scholarship we created was an important and symbolic way to celebrate our 30th wedding anniversary," Tim said. "We wanted to help others have the opportunity to attend the special school where Diane and I first met."
The second scholarship, created in 2018, is a merit-based Jefferson Scholarship, but the Naughtons decided to include a need component and in-state requirement. It currently supports one scholar. Tim serves on the board of the Jefferson Scholars Foundation, where he also serves on the committee that oversees the selection process for the Walentas Scholars program, created by David (Engr '61, Darden '64) and Jane Walentas for first-generation college students.
Image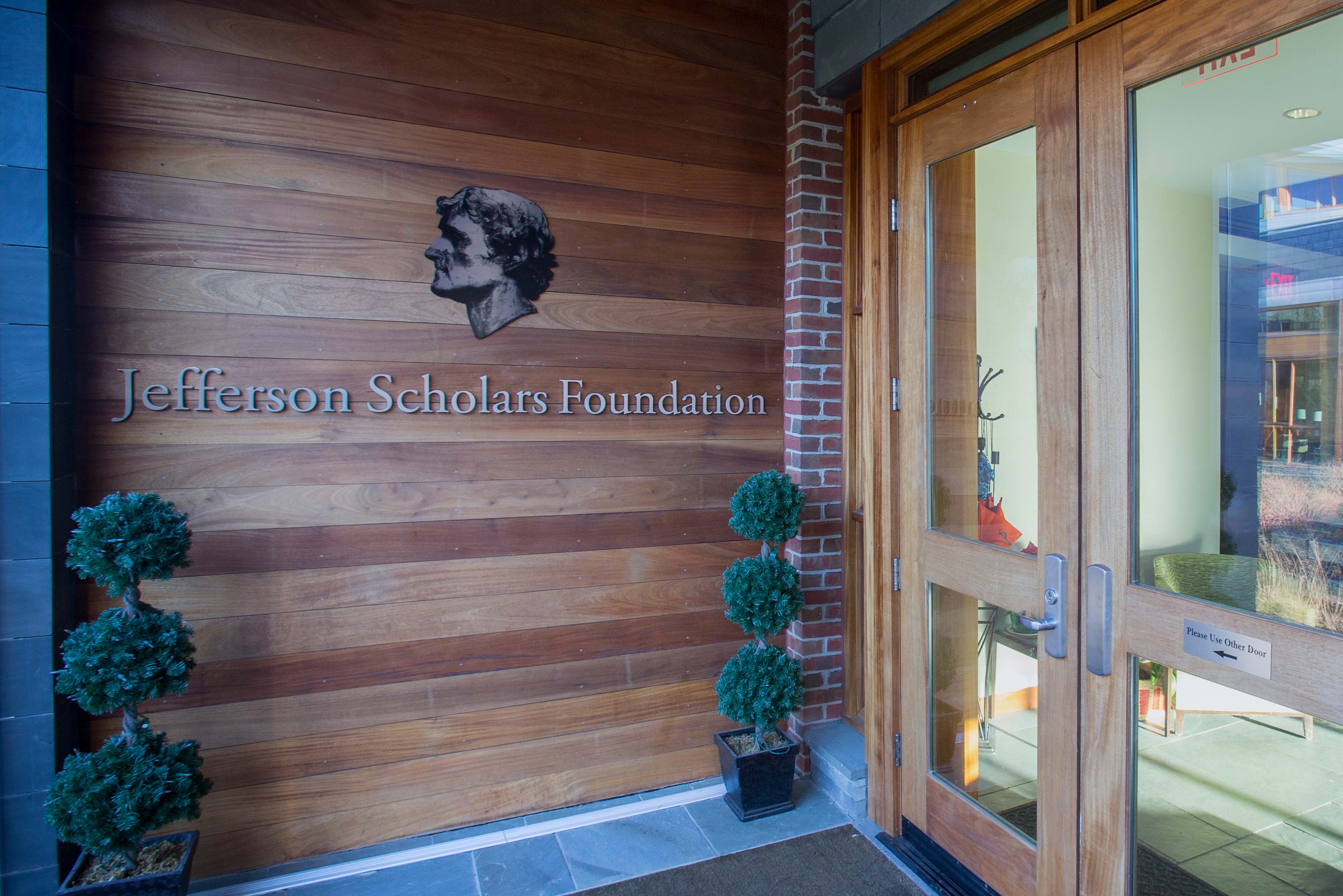 The Naughtons are longtime supporters of the scholarship program associated with the Jefferson Scholars Foundation.
The third scholarship, created this summer, is a separate Bicentennial Scholarship for an in-state, student-athlete. It has both merit- and need-based components, and like the Timothy and Diane Naughton Bicentennial Scholarship, qualified for a match through strategic funding provided by the Board of Visitors.
The Naughtons understand that to thrive at UVA many students must first overcome a daunting obstacle—finding the means to attend the University. "That's something that really resonated with me," Tim said. "I'm the son of first-generation immigrants. My father was the first in his family, and the only one of his siblings, to attend college, and I know it changed the trajectory of our family. A lot of these kids are first-generation, and it really has the opportunity to change their trajectories, too."
The range of the scholarships the Naughtons have created reflects a desire to have their philanthropy make an impact locally, on communities close to home, or in the state of Virginia. "This is a theme that guides most of our philanthropy—at UVA and elsewhere," Tim said.
Image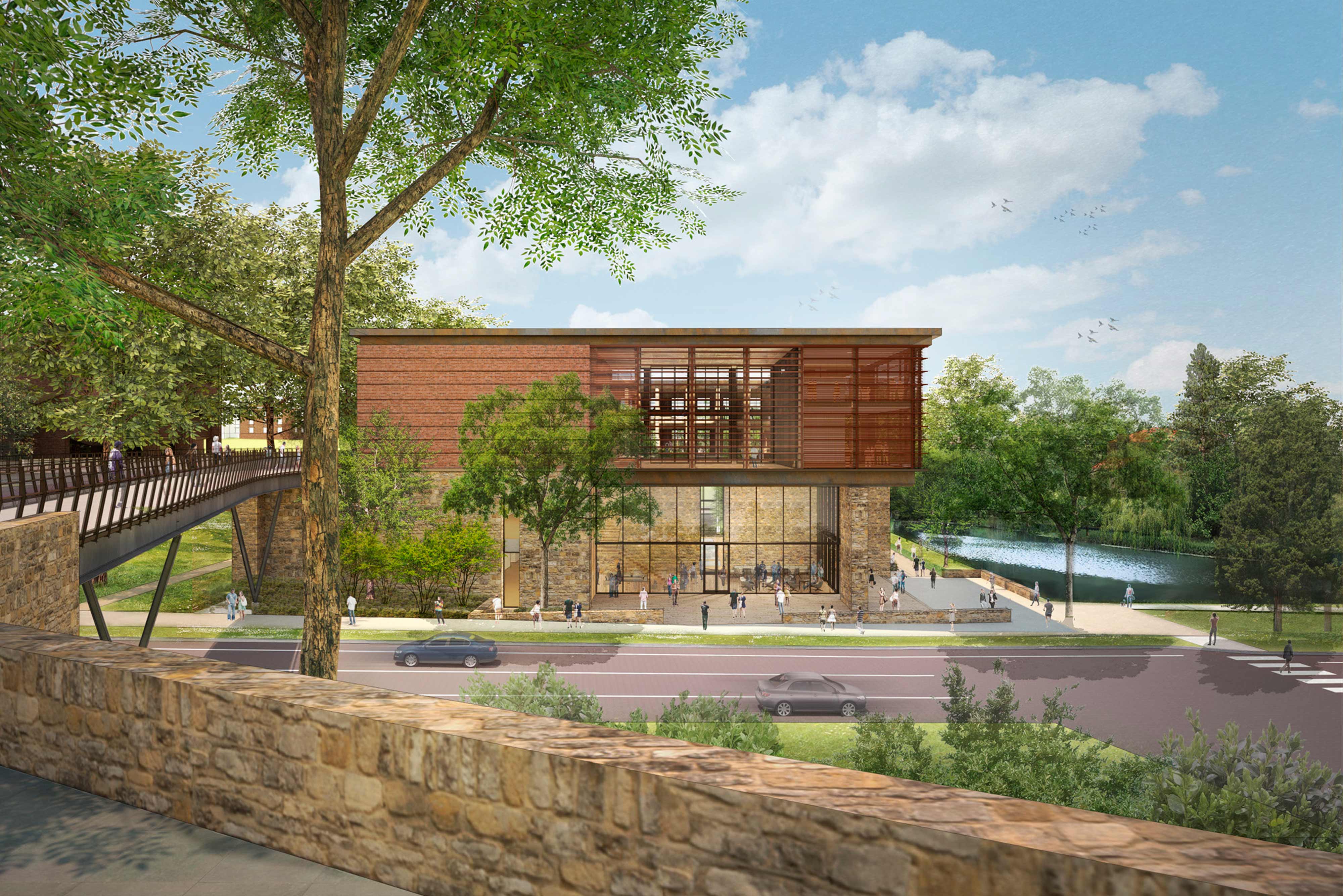 The Contemplative Commons will be a blend of academic classroom, research laboratory, immersive learning space, event space, innovation hub, and serene contemplative space.
Time to Think
On Friday, October 8, the University celebrated the groundbreaking of the Contemplative Commons which will become the new home for the Contemplative Sciences Center. The ceremony took place on the site of the future building at the Dell on Emmet Street. As a student, Diane spent a lot of time studying in the pavilion gardens on the West Range. She loved how peaceful they were, a welcome alternative to the library. "They were quiet, contemplative places where I could study, but they also allowed me to be outdoors. And thinking back on that, it makes total sense why I got involved with the Contemplative Sciences Center."
The Naughtons have contributed to the forthcoming Contemplative Commons, an innovatively designed building on Grounds that will bring students and faculty from different schools and disciplines together, foster collaboration, and encourage experimenting with new ways of teaching and learning. When it opens in 2023, the 57,000-square-foot Contemplative Commons will take full advantage of its idyllic location alongside the Dell pond and several new outdoor spaces, including contemplative gardens, a tree-lined courtyard, and a new green pedestrian bridge across Emmet Street.
Diane hopes the Contemplative Commons will be relevant not just for students but for alumni and for the wider community. "That's why it appeals to me, it's not just focused on skills for students, but it's also going to be connecting with the wider Charlottesville community and the public schools," she said. "My background is in public health and health policy, so I love seeing that they're trying to connect some of these mind-body skills with real measurable outcomes in terms of health."
"The new Contemplative Commons is going to be such a concrete representation of what we're trying to do, it's going to be a place of natural beauty and place of community," she said. "A place of creative expression and a place of quiet contemplation. To have all of those things in one spot is really exciting."
And here's where the Naughtons' philosophy of philanthropy comes full circle. "It's ultimately the cultural, athletic, civic, and leadership contributions of the areas in which we are involved philanthropically that help enhance the overall student experience and are part of what makes UVA such a special place," Tim said. "I think that's a big part of what motivates us."