Image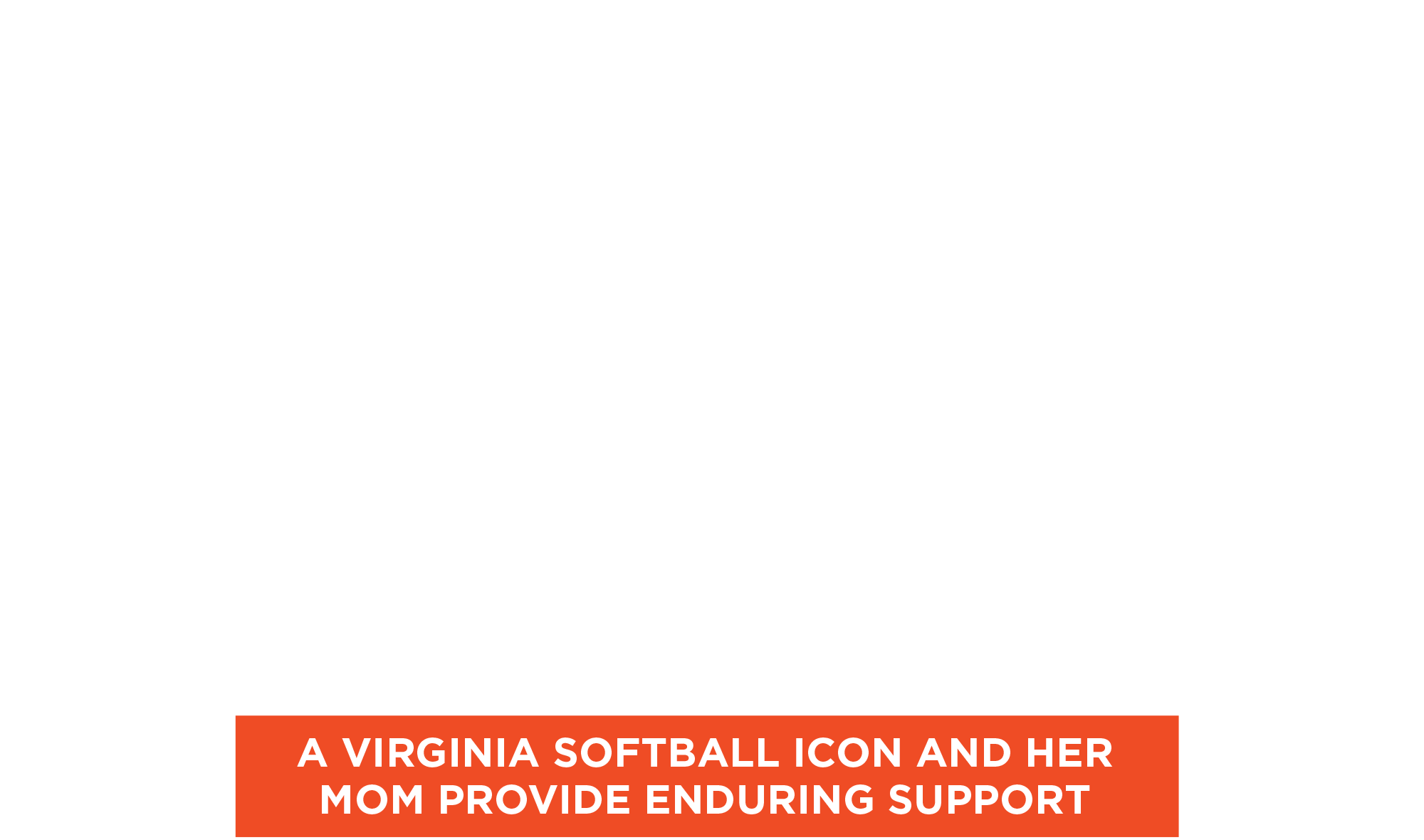 "Competing at that highest level teaches young adults so much about life. Our world—our communities—are better as a result of the athletes who come through universities like Virginia. These individuals learn so much about working together and about giving back. They contribute back to society."
—Lisa Palmer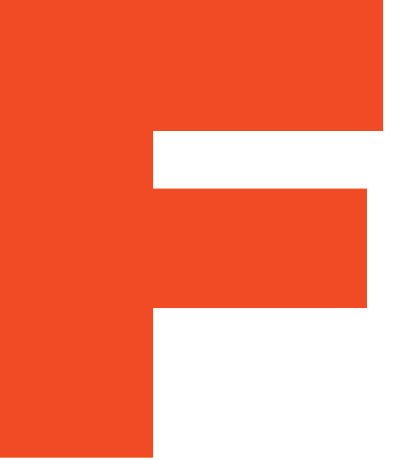 ran Palmer is indisputably Virginia Softball's biggest fan. Her daughter, Lisa Palmer (Col '89), pitched for the Cavaliers from 1986 to 1989. Fran attended every one of Lisa's weekend games, home and away. In Charlottesville, she'd park in the grass alongside the road to watch the team compete on an unassuming field where Klöckner Stadium now stands. For away games, she drove from her home in Pennsylvania and followed the team's minibus to tournaments as far off as Florida.
Lisa was a player to watch. She was the first player in Virginia Softball history to have her jersey number, 22, retired. You'll find her name throughout the program's record books; she holds the school record for shutouts in a season (14) and is tied for the most wins in a season (27).
Lisa majored in economics at UVA and went on to earn an MBA from the University of Pennsylvania's Wharton School in 1994. She is president and CEO of Regency Centers, a Jacksonville, Florida-based company that owns, operates, and develops retail centers throughout the U.S.
Image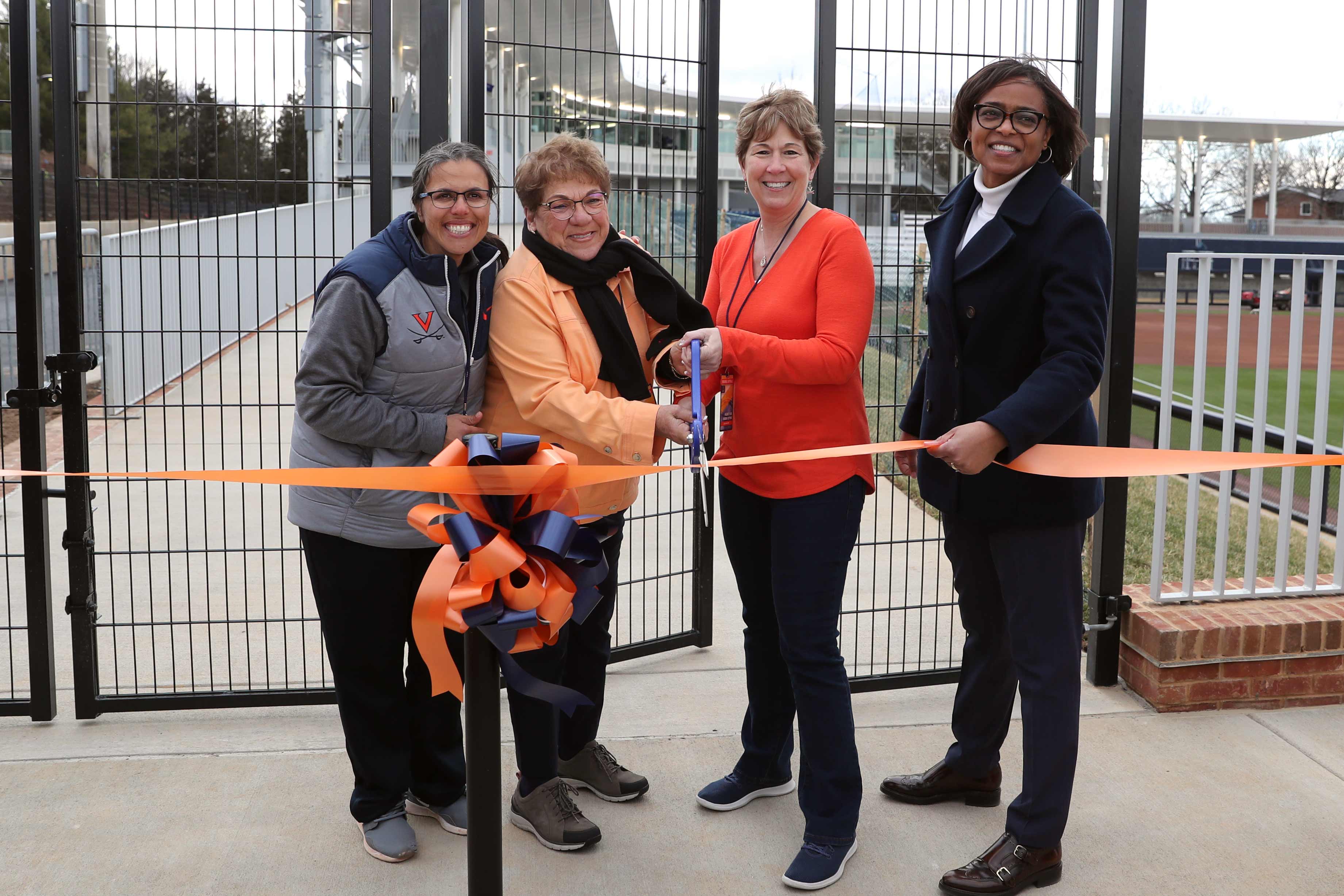 Virginia Softball Coach Joanna Hardin, Fran Palmer, Lisa Palmer, and Director of Athletics Carla Williams at the dedication ceremony for Palmer Park in March 2020. The Palmers advocated for the facility and provided the lead gift for its construction.
"The reason I chose to come to the University of Virginia was because of its great balance of really strong academics, really great athletic programs, and a wonderful college community," Lisa said. "And I was absolutely not disappointed. It was everything I expected it to be, and that's why I'm still really involved today."
Lisa came to UVA on an athletics scholarship. The Virginia Student Aid Foundation—now the Virginia Athletics Foundation—made sure that the scholarship athletes knew their scholarships were made possible through private support. "I really did understand that it was alumni and donors that were providing me the opportunity to have that experience at UVA," she remembered. "They encouraged us to begin giving, even if it was $10."
It was a lesson that stayed with Lisa. In 2014, she and Fran endowed the Lisa and Frances Palmer Endowed Softball Scholarship, which is awarded annually to a Cavalier softball player from outside the commonwealth who exemplifies leadership, hard work, and dedication to the team. Mikaila Fox (Col '23), an infielder from Ocean Springs, Mississippi, has received the scholarship for three years. "I am very grateful and blessed to have been the recipient of this scholarship. What Lisa and Mrs. Fran have done for the softball community here is just unbelievable. It is amazing to see how the alumni who played still are involved and want to do whatever it takes to help the softball program succeed," Fox said. "Getting to know Lisa and her mom has been one of my biggest blessings here. They have taught me so much about softball, adversity, and life after college. They are truly amazing people and role models. I cannot wait for others to be impacted by this scholarship as much as I have been."
Image

Infielder Mikaila Fox has received support from the Lisa and Frances Palmer Endowed Softball Scholarship for three years.
The Palmers' ultimate goal, though, was a new stadium for the team. When plans for a facility gained traction, the mother and daughter were ready with a lead gift.
In 2019, the Board of Visitors approved the naming of the stadium to Palmer Park in honor of Lisa and Fran's generosity and advocacy. Coach Joanna Hardin and the Cavaliers hosted their first home game in Palmer Park in spring of 2020. Lisa, Fran, Lisa's former coach, Terry DeTuro, and many former players—including Lisa's teammates and alumnae who played in the years after them—returned for the dedication. "To see the number of people who came back, you could see how meaningful the opening of that facility was," said Lisa. "To see that change after experiencing the challenges of not having that level of support for women's softball and for women's sports generally."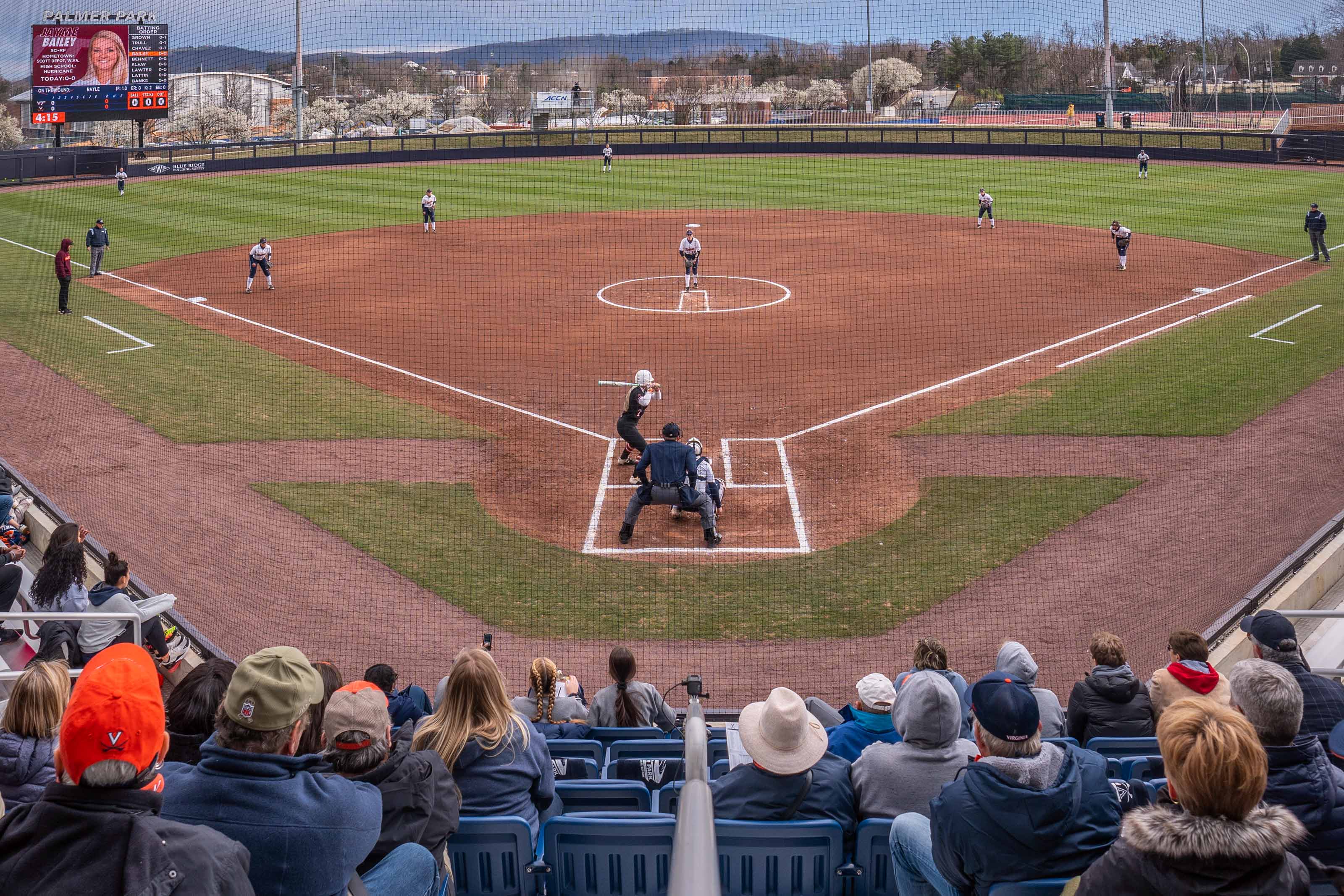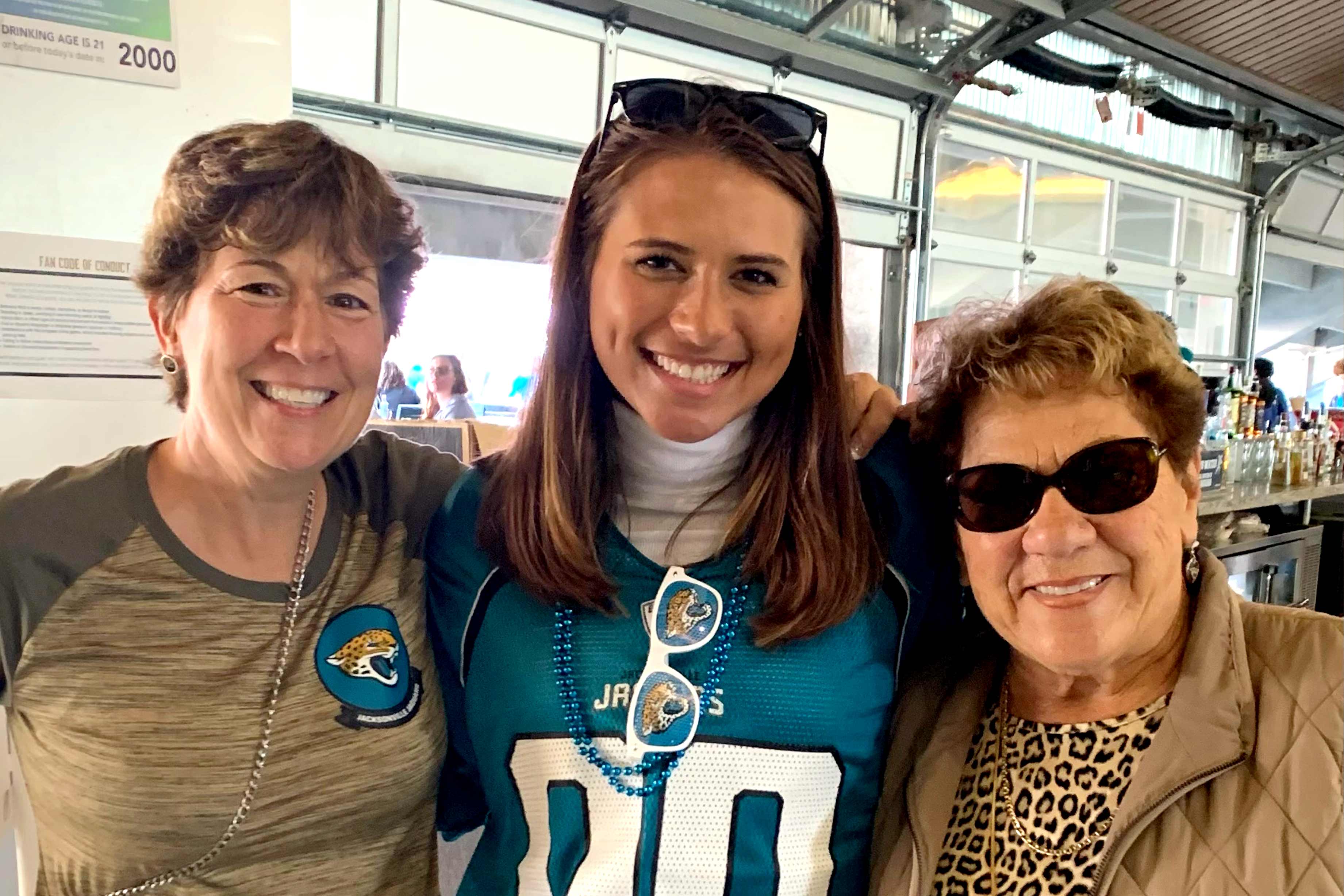 Left: The demand for season tickets for Virginia Softball's inaugural season in Palmer Park was three times higher than anticipated.
Center: Lisa Palmer, scholarship recipient Mikaila Fox, and Fran Palmer at a Jacksonville Jaguars game. Lisa is president and CEO of the Jacksonville-based Regency Centers.
Palmer Park includes a player development center, locker room, team lounge, training room, and press box. Virginia Softball fans were excited about the chance to watch the team compete in the new stadium—the program's goal to sell 40 season tickets for the 2020 season was exceeded threefold.
Lisa believes that the partnership between athletics and academics is what sets the University of Virginia apart. "The athletics department and leadership continue to hire coaches, administrative staff, and team members within their organization who really value the academic integrity of Virginia," she said. "And I think that's really important."
She sees the benefits of that partnership reach well beyond the playing fields of the athletics precinct and the classrooms on Grounds. "Competing at that highest level teaches young adults so much about life," she said. "Our world—our communities—are better as a result of the athletes who come through universities like Virginia. These individuals learn so much about working together and about giving back. They contribute back to society."