Image

Honor the Future: Campaign Kickoff Brings Fanfare, Reflection and Big Dreams
Posted on UVA Today | By Caroline Newman
There was a little extra excitement in the air Saturday as the University of Virginia kicked off its "Honor the Future" campaign with events ranging from research panels and discussions to a one-of-a-kind Lawn concert.
On a cool Virginia fall day, UVA alumni, students, faculty members and employees – some of them freshly showered from the morning's Community Bridges 5K – convened in the Rotunda and around Grounds for a series of talks showcasing some of UVA's most exciting research.
Later, they gathered at Old Cabell Hall, where UVA President Jim Ryan laid out his vision for the University's future, and four distinguished alumni – National Institutes of Health Director Dr. Francis S. Collins, humanitarian and former NFL star Chris Long, astronaut Leland Melvin and White House veteran Cheryl Mills – shared the profound influence UVA had on their lives, before and long after graduation.
Image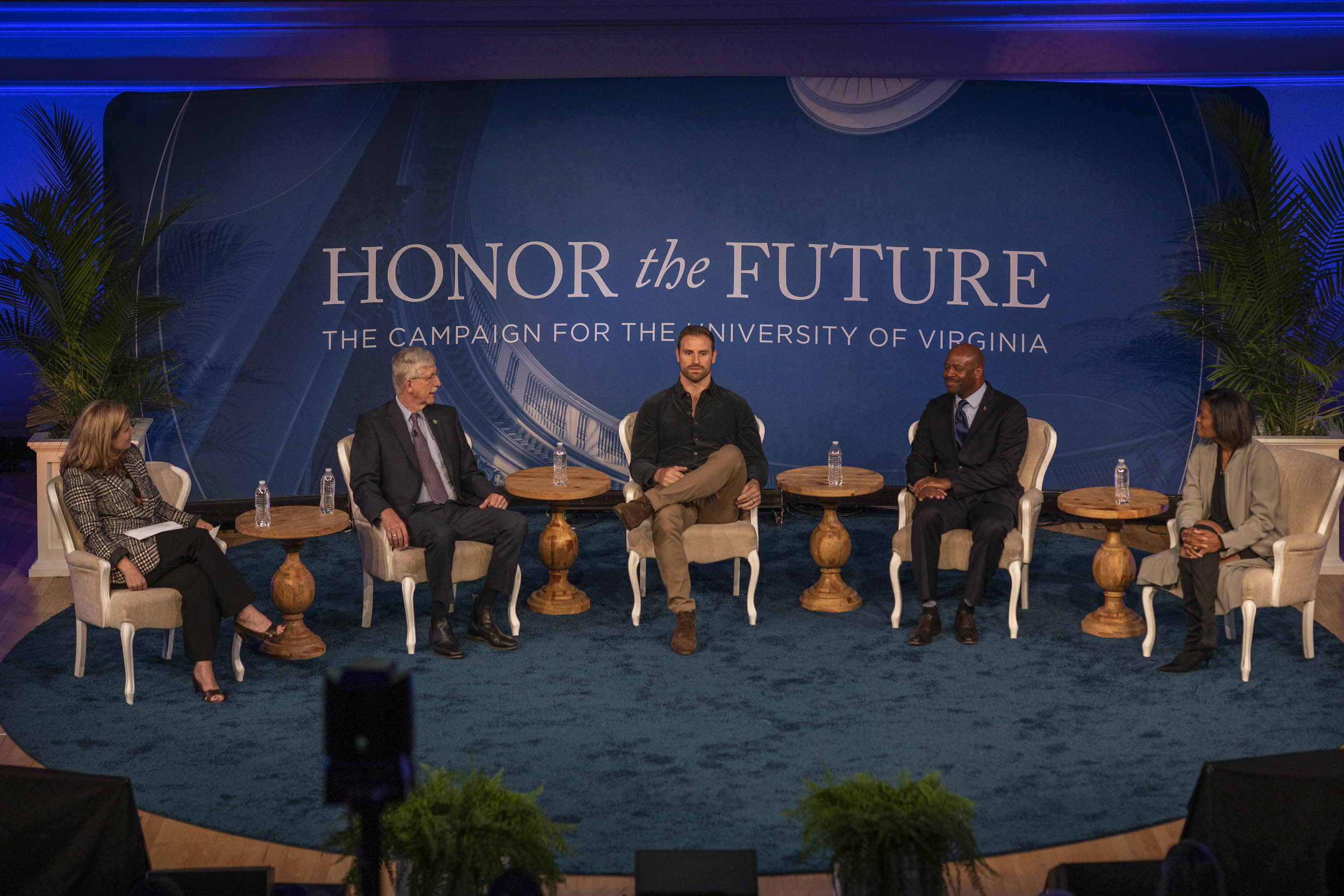 UVA provost and panel moderator Liz Magill, left, with Dr. Francis Collins, Chris Long, Leland Melvin and Cheryl Mills, from left to right. (Photo by Sanjay Suchak, University Communications)
The celebration continued well into the evening, as 19-time Grammy winner Tony Bennett (who shares a name with a certain winning head basketball coach) performed on the Lawn with a special concert in front of the Rotunda - and received a special greeting from Coach Tony Bennett.
All of it marked the launch of the public phase of UVA's $5 billion "Honor the Future" campaign, which aims to help the University maintain its exceptional quality and value and meet its aspiration to become the nation's best public university. The campaign has already established significant momentum, raising $2.75 billion of the $5 billion goal. On Saturday night, the University announced a $100 million gift from David and Jane Walentas that will establish a new scholarship program for first-generation students.
That momentum, Ryan said Saturday, will fuel a future that he hopes is "both great and good," and one in which UVA represents the very best in higher education.
Take a look at how the weekend unfolded.
Creating 'Complete People'
On Saturday afternoon, a large crowd filled the Old Cabell Hall Auditorium to hear from four alumni who took the stage before Ryan's address.
Collins, Long, Melvin and Mills discussed their time at UVA in a panel moderated by UVA Provost Elizabeth "Liz" Magill.
Image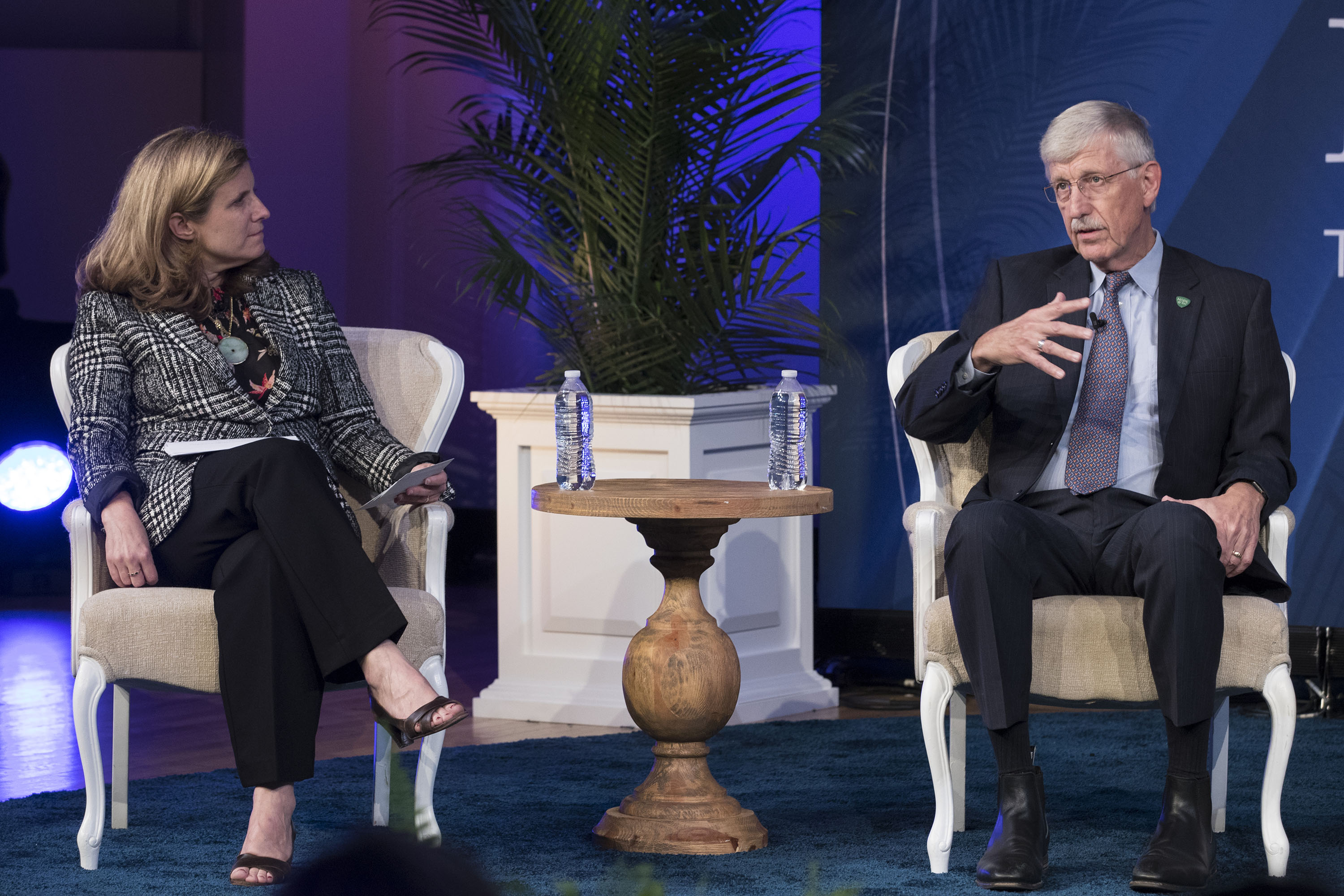 UVA Provost Liz Magill, left, and Dr. Francis Collins. (Photo by Dan Addison, University Communications)
Collins, the leader of the Human Genome Project who was honored earlier Saturday with the naming of the Collins Wing in the Medical Center, said that his undergraduate experience at UVA sparked his interest in science.
"I had a wonderful experience with a mentor who taught me what science is really all about," he said. "This environment, for me as a science nerd, got me on a path where I knew that whatever I was going to contribute would be based in science. That started right here."
Image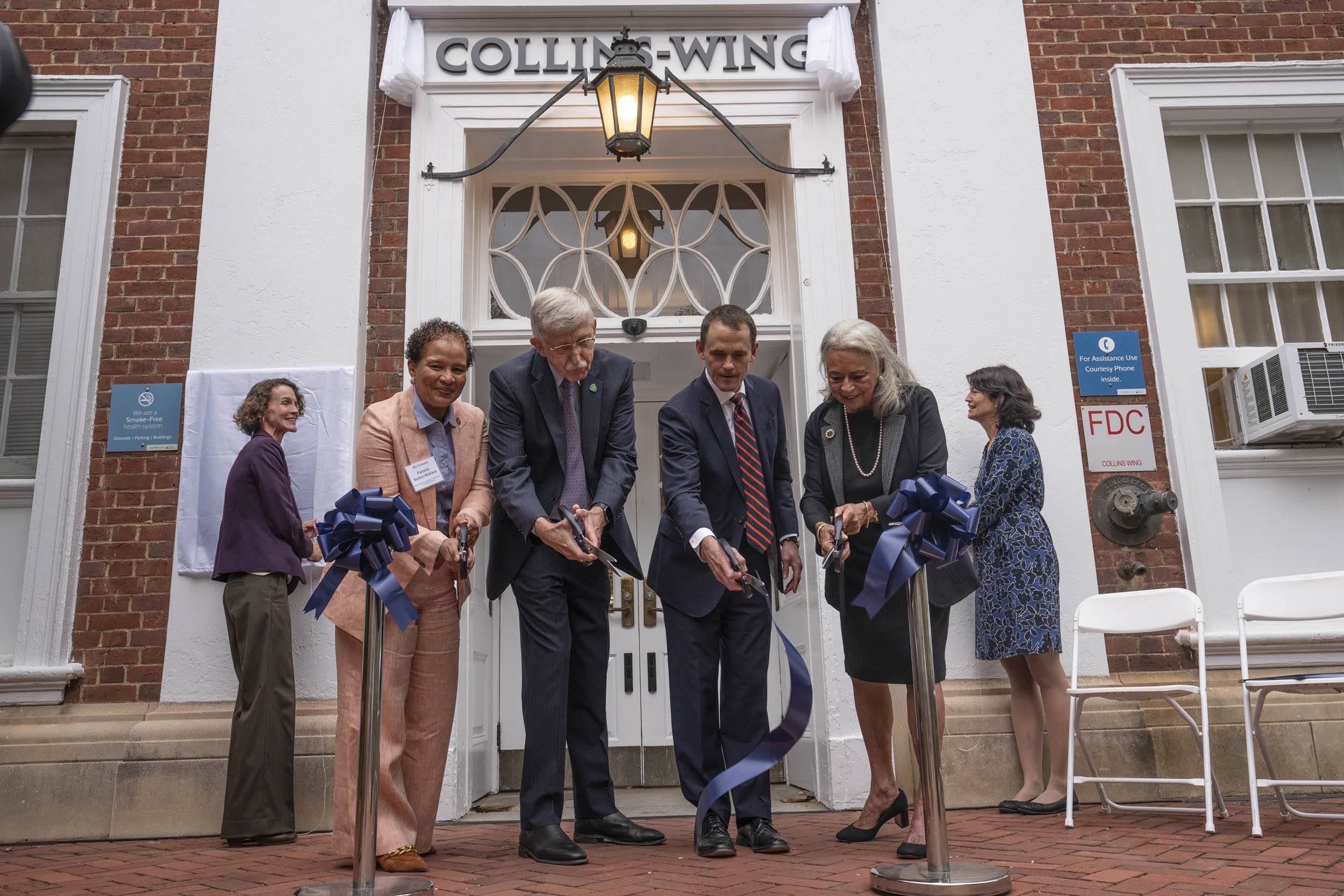 Collins, center, with UVA Health System CEO Pamela M. Sutton Wallace, UVA President Jim Ryan and alumna Dr. Vivian Pinn at Saturday's ribbon-cutting ceremony for the Collins Wing. (Photo by Sanjay Suchak, University Communications)
Two of Collins' fellow alumni panelists, Long and Melvin, shared an NFL connection. Long had a storied NFL career, while Melvin played briefly in the NFL before going on to become an astronaut. While Melvin was at UVA, professors mailed video of their lectures to the Dallas Cowboys' training facility so that he could keep up with his graduate engineering studies.
"UVA supported me the entire time," he said. "Faculty were calling to make sure I understood the tapes. The student body really supported me to make sure I had everything I needed to be successful."
Image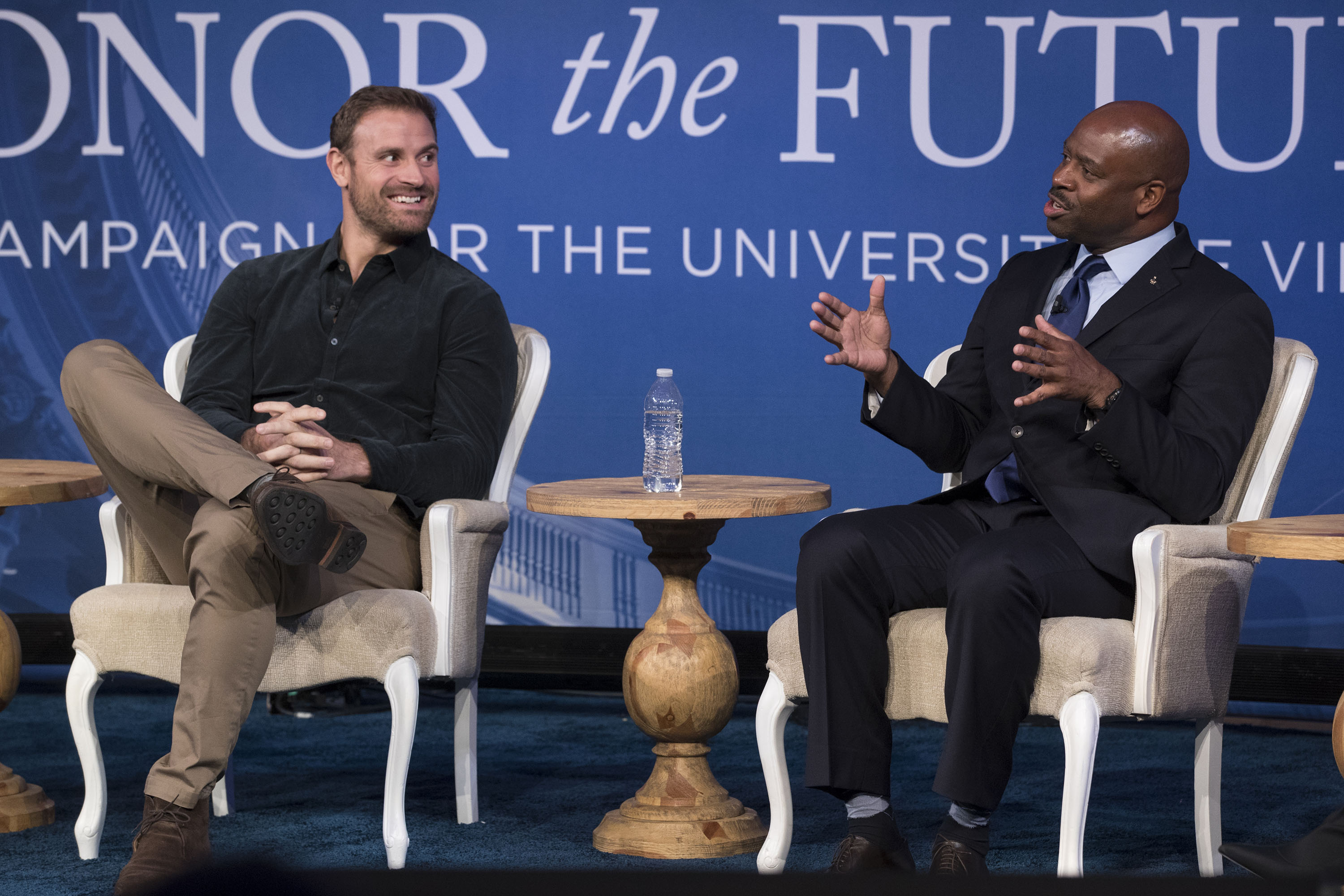 Chris Long, left, and Leland Melvin both played in the NFL – and both said UVA helped them become "complete people" off the field. (Photo by Dan Addison, University Communications)
Long said UVA helped him become what he called "a complete person" – a lesson that has served him well as he retired from the NFL earlier this year and is now focusing on his humanitarian work. That work includes the "WaterBoys" initiative that helps bring clean drinking water to East Africa and several educational programs benefitting students in Charlottesville, Philadelphia and beyond.
"You become a complete person, and that is what it takes to succeed in the real world, being self-critical and analytical," Long said. UVA, he also noted, was and is home.
"Being able to call Charlottesville home and having somewhere my kids can call home, going to UVA games with this community, earning the respect of this community means a lot to me," he said.
Mills, formerly deputy general counsel to President Bill Clinton and chief of staff to Hillary Clinton, said UVA fostered a sense of accountability that was critical when she faced difficult decisions.
Image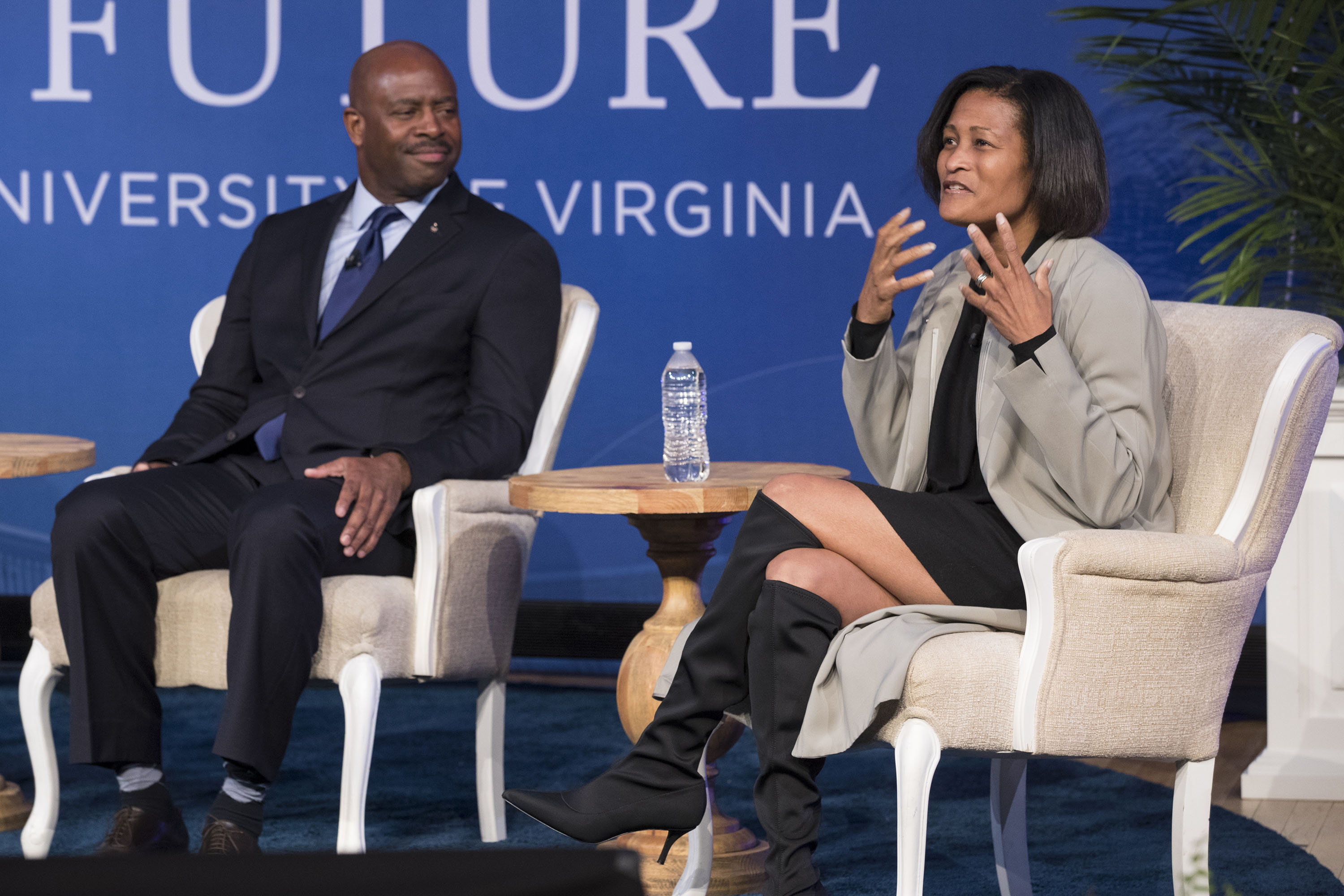 Cheryl Mills said that, during moments of crisis, she relied on values learned at UVA. (Photo by Dan Addison, University Communications)
"UVA gave me the strength and the opportunity to believe that running toward [a crisis or challenge] could lead to a better outcome," she said. "Those moments were products of the strength that this place gave me to believe that it was worth it to walk into the breach."
Asked about their dream for UVA, panelists said they envisioned a university that continued to nurture visionaries "who are truly whole people in their passion for making the world a better place," as Collins put it, and a university at the forefront of inclusivity, working to understand its past and create a better future for as many people as possible.
"I hope UVA continues to have this ability to give people perspective," Melvin said. "The perspective I got from space changed how I think about everything I do. I hope it allows kids from every zip code, no matter what they have or don't have, to see this as a place to make any dream possible."
Research of the Future
Prior to Ryan's address, three academic panels gave attendees a glimpse into the future of research around three major topics.
In the Rotunda Dome Room, leading UVA researchers discussed "The Future of Brain Science: Breakthroughs in Autism Detection, Treatment and Care." Panelists included Dr. Beth Ellen Davis, a developmental pediatrician at UVA Children's Hospital; Dr. Jaideep Kapur, director of the UVA Brain Institute and a professor of neurology; Micah Mazurek, associate professor at the Curry School of Education and Human Development and director of Supporting Transformative Autism Research, or STAR; and Dr. Kevin Pelphrey, Harrison-Wood Jefferson Scholars Foundation Professor of Neurology. Ron Suskind, an alumnus and author of "Life, Animated," a memoir and documentary about raising his son, Owen, served as the moderator.
Image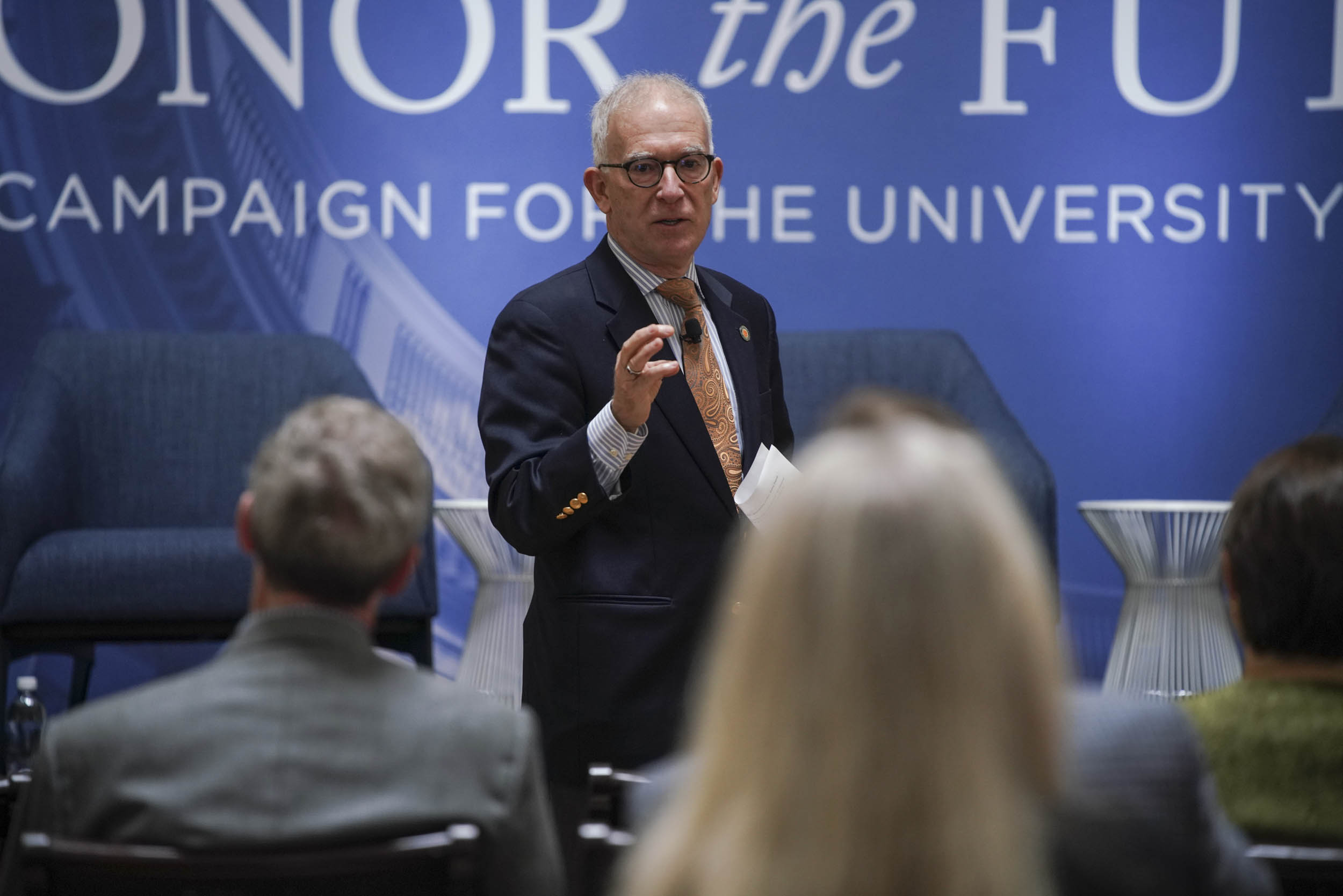 Curry School of Education and Human Development Dean Robert C. Pianta introduces the panel of autism researchers. (Photo by Sanjay Suchak, University Communications)
UVA has made significant strides in understanding and treating autism, including research connecting autism spectrum disorders to a mother's microbiome during pregnancy, a study investigating how autism differs in boys and girls, and ongoing support for children and families dealing with autism through the STAR program.
At Newcomb Hall, researchers discussed the health of democracy itself – "The Future of Democracy: Is Democracy in Decline?" Panelists included Melody Barnes, co-director of the UVA Democracy Initiative and former adviser to President Barack Obama; Micah Schwartzman, director of the Karsh Center for Law and Democracy; Ian Solomon, dean of the Frank Batten School of Leadership and Public Policy; Larry Terry, executive director of UVA's Weldon Cooper Center for Public Service, which provides population statistics and other crucial data to policymakers; and Larry Sabato, director of UVA's Center for Politics. Mary Kate Cary, a professor of practice in the Woodrow Wilson Department of Politics and former speechwriter for George H.W. Bush, moderated.
Image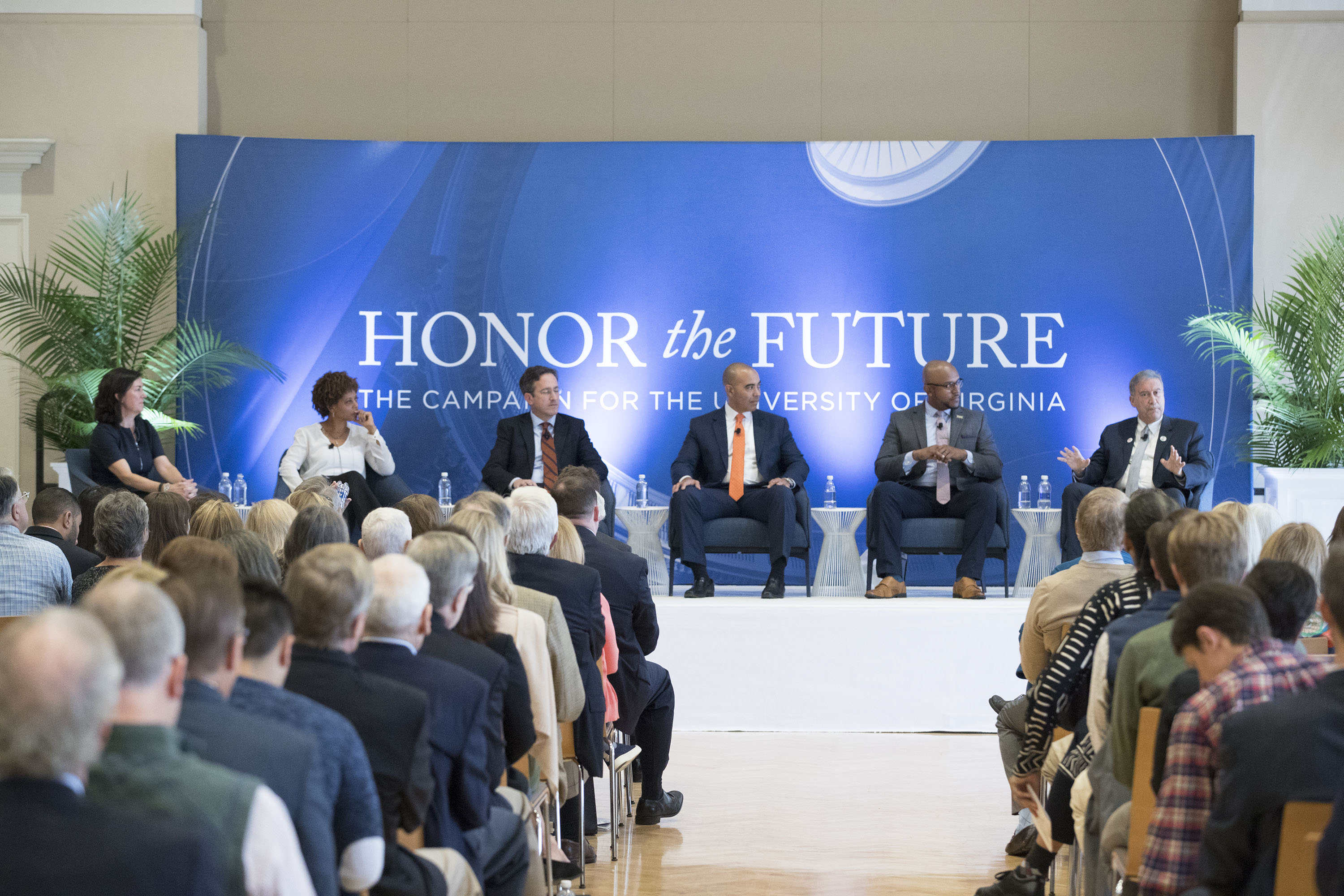 A panel discussion of the future of democracy included, from left, Mary Kate Cary, Melody Barnes, Micah Schwartzman, Ian Solomon, Larry Terry and Larry Sabato. (Photo by Dan Addison, University Communications)
In his later address, Ryan emphasized democracy as a foundational focus at UVA.
"There is no other university so closely linked to our nation's founding and its imperfect experiment in democracy," Ryan said. Efforts like the Democracy Initiative, launched last year, are part of what he called, "a University-wide effort to make UVA the leading place in the country to study, teach and sustain democracy."
A third panel, at the Albert and Shirley Small Special Collections Library, focused on financial markets. "The Future of Finance: Cracking the Code to Healthy Financial Markets" included Michael Albert of UVA's Darden School of Business; Michael Gallmeyer, a McIntire School of Commerce professor and director of the school's Center for Investors and Financial Markets; Narges Tabari, a research scientist at UVA's School of Data Science; and William Scherer, professor and the director of UVA's systems and information engineering program; with moderator Alice Handy, founder of Investure and former manager of the University of Virginia Investment Management Company.
UVA has a history of expertise in finance research, from longtime professors to undergraduate students who run their own investment institutes, to the tune of $1 million in assets.
A Night to Remember
Saturday's celebrations closed with a special concert on the Lawn headlined by 19-time Grammy-winning singer Tony Bennett.
Bennett, an icon who has been performing nationally since the 1950s, has sold more than 50 million records worldwide and has two Emmy Awards to his name as well as the Grammys, including a Lifetime Achievement Award. He has performed alongside many of the country's most famous artists, from Frank Sinatra to Lady Gaga, but for Wahoos, his most important stage partner might just be the other Tony Bennett. UVA's beloved men's basketball coach introduced the singer on stage Saturday night, much to the delight of the crowd.
Image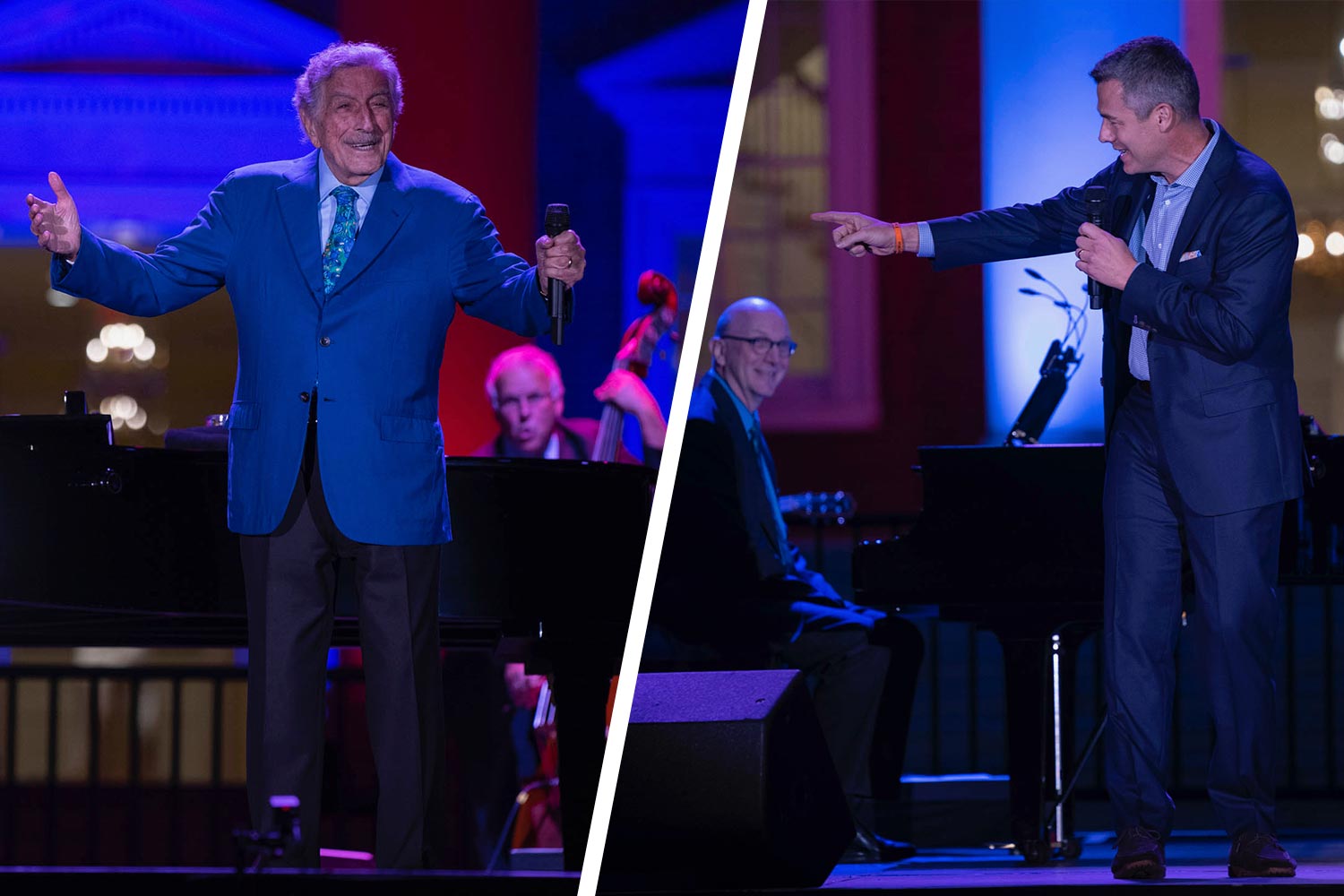 Double trouble? Tony Bennett the singer met Tony Bennett the coach on the Lawn Saturday night. (Photos by Sanjay Suchak, University Communications)
On Sunday, Hoos reconvened for "Brunch with Homer," joining President Ryan and many others from the UVA community for a celebratory brunch send-off on the lower Lawn, near the statue of the great poet.
It was a fitting end for a weekend that reflected on UVA's past while honoring its future – and marked a big step forward in making that future a reality.