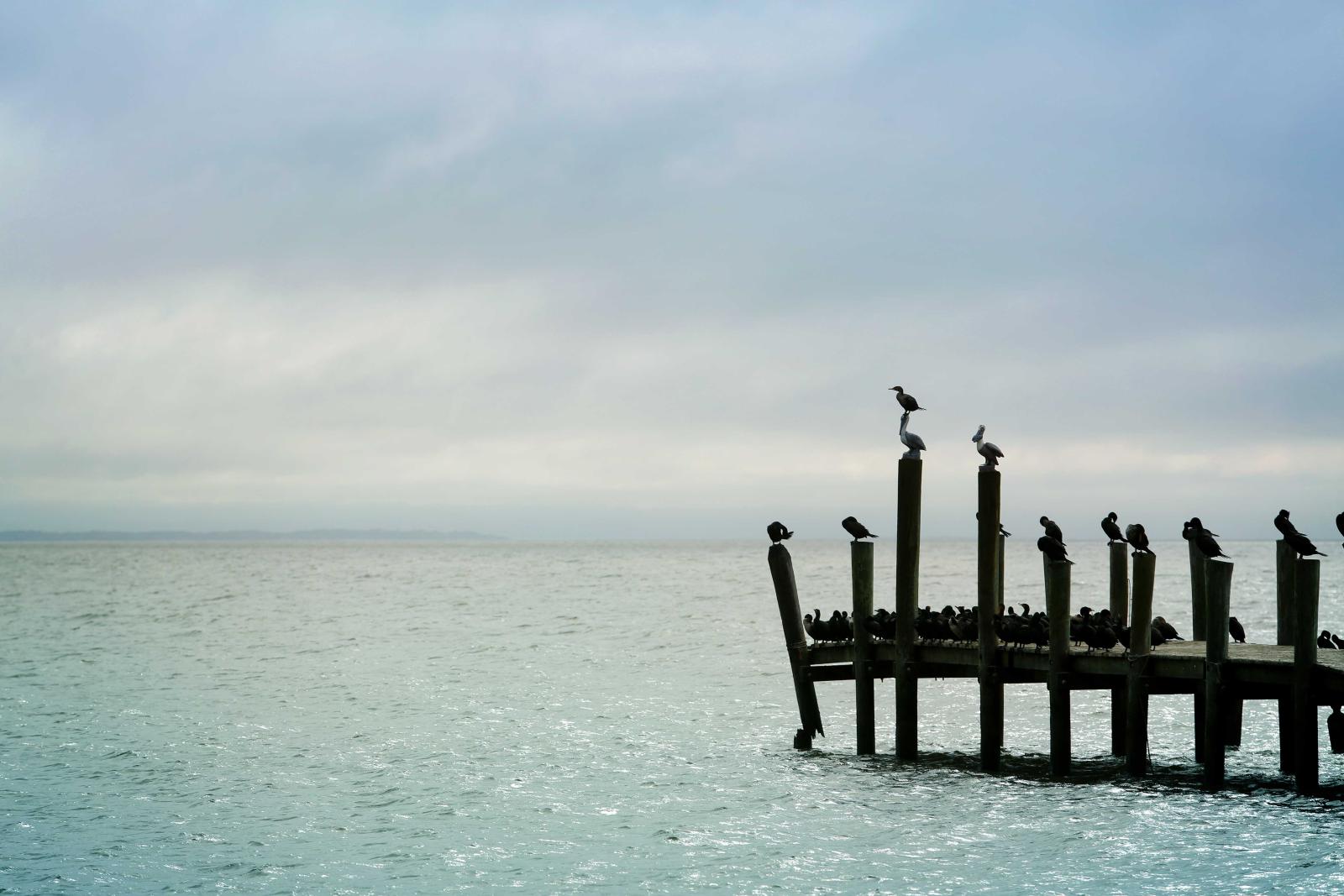 A Life Raft

for

Coastal Communities

 

 
Just downstream from a bend in the Potomac River, as it widens into the estuary that empties into the Chesapeake Bay, lies the small riverfront town of Colonial Beach, Virginia. Located on a side peninsula of a larger peninsula—known as the Northern Neck—water surrounds the community on three sides.
When Hurricane Isabel howled into Colonial Beach in September 2003, the winds toppled ancient oaks and destroyed the town's marina and pier. The storm surge eroded miles of shoreline. Local resident Robin Schick (Arch '08) was in high school then, but her experience during Isabel, and the rebuilding efforts that took place in the storm's aftermath, led her to devote herself to a life of public service. It also taught her that a smart community must plan for a future where resiliency in the face of disaster becomes a part of everyday life. She knew that for her town to thrive, it must either adapt—or slowly wash away.
Image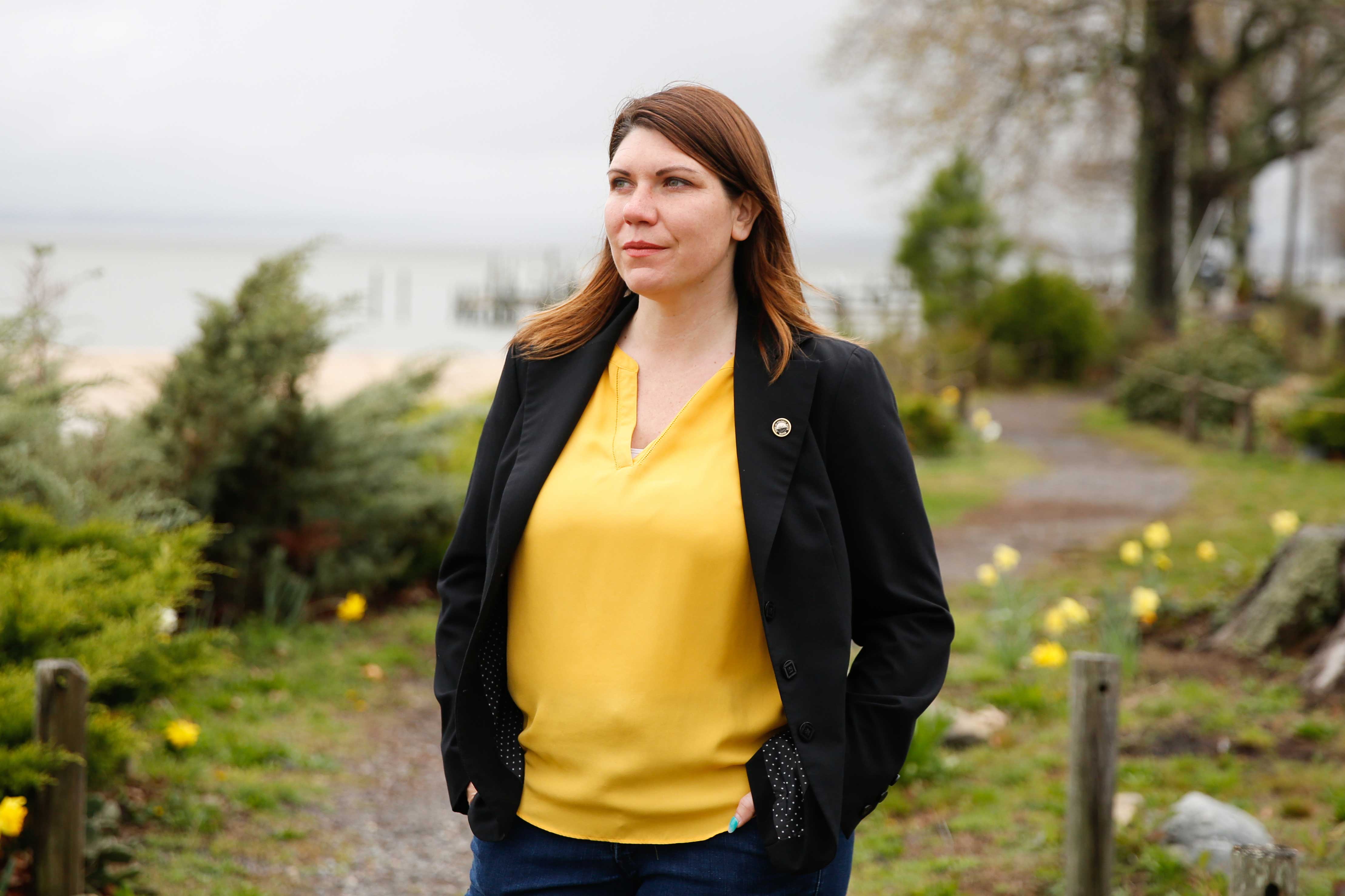 Mayor Robin Schick on the Riverwalk Trail by the main beach.
That's why Schick, mayor, Town of Colonial Beach, is incorporating something called The Resilience Adaptation Feasibility Tool (RAFT) into her town's long-term strategic planning. The RAFT is an approach to climate resilience that was conceived and developed by the University of Virginia's Institute for Engagement & Negotiation, the Virginia Coastal Policy Center at William & Mary Law School, and Old Dominion University's Virginia Sea Grant Resilience Program. The RAFT leverages the expertise and resources of these academic partners to assist coastal localities that want to reduce their vulnerability to natural disasters. Its collaborative model helps these coastal towns to adopt policies and programs that improve resilience while also strengthening the social fabric that keeps their communities healthy.
Thanks in part to a major grant from the Jessie Ball duPont Fund, The RAFT has been able to expand from an initial pilot project in 2017 that concentrated on a city (Portsmouth), a county (Gloucester), and a town (Cape Charles) to encompass a more regional approach that includes coastal communities on the Eastern Shore, the Northern Neck, and the Middle Peninsula. In the process, the duPont Fund's support has allowed The RAFT to broaden its scope from addressing storm hazards such as frequent flooding and sea level rise, to a focus on deep-seated economic and social challenges.
Image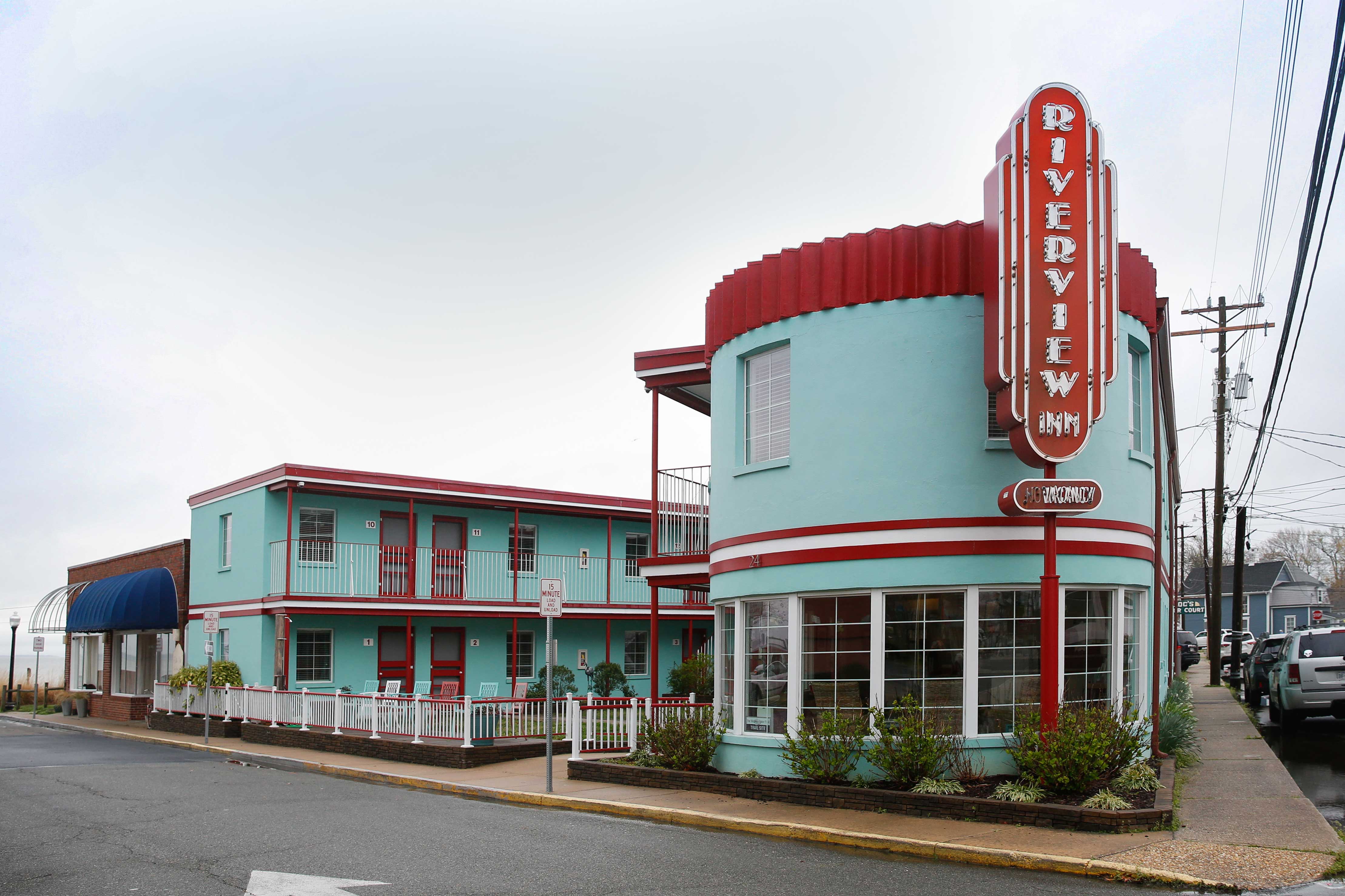 The Riverview Inn with its retro facade is situated in the Colonial Beach Downtown Historic District.
A Scorecard for Survival
Founded in 1980 as a public service organization in the School of Architecture, the Institute for Engagement & Negotiation's breadth of work addresses issues that affect both the natural and built environment—natural resources, public health, community infrastructure, and equity and social issues. Taking a public service approach that integrates consensus-building, research, and teaching, the institute serves as an intermediary to help local governments, agencies, nonprofits, and businesses collaborate on decisions that sustain their communities.
Since many places in Virginia lack an easy way to define and measure resilience in an ecological, social, and economic sense, IEN leverages its expertise to fill in gaps in knowledge and communication so that decision-makers can draw from a complete toolbox when disaster strikes. It is what Tanya Denckla Cobb, IEN's director, calls "equitable collaboration."
"One of the things that's unusual about our institute is that we have identified gaps, stepped into them, and created projects," she said. "We have, over many decades, had a history of stepping into a space and saying, 'We see a need here.'"
The RAFT is one such project. Its goal is to help Virginia's coastal communities improve their resilience to flooding and other coastal storm hazards while retaining a healthy economic base and viable social networks. The 18-month process includes an independent assessment of a community's resilience using The RAFT Scorecard; a community leadership workshop where participants discuss strengths and opportunities, developing a checklist of actions that can be completed and/or initiated within one year; and support by The RAFT's collaborative universities and other partners through one year for the community's implementation of these actions.
Crucially, for cash-strapped local governments, the three-part process is supported through a mix of federal, state, and private foundation grants and donated services, and is provided at no cost.
Sink or Swim
Local officials in Virginia's coastal region face daunting challenges. Historical and projected sea level rise and the frequent flooding that results present coastal localities with challenges that affect residents, businesses, and public health services.
Colonial Beach has a year-round population of about 4,000, which doubles in the summer. It has the second largest public sand beach in the commonwealth. Schick said that The RAFT program piqued her interest because of its emphasis on resiliency.
"We have been at the forefront of participation in the program because it has such a direct correlation to the threats and needs we see in our community, and the challenges we've faced over the years, and will continue to confront," she said.
Disaster can come from out of the blue.
"Last year, we had a tidal surge," Schick said. "This was not a known storm event so it kind of took us by surprise. It was a nor'easter combined with a strong moon tide and a wind that was relentless for days. It did enough damage to our boardwalk and beachfront that our town pier was closed until recently. A significant number of docks and boats were damaged. We had pontoon boats sitting in the middle of the road."
A few businesses closed because of the storm, victims of the double whammy of tidal surge and the ongoing COVID-19 pandemic. Prior to her election as mayor in 2020, Schick served on the planning commission for nearly a decade, and later, on town council.
"I saw a lot of advantages in working with The RAFT because these university research programs are the innovators of the next generation," she said. "This program seemed to fit Colonial Beach. But also, I saw it as a way to preemptively align ourselves with whatever funding or solution was going to come out of the state, because eventually that's going to have to happen. Resiliency is something that all communities across the seaboard are facing, even inland communities."
Vicki Luna currently serves on the Colonial Beach Planning Commission. She's also a proponent of The RAFT. "It helped to direct our attention to resources that we might not have otherwise been aware of and put us in touch with some of the key agencies in the state," she said. "Working with The RAFT team helped us to qualify for grant opportunities. The essential one that we're looking at now is the Community Preparedness Flood Fund. That has been a real saving grace for us because we're going to be able to leverage a lot more resources in our small community."
Image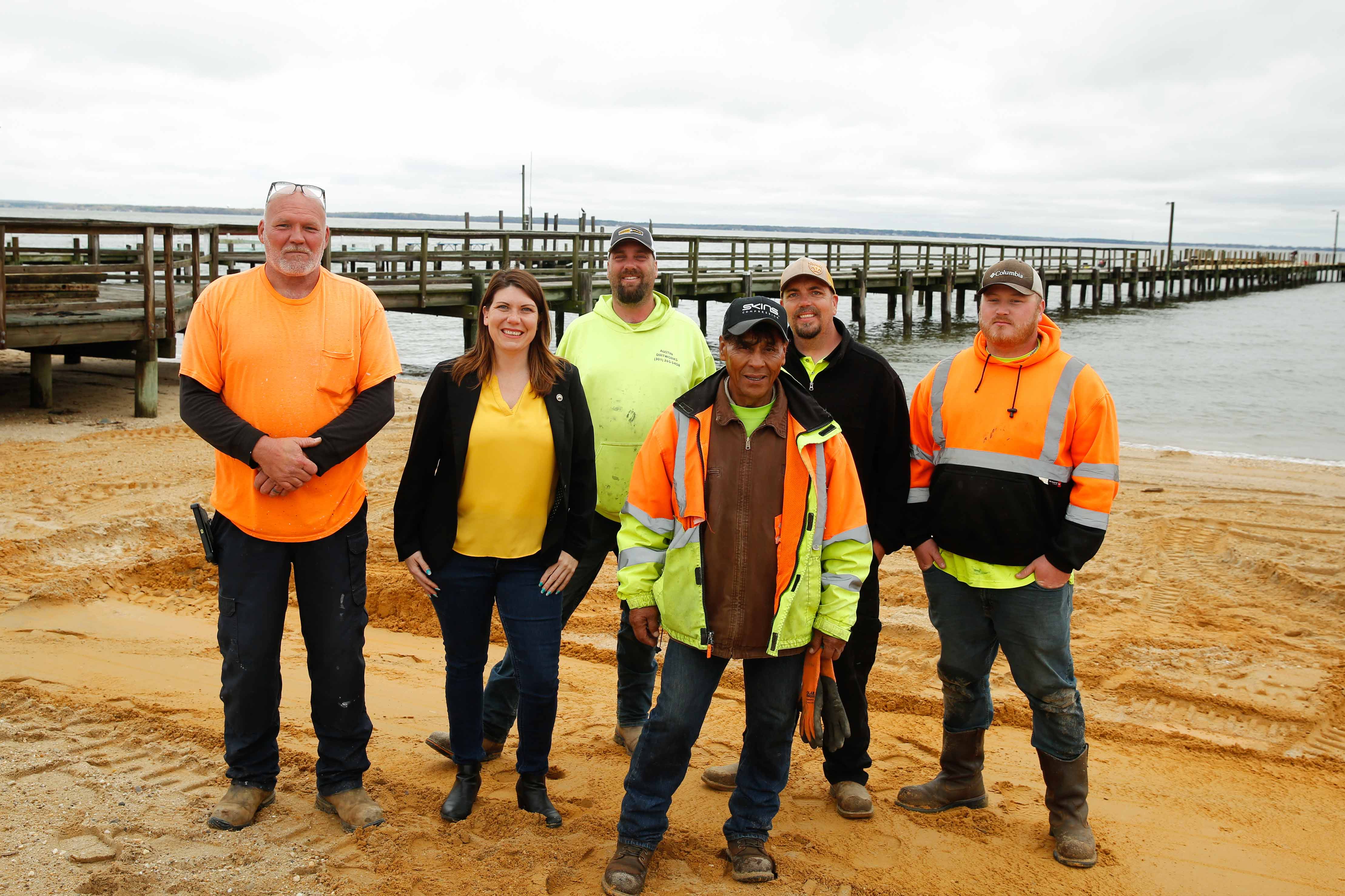 Schick with the town's public works crew near the town pier.
Not Just Fair-Weather Friends
As The RAFT's project manager, Sierra Gladfelter is responsible for working on the ground with different communities and stakeholders, coordinating and adapting each regional iteration of the overall project.
"What The RAFT really demonstrates is that community-driven aspect where we stick with localities beyond just the scoring and facilitating of a workshop to identify priorities," she said. "We stay with them and help facilitate connections to our partners and to regional stakeholders and state and federal agencies that have resources. That is really where we can be of service to communities across Virginia and coastal localities."
One of the unique aspects of The RAFT's efforts in community engaged resilience planning is that it goes to where the people—and problems—are. "We listen," Gladfelter said. "We work with them to rank their own priorities and then support them in taking steps towards actualizing their priorities and, hopefully, seeing things through to fruition within the course of a year. You know, to keep the ball rolling to continue resilience planning beyond our involvement."
As a result of The RAFT team's involvement, Colonial Beach has instituted long-term improvements. "We have a very small town staff," said Luna. "But because of working with The RAFT, we now have the resources to enable them to become certified flood managers. That's a very involved process. Having them certified will help us with future grant activities, but it'll also help local planning so that we can zone appropriately for areas that we know are going to be inundated and flooded." Luna said that the planning commission can also focus on resilience as a regional issue so that they can involve the Northern Neck Planning District as well as other jurisdictions. "Flooding doesn't recognize town lines," she said.
For her part as mayor, Schick must work within the limits of a municipal budget. "One of the things that The RAFT has done for us that we wouldn't have been able to do on our own is provide a lot of data gathering and research," she said. "Through The RAFT program, we have been able to accomplish a lot. It's like having extra hands in our departments. Data gathering and mapping has been done by students. They've collected imagery and water depth topography along our shoreline. We have major erosion issues and it's a high threat level to our community's houses."
Students in Karen Firehock's class mapped several parks in town to help planners envision better uses for unused or underutilized space. Firehock is a lecturer in urban and environmental planning and landscape architecture in UVA's School of Architecture.
"Park programming is a health and wellness issue, but it's also a community safety issue," Schick said. "They recommended local tree species and researched a comprehensive list of plants that are applicable to the kinds of solutions we need in certain areas."
Schick is perhaps most excited about The RAFT's assistance with a plan to relocate Colonial Beach's rescue squad from a building located in the flood plain. "Obviously, they have a lot of equipment that is vital to the safety and security of our community and to the health and wellness of our citizens," she said. "We have found an alternate location and are working to build a new facility in an area that is more centrally located and more accessible to the main thoroughfare."
Adaptability + Equity = Resilience
The RAFT team's long-term goal is to make the tool widely available for all coastal Virginia localities with the greatest need, risk, or interest. In recent years, The RAFT's definition of community resilience has broadened to include social equity.
"Most of the work that has been happening in resilience has really been around environmental infrastructure and economic factors," said Denckla Cobb. "What The RAFT is trying to do as it continues to evolve, is move more into recognizing that if you don't have social resilience, the rest can only take you so far. It's the piece that local governments have the least capacity to address."
Gladfelter added: "We're broadening the scope from flooding and the more traditional aspects of environmental resilience to thinking more about social, economic, and chronic structural issues that change on a different scope of time."
When COVID-19 struck the U.S. in early 2020, The RAFT was finishing the scorecard assessment phase in Virginia's Northern Neck and was planning a regional community workshop with eight towns and counties in the region. Recognizing the pandemic's unprecedented nature and its relevance to resilience planning, The RAFT team pivoted to develop a COVID Rapid Response project that assessed the impacts of COVID-19 on the region's ability to deliver critical services to vulnerable populations. At a presentation to the Northern Neck Funders Forum in March 2021, a representative from the Jesse Ball duPont Fund took notice.
Once you start to pull back and take a more bird's-eye view of everything, you see the same vulnerabilities for flooding are the same vulnerabilities for COVID-19.
Chad Lewis
"The duPont Fund wanted to learn more about how The RAFT was working at the ground level to better understand a community's strengths and gaps in social resilience as well as opportunities to improve social resilience," said Denckla Cobb. "We were so excited to learn that social resilience for the historically excluded and underserved was a priority for the duPont Fund, particularly when most of the federal and state funding is focused on resilience through physical and natural infrastructure."
The full COVID report that resulted was based on interviews and focus groups with 63 individuals representing 43 social service organizations. It included an asset map that is now hosted and maintained by the Northern Neck Resource Council.
Chad Lewis is the community resilience coordinator for The Haven Shelter & Services, an intimate partner violence and sexual violence organization that serves the Northern Neck and Essex County. He also leads the Northern Neck Resource Council and was a partner on the asset map for the Northern Neck.
"One of my roles at the Haven is to coordinate the resource councils, which is how I got into contact with UVA," Lewis explained. "We were able to look at some of these bigger systemic things that contribute to vulnerability. Once you start to pull back and take a more bird's-eye view of everything, you see the same vulnerabilities for flooding are the same vulnerabilities for COVID-19. They persist here every day, even when there isn't a natural disaster."
Anne Nelson Stoner (Arch '22) recently completed her master's in urban and environmental planning. She was the principal student research assistant and lead report author alongside Denckla Cobb and Gladfelter.
"We talked to a wide variety of stakeholders in the Northern Neck to see how COVID impacted the delivery of social services," she said. "We created an asset map and the goal was to start to fill this gap. There are a lot of services, but everyone's working in their own silo. We started mapping out services and organizing them by categories and what services were being offered to whom, in what service area, who was the contact, just to try to better network people working in this world."
"The RAFT team is incredibly good at making sure that they weren't coming in and imposing a narrative onto the community," Lewis added. "They definitely made sure that they were listening and getting everything that the community had to say in its own words."
Stoner thinks that bringing people together is The RAFT's greatest service to the community. "I think my big takeaway, both from The RAFT and from working with IEN in general, has been the degree of significance that collaboration holds in the real world," she said. "We want quick answers and a lot of the problems we face today are not easy and quick solutions are not an option. There's no way that we can come up with any kind of solution unless we can get everyone at the room to talk to each other."
Fund for the Future
Since the report's publication in August 2021, the duPont Fund has supported the dissemination of its information to other localities, supported discussions about its continued development, and explored potential ways to translate it into Spanish.
"The RAFT is a powerful tool to help build inclusion and belonging in the Northern Neck and Middle Peninsula communities, and we are proud to support this ongoing effort to grow economic and social resilience," said Mark Walker, program officer for the Jessie Ball duPont Fund. "The deep listening by the IEN team, the data being collected, and the partners at the table are helping connect the dots so we all understand how we can best invest in community programs for the benefit of all community members."
For Schick, the duPont Fund's continued support for The RAFT means that she can continue to map out her community's future. "Hurricane Isabel gave me a direction in life," she said. "I didn't know whether to call it community resiliency or community development at the time, but what it did for me is solidify that key component. I'm looking forward to The RAFT's continued efforts with Colonial Beach and accomplishing our goals."
Below: A view of Colonial Beach looking south down the Potomac River. The beach along Irving Avenue is the second longest public beach in the commonwealth of Virginia.
Image