When Christine Moore (Engr '92) came to the University of Virginia, it was with the plan to become an electrical engineer like her father and a hope to continue playing her flute. "I quickly realized that electrical engineering wasn't the best fit for me," she remembered. She switched her major to chemical engineering and discovered the tremendous musical opportunities at UVA.
Moore went on to a successful 27-year career in research and development at Procter & Gamble. After retiring, she reflected on the ways her time at the University helped shape her life and career and made plans to support the University through her estate.
The Magic Flute
A formative part of Moore's UVA experience happened outside the engineering classroom and across Grounds in Old Cabell Hall, where she performed as a flutist with the Charlottesville Symphony at the University of Virginia. The University's symphony orchestra is unique in that it brings together professional musicians (many of whom are music faculty members), community members, and students—music majors and those from other disciplines.
"My engineering work was challenging, with a demanding course load and problem sets due every week," Moore said. "It was such a nice break to be able to use a different part of my brain on something that I really enjoyed as much as the technical problem solving of chemical engineering." Moore trained with the principal flutist for the symphony, Margaret Newcomb. "I developed an amazing relationship with her. Her coaching gave me the opportunity to continue to grow and achieve at the highest level."
Christine Moore and her husband Robert Bartolo are supporting the Charlottesville Symphony at the University of Virginia and the School of Engineering and Applied Science through their estate plans. Moore was a flutist for the symphony as an undergraduate and is now a member of the UVA Arts Council.
With both programs, we aim to set standards of excellence for faculty members—to invest their energy and expertise in mentoring, and to be viewed by students as inspiring role models.
—Christine Moore
Top: Christine Moore still performs as a flutist. "My parents were just so proud of me," she said. "My achievements and performances always brought them so much joy. They drove down from Baltimore for every single concert and recital at UVA. I think they'd be happy knowing that I'm still playing."
Bottom: Christine Moore and Robert Bartolo both enjoyed long careers with Procter & Gamble. They made bequests to their alma maters as a tribute to the ways their educations shaped their lives, hoping to provide similar experiences to future students.
Caring Mentors
Moore's mentors at the Engineering School included Elmer L. Gaden Jr., who was the Wills Johnson Professor of Chemical Engineering until his retirement in 1994. "I felt an immediate affinity with Gaden, triggered by his Brooklyn accent—he sounded just like my parents, who were from Brooklyn. As I later learned, he attended Brooklyn Technical High School and was in the Navy, both just like my dad. So we had an instant connection," she said.
"As my advisor, he was there for me all four years and even kept in touch after graduation. He was a great teacher and had a way of making difficult concepts more approachable with his storytelling and sense of humor. He genuinely cared."
Engineering professor Thomas E. Hutchinson—inventor of the Eye-gaze Response Interface Computer Aid, or ERICA—was another influence. "I was doing pre-med on top of engineering to keep my possibilities open. He took an interest in me and brought me to his graduate school biomedical engineering labs. It was so inspirational. I considered pursuing graduate school for biomedical engineering."
Innovations for Daily Life
Moore ultimately continued in chemical engineering and joined Procter & Gamble's Research and Development organization right out of college. She developed and commercialized new products for brands like Pantene, Herbal Essences, Zest, Always, and Pampers, designing to meet the diverse needs of consumers all around the world. "The process at P&G is unique in that technical folks like me would be the ones interacting with consumers to learn what they are struggling with—what's not working in their products today and what are the things they never dreamed of so that we can design the products to better meet those needs," she said. "I had the opportunity to work on diapers for premature babies. Preemie babies' skin is not fully developed, so we had to make sure that we were designing our diapers in such a way to not only protect the delicate skin of those babies, but also to meet the needs of the NICU nurses who are caring for them. Then you still have to figure out how to make the diapers on the manufacturing line at over 1,000 diapers a minute with a consistent high quality, which added another level of depth to the technical challenges we had to solve."
Moore progressed into R&D management, and her experiences at UVA—as a chemical engineering student, a musician, and a student of the engineering humanities program—all contributed to her success at Procter & Gamble. "As a musician, one of the biggest skills you learn is collaboration and listening. When you play music with others, you really experience creating something where the whole is greater than the sum of the parts. Each voice is important and plays its role, but it's so important to listen and know when your voice needs to shine, or when you need to support, or where you need to blend. That working together is what can really create something magical," she said. "When you're on a team developing and commercializing an innovation, you need to integrate all of the different diverse points of view, backgrounds, and experiences to be able to design and deliver the innovation."
A Legacy of Art and Excellence
Moore's husband, Robert Bartolo, is also retired from Procter & Gamble. The couple live in Cincinnati and frequently travel abroad. Unable to travel during the pandemic closures, Moore and Bartolo used the extra time to think deeply about their estate plans. "We had a lot of time to reflect on what has made a difference in our lives, and then about how we want to leave our legacy. And for both of us, we came back to our formative years in college, which really shaped the trajectory of what was to come," Moore said. They formalized bequests to the University's Engineering School; the Charlottesville Symphony; and Bartolo's alma maters, Miami University in Oxford, Ohio, where he earned his bachelor's, and the University of Illinois in Urbana-Champaign, where he earned his doctorate.
Their planned gifts to the University will create the Christine J. Moore & Robert G. Bartolo Professorship Fund and the Christine J. Moore & Robert G. Bartolo Faculty Excellence Fund—both in chemical engineering—as well as the Christine J. Moore & Robert G. Bartolo Symphony Fund.
All three funds will support aspects of the educational experience that enriched Moore's time at UVA and set the stage for her career. "One of the things that had a tremendous impact on me and my career was having some very special teachers who supported me and truly cared about me and my success," she said. "So with both programs, we aim to set standards of excellence for faculty members—to invest their energy and expertise in mentoring, and to be viewed by students as inspiring role models."
In future engineering students, Moore wants to inspire the same sense of service to the community that drew her to Procter & Gamble, whose purpose is to improve the lives of the world's consumers. "In my humanities classes, I learned about the important responsibility that an engineer has in meeting end user and societal needs. At P&G, I learned how critical it is to leverage an interdisciplinary approach to innovation and developing skills beyond the science to achieve that purpose," she said.
Moore also wants future students with majors outside of the arts to continue having access to instruction and performance opportunities in music. "The high-quality faculty and range of musical opportunities and arts opportunities are really a point of difference for UVA," she said. She'd like high schoolers who are researching colleges to be aware that music study and performance are an option for them at the University.
To those who wonder how Moore managed the demands of her chemical engineering, premed, and musical training: "If you've got a passion, you find a way."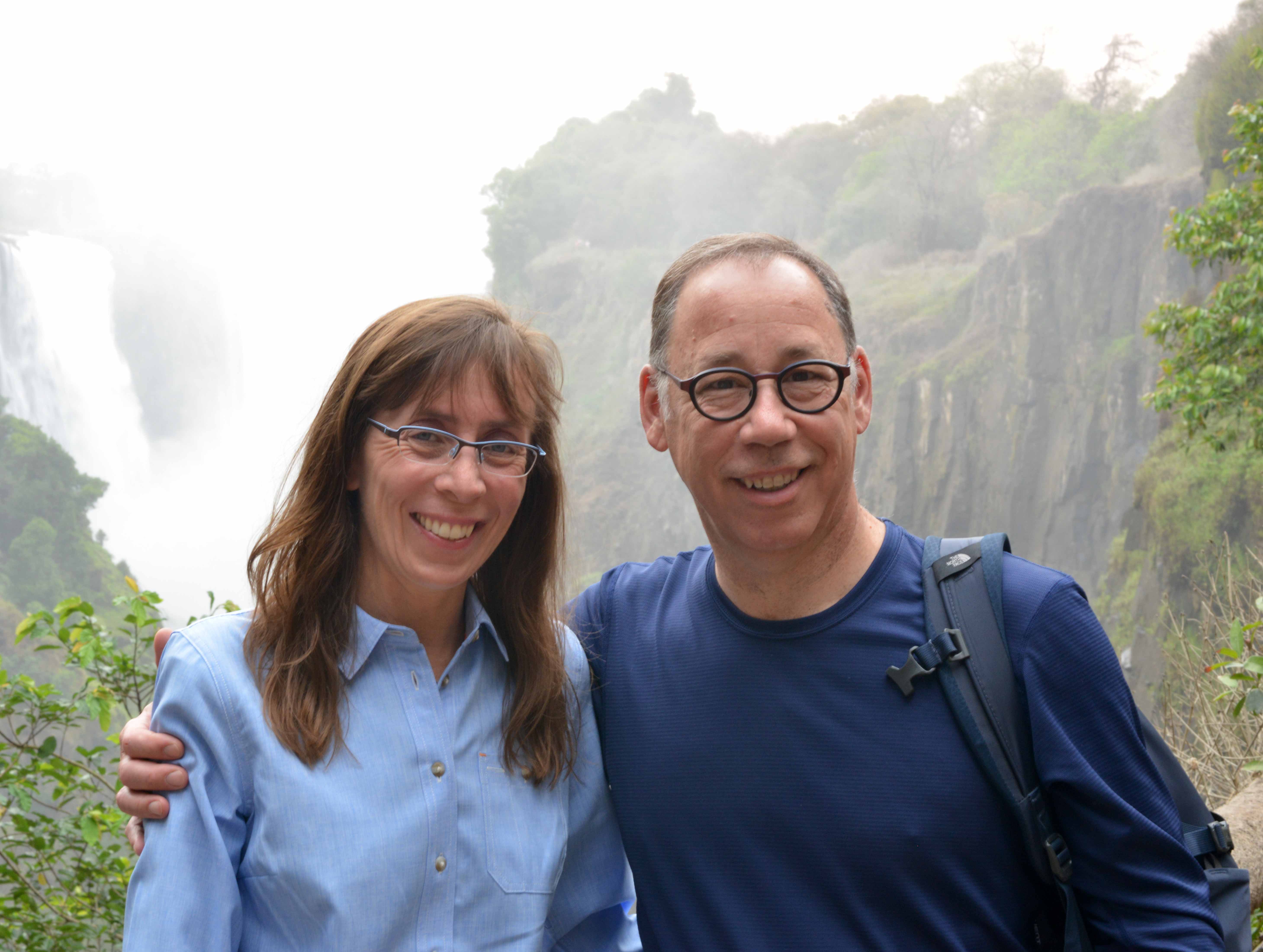 Connections Abroad
Christine Moore and Robert Bartolo are both passionate about animal conservation and have taken trips to Botswana and Tanzania with Cavalier Travels. "They were life-changing experiences," Moore recalled. She appreciated the educational component of the trips. Steven Cushman, the Robert C. Taylor Professor of English, joined the tour of Tanzania, and the itinerary was based on Ernest Hemingway's travels in "Green Hills of Africa."
"The other thing that's fascinating is that you're in close contact with a bunch of strangers, but because it's a UVA trip, everyone has some kind of connection. So even though they're strangers, you start out with this common ground," she said. "In Botswana, we had three decades of graduates—70s, 80s, and 90s—all together. And we could laugh and reminisce about common experiences that we had at UVA. We made some lifelong friends."