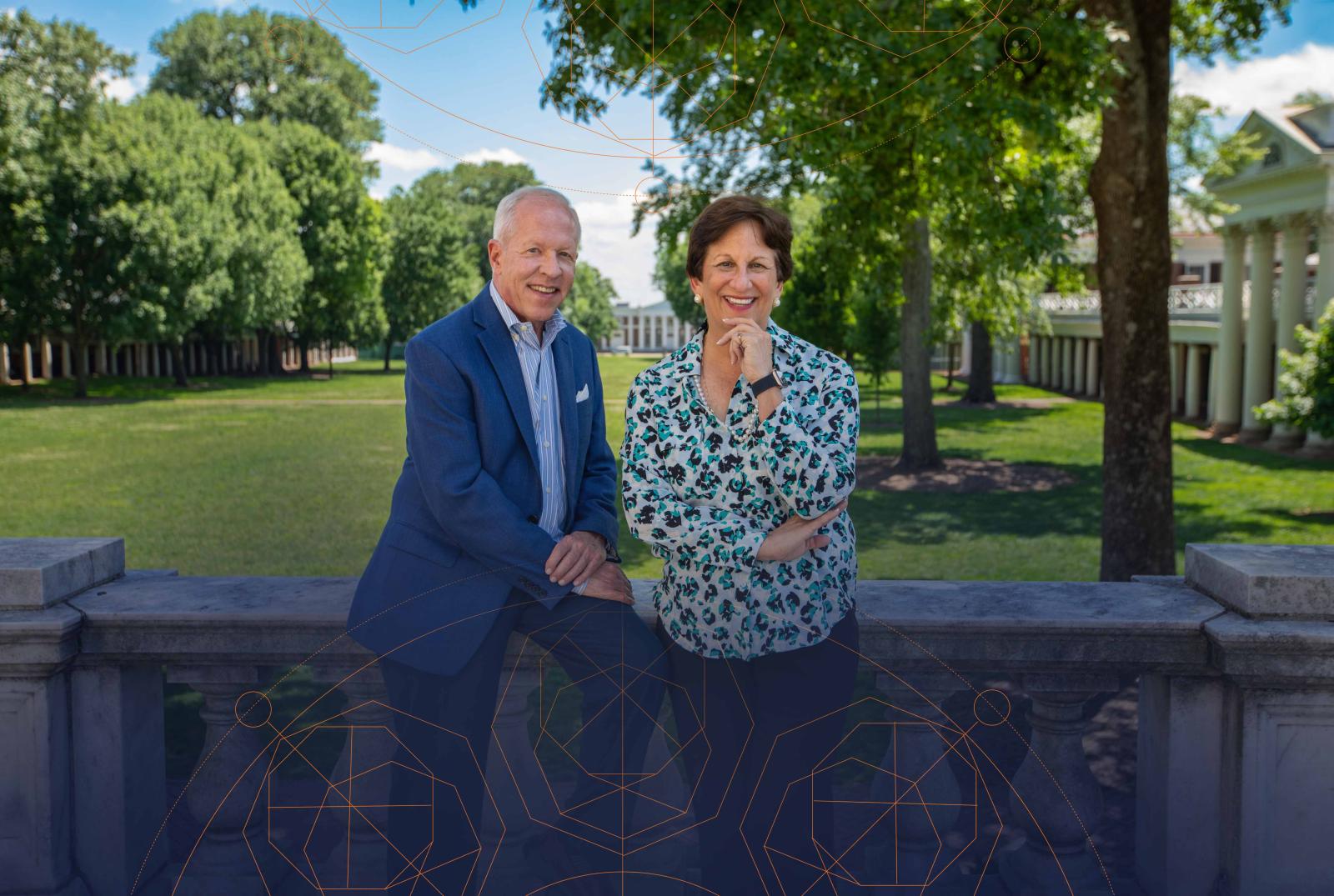 A History Together

James Ballowe Jr. & Donna Bucella
Members of the Cornerstone Society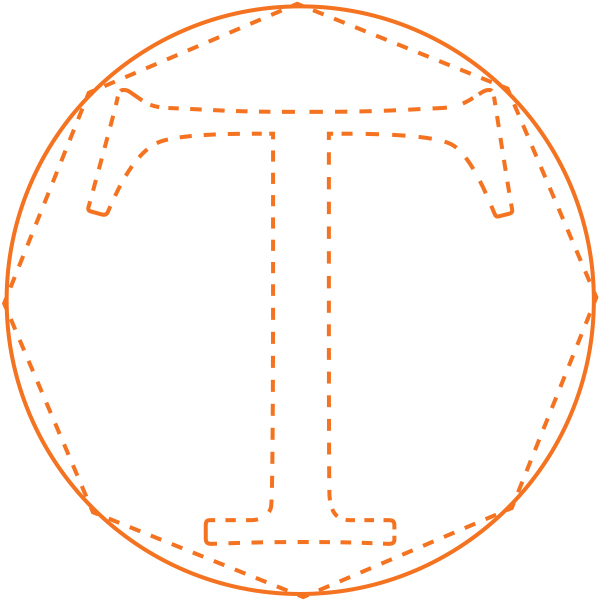 heir decades-long friendship began in a Pavilion garden, at an orientation for transfer students.
James Ballowe Jr. (Col '78, Law '81) was about to begin his third year at UVA and accompanied Marian Danse (then Marian Burnett, Ed '78, '79) to the gathering. A childhood friend of Danse's at Randolph Macon, whom Ballowe had been dating, had introduced them. "I was instructed by Julie to take care of Marian when she transferred to UVA," said Ballowe. "So as my first order of business I escorted her to the orientation event—where I met Deebs."
Donna Bucella (Col '78)—DBs, or "Deebs," to her closest friends—was a transfer student from New York. Initially, her parents had not allowed her to go away to college, but a friend of the family was a student at the University and talked it up to Bucella. He invited her to Grounds for Easters. "Before the festivities began, he and his girlfriend put a handkerchief around my eyes, walked me to the Rotunda, and took it off," she remembered. "I saw the Lawn, found a pay phone, called my mother and said, 'I'm going here.'"
The friends were both students at the College of Arts & Sciences. Ballowe was planning on attending law school. Psychology classes with legendary professors Mavis Hetherington and Raymond Bice captivated him. He declared a psychology major, completed most of the degree requirements by the end of his second year, and decided to double major in English. "I loved all of my English professors," Ballowe said, and shared, by way of example, memories of a 20th-century American women authors class with professor John Coleman. "He would wear two pairs of glasses, one over the other, and madras sport coats," remembered Ballowe. "I wrote a paper on the theory of terminal illness in Willa Cather's works. And I used the word 'irreversible,' which he hated. He deliberately stumbled over it while reading excerpts from my paper to the class and said 'That's not even a word. And Mr. Ballowe seems to be obsessed with it.' Yet we became good friends, and when I was in law school, he would call me periodically and invite me to Sunday brunch at Greencroft."
I saw the Lawn, found a pay phone, called my mother and said, 'I'm going here.'
Bucella was one of last Italian majors at UVA and double majored in sociology. She spent hours in the UVA Library's special collections, translating English into Italian and Italian into English. Her diligence earned the praise of her favorite instructor, Leonard Sbrocchi. "He was just such a delightful person that even when he was giving you constructive criticism, you felt like it was your dad telling you, 'Hey, here's this.' He was so positive and had such an appetite for life."
Ballowe went directly to the School of Law after walking the Lawn. He and his first-year roommate and childhood friend from Roanoke, Lucian Grove (Col '78, Med '82), lived together throughout professional school. "It was great and a bit of a relief to stick with Lucian rather than rooming with a law school classmate. And Lucian ended up being my internist for decades," said Ballowe. "As law schools go, UVA is warm and nurturing, but I liked coming home to hear about Lucian's medical school experience instead of rehashing my law school classes. I had relied so heavily on friends like Donna as a core support group in college. I formed a similar group in law school that I stay in touch with to this day."
After earning his law degree, Ballowe clerked for the Chief Justice of the Supreme Court of Virginia, then joined Boothe Prichard & Dudley, a large law firm in northern Virginia that later merged with McGuire Woods. He was made a partner and stayed at McGuire Woods until 1996 when his practice group—securities enforcement and financial services regulation—moved to Dechert, where he also became a partner. In 2001, an attorney Ballowe knew at E*TRADE Financial Corporation invited him to join her in building out the relatively new company's brokerage legal department. He made what he planned at the time to be a two-year commitment. He retired this June—after 22 years at E*TRADE (now a subsidiary of Morgan Stanley).
"Buckle your seatbelt," said Ballowe as Bucella began to recount her career.
Bucella had known since childhood that she wanted to be a lawyer. After UVA, she worked as a paralegal, then graduated from the University of Miami School of Law in 1983. She was familiar with Miami from spring break trips to Danse's home—Danse's father Henry Burnett (Col '47, Law '50) practiced law there. "Miami could not have been any different from UVA," she remembered. "People were walking around in running shorts and cocoa butter!"
After graduation, Bucella interviewed with several law firms and the Army's Judge Advocate General's Corps, or JAG Corps. When she learned that the JAG School was in Charlottesville, her decision was made. The JAG Corps required three years of active duty, during which she served as a criminal defense lawyer. An experimental program allowed her to advance early to an assignment at the Pentagon working in Procurement Fraud.
Bucella became an Assistant United States attorney in South Florida. "I was a federal prosecutor in Miami during the Cocaine Cowboys and all of that. It was wild," she said. "I did a lot of corruption work—police corruption, federal agent corruption. I did securities fraud cases and bank fraud. Obviously, we did a lot of drug cases." Seven years later, Bucella was asked to train assistant United States attorneys at the Department of Justice. There she worked for Attorney General Janet Reno, whom she met when Reno was the Dade County State Attorney in Miami. She ran training for Department of Justice lawyers and all the lawyers who worked for the government.
Image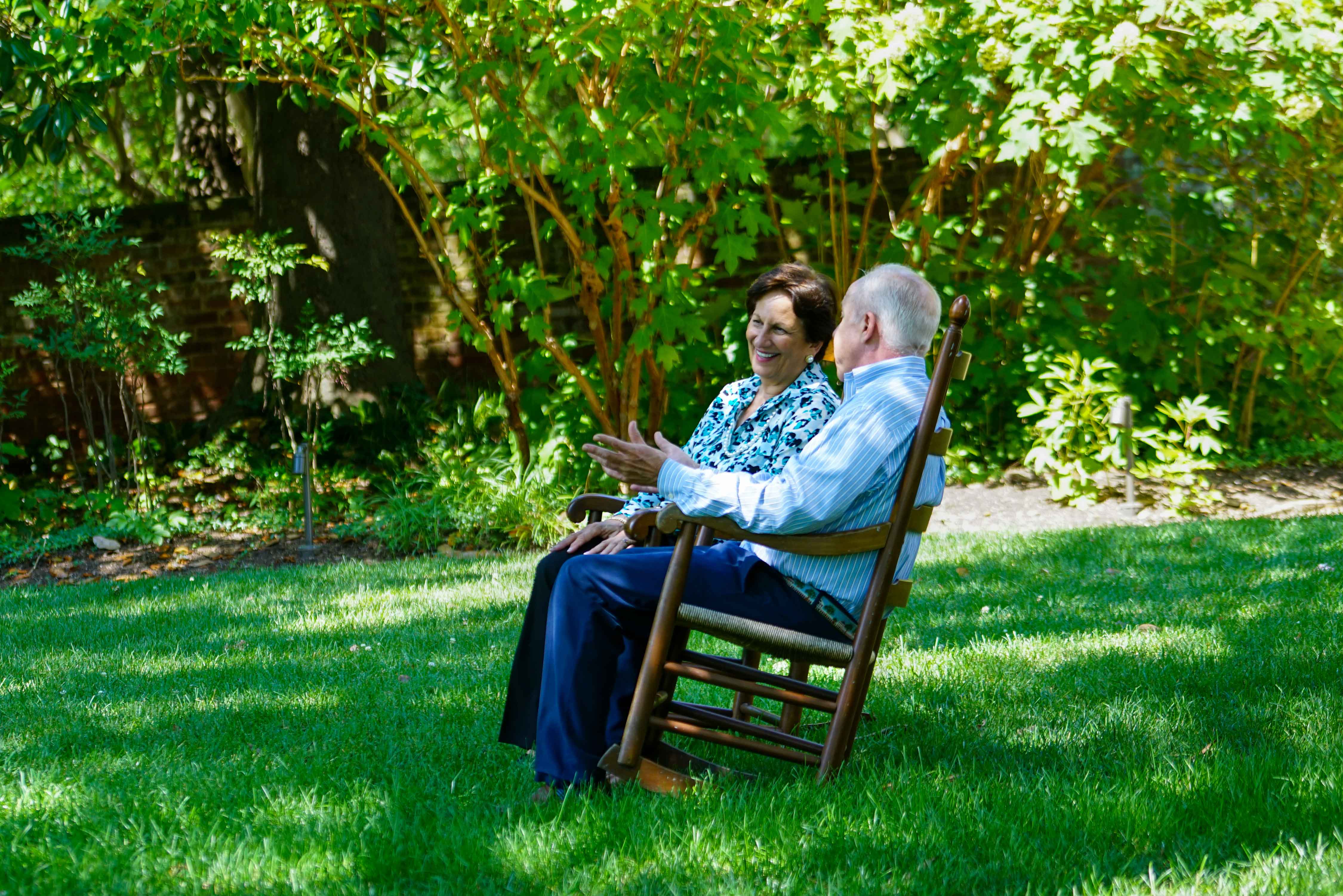 I've invested in somebody's future. And that to me is so important, because education is a foundation, and it really does make everything equal. I was only at UVA for two years, but it obviously had such a great impact on me.
— ­Donna Bucella
Within a year, she became the number two, running the operations of all the U.S. Attorney's Offices. In 1995, Timothy McVeigh bombed the Alfred P. Murrah Federal Building in Oklahoma City. "Reno sent me down to Oklahoma. I was one of the first on the ground, working on the grand jury, ushering around my friend, Merrick Garland, who's now the Attorney General," she said. "We started the investigation, then assembled a trial team." Bucella returned to Washington and was appointed by President Clinton to serve as U.S. Attorney for the Middle District of Florida, becoming the first woman U.S. Attorney appointed in the state of Florida.
With the change in presidential administrations, Bucella returned to Miami. She was working for a law firm on 9/11. "I would have done anything to go back into the government," she said. She helped create the Transportation Security Administration and oversaw federalizing the operations of the 80 airports in the Southeast. "Then my friend Bob Mueller, another UVA alumni [Robert Mueller (Law '73), then director of the FBI] told me that they were standing up the Terrorist Screening Center where the United States would maintain a watch list of all known and suspected terrorists," she remembered. "So I said, 'What do you need?' He said, 'I need somebody that knows the difference between an enemy combatant and a criminal. I need somebody who knows FOIA [Freedom of Information Act] and someone who knows federal law.' And I was like, 'Who?' He said, 'You.'" Bucella served as the first director of the Terrorist Screening Center for three years, where—in a small world story—Ballowe's cousin, a former Naval commander, reported to her.
Jobs in business followed, then a return to practicing law. Bucella went back to Washington to run Intelligence for Customs and Border Protection from 2010 to 2013. Later she worked with Guidepost Solutions, a consultancy on federal and state compliance and regulatory issues. Bucella remained in the Army Reserves for 21 years and retired as a Colonel.
I think that we recognize and appreciate how special our friendships are," said Ballowe. "And then when you take people who've been friends for going on 40 years, that's an even more special relationship.
Bucella was with her friends from that day in the Pavilion garden—Ballowe, Danse, and Donna John Phipps (Ed '78, '79)—when she was offered her current job as vice president and chief compliance officer for 7-Eleven. "We were at a reunion—Jimmy, Donna John, Marian, and me. And I said, '7-Eleven offered me this job.' And Jim was like, 'Oh, that's fantastic,'" she remembered. "I made the ultimate decision that weekend, and here we are."
It was Ballowe who encouraged Bucella to create a Bicentennial Scholarship. He had recently made an additional gift to his own Bicentennial Scholarship, the James E. Ballowe, Jr. Scholarship in the College of Arts & Sciences, which will provide need-based support to students at the College. Gifts through his estate will add to his scholarship fund, increasing the benefit to future students, and will create another need-based scholarship at the School of Law. Ballowe has also provided steadfast support to the Glee Club, Alderman Library, and Madison House.
Bucella's scholarship—the Donna A. Bucella Bicentennial Scholarship in the College of Arts & Sciences—gives preference to students whose parents or guardians are active or former members of the United States military or who themselves are either active or former members of the United States military. She also made plans in her estate to create a second scholarship—she structured this gift so that the University will be able to direct the funds to the school most in need of scholarship resources. "I've invested in somebody's future," she said. "And that to me is so important, because education is a foundation, and it really does make everything equal. I was only at UVA for two years, but it obviously had such a great impact on me."
The friends traveled from northern Virginia to spend a day on Grounds this June. "I think that we recognize and appreciate how special our friendships are," said Ballowe. "And then when you take people who've been friends for going on 40 years, that's an even more special relationship."
"We have a history together," added Bucella. "And we're always there for one another."
Image