Image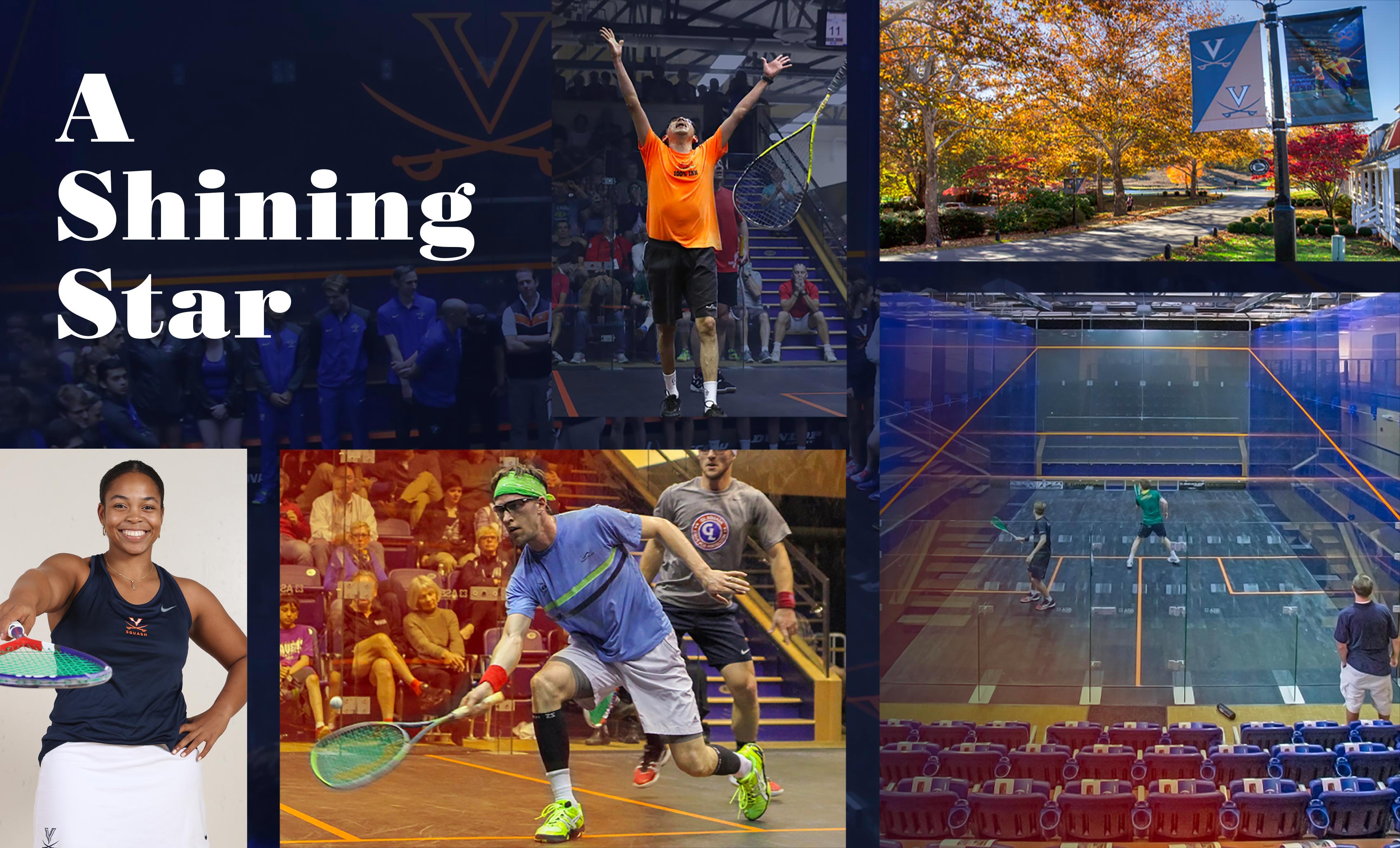 Walk through the McArthur Squash Center during a varsity team match and you just might be awestruck. The state-of-the-art building is considered one of the best squash facilities in the country—and for good reason.
Spanning multiple levels and featuring center court walls of glass, as well as warm interiors accentuated by wood and elegant details, the facility blends spacious comfort with a distinct air of competitive energy.
As the home of the UVA Varsity Squash team and the shining star of the squash community, the center commands great pride and enthusiasm from competitors and fans alike. Crowds of supporters convene there regularly to cheer the team on alongside parents and friends.
In April 2023, the University of Virginia celebrated the McArthur Squash Center's tenth anniversary. Made possible by a gift from the Charlottesville-based Quantitative Foundation in 2012, and open to the public in 2013, the center has brought together Charlottesville squash enthusiasts, the UVA Varsity Squash team, families, students, and Boar's Head visitors, even hosting world-class squash competitors.
Image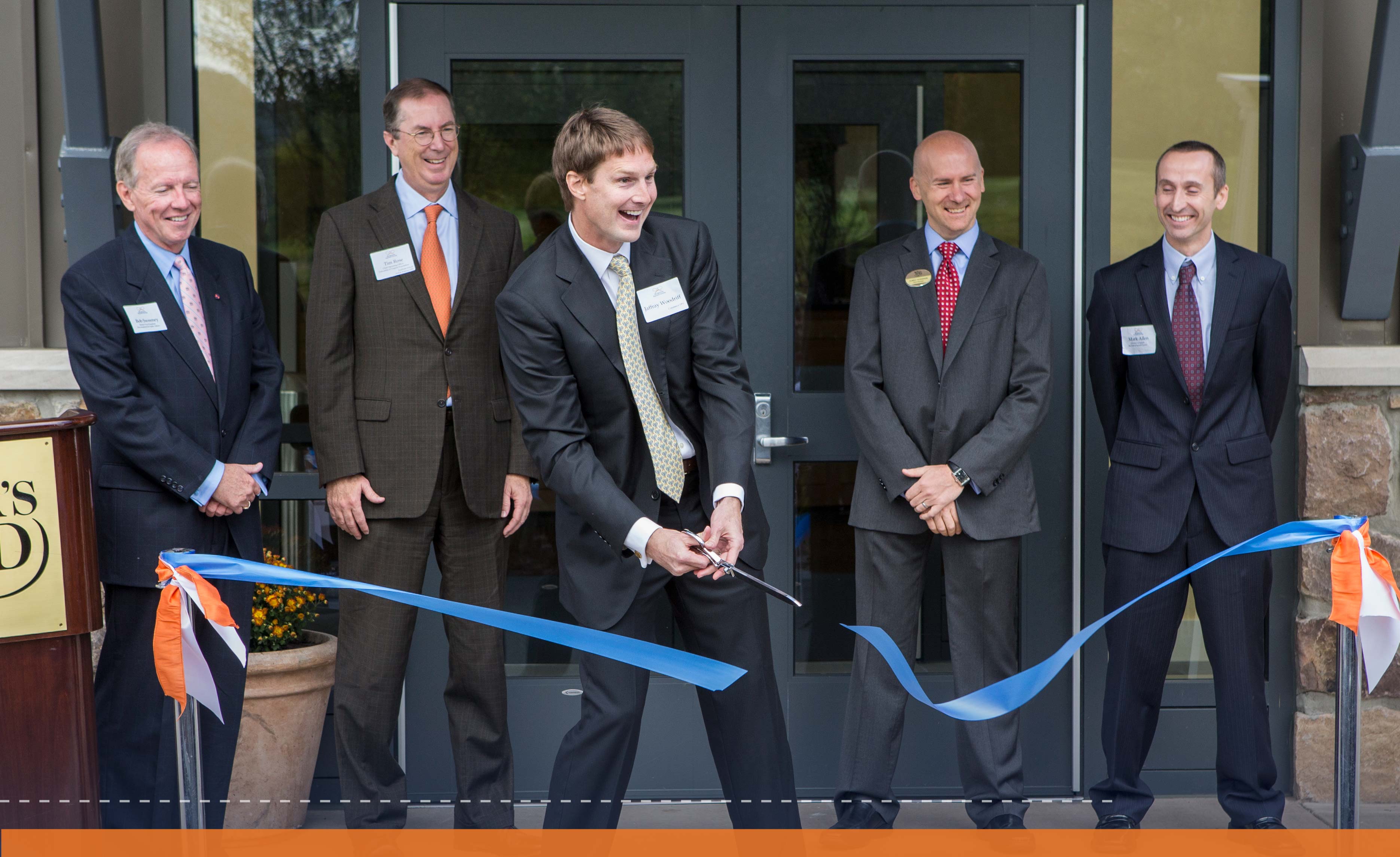 Named after the grandfather of Jaffray Woodriff (McIntire '91), founder of the Quantitative Foundation, the 51,300-square-foot center features twelve traditional singles courts, a three-wall glass stadium court, as well as a four-wall glass stadium court, two hardball doubles courts, team locker rooms, a training room/lounge, and a coach's office. The facility also features an integrated A/V system with HD broadcasting capacity, five courts with on-demand video playback, a specially designed tournament management system, and a network of 15 high-definition courtside monitors.
Image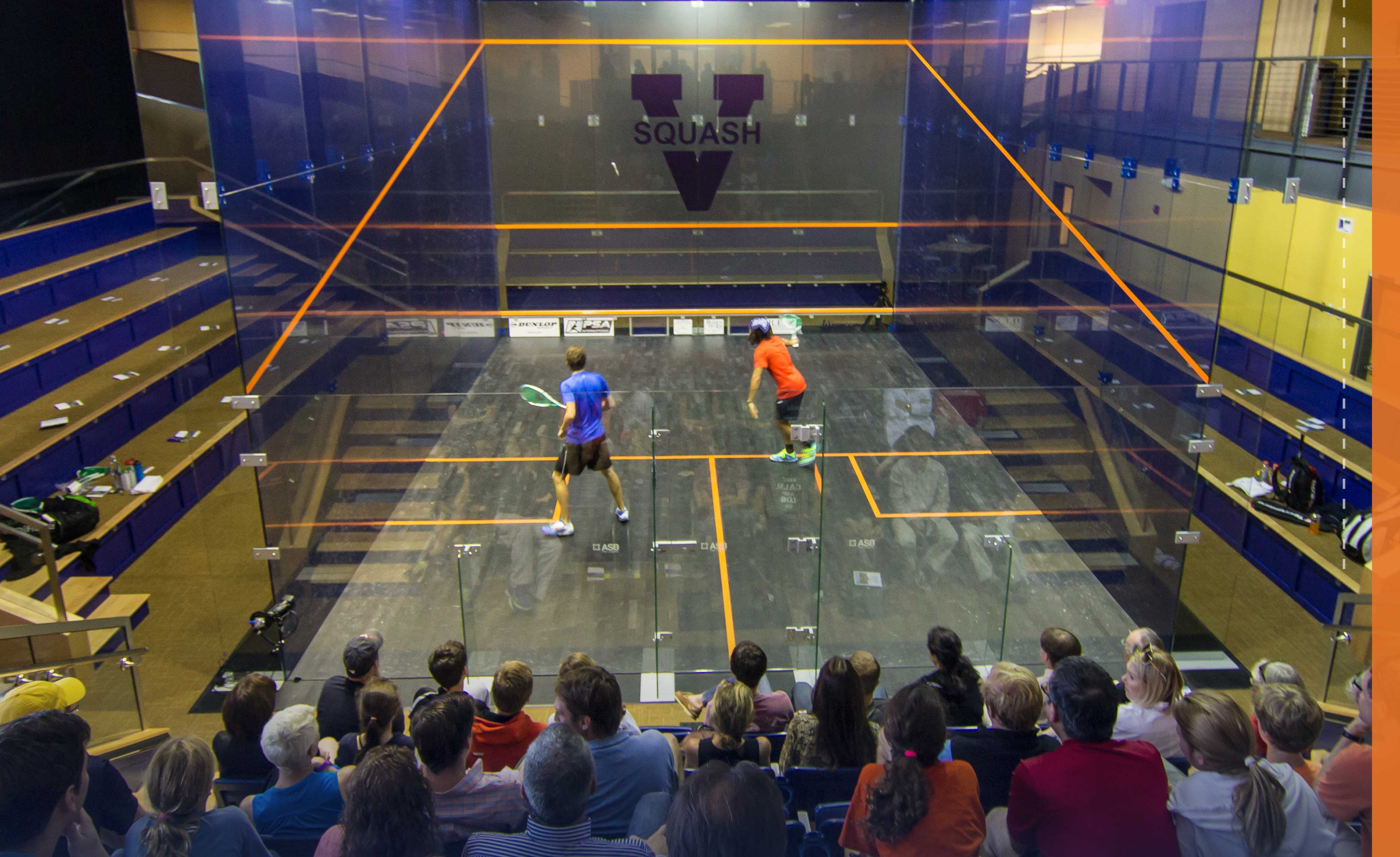 "This special anniversary marks a major milestone for the University of Virginia and for the sport of squash in our community," said President Jim Ryan. "I'm deeply grateful to Jaffray and Merrill for all they have done to elevate the sport and for their enduring support of UVA."
To commemorate the center's anniversary, Coach Mark Allen, along with six members of the men's and women's squash teams and enthusiasts from the Charlottesville squash community shared their thoughts on the McArthur Squash Center and its impact ten years later.
---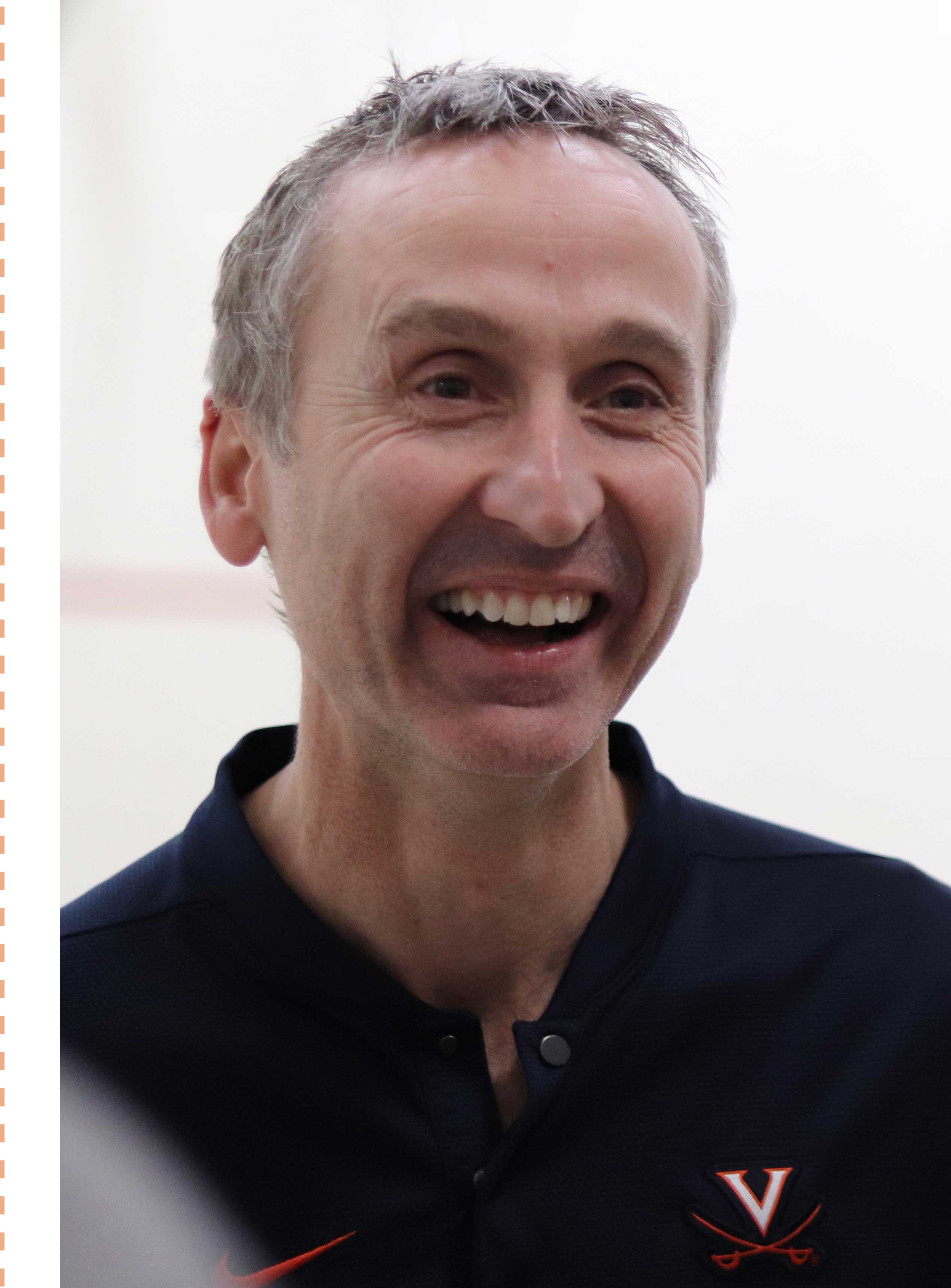 Mark Allen
Coach Mark Allen started as the director of the UVA club squash program at the Boar's Head Sports Club, becoming head coach of the Virginia men's and women's squash teams in 2017, when squash became a varsity sport at UVA. Under his leadership, the men's team has achieved a highest national team ranking of No. 5 (during the 2019-20 season) and the women's team has achieved a highest national team ranking of No. 4 (this year).
Allen emphasizes how the center is a resource for so many. "It's one of the premier squash facilities in the country, but it also benefits the tennis team who use the strength and conditioning space, academic room, and trainer space," he said. "And it's also a venue for some of the best squash in the world, hosting major U.S. Squash events and of course the World Masters Squash Championship."
The World Masters Squash Championship, held only twice in the U.S., took place at the McArthur Squash Center in July 2018, bringing 850 players from around the world to Charlottesville.
Kevin Klipstein, president and CEO of US Squash, agreed. "The McArthur Squash Center immediately set the new standard for squash facilities in the U.S. Every squash center built or renovated since then is compared to it, and McArthur always and still compares very, very well."
What the center enables those affiliated with it to do is create an extremely memorable part of a lifelong positive engagement with the sport, which reaches well beyond the four walls of the squash court.
—Kevin Klipstein, president and CEO of US Squash
He noted that the center has already hosted more than 50 US Squash-accredited competitions, with thousands of players and tens of thousands of matches. Included in the long list of events hosted at McArthur are some of the most prestigious competitions, such as the 2014, 2015, and 2016 U.S. Squash Championships, the 2018 World Masters Squash Championships and the 2019 U.S. Junior Squash Championships.
"What the center enables those affiliated with it to do is create an extremely memorable part of a lifelong positive engagement with the sport, which reaches well beyond the four walls of the squash court," Klipstein said.
And as for the squash team players?
"It's their second home," Allen said. The women's team's hard work this year resulted in their highest-ever finish, making it into the top division of the national championships, and the team was close to pulling off a major upset against the No. 1 seeds, Trinity, in the semifinals. "They were neck and neck with the very best teams in the country this year," he said.
The men's team also made the top division for the third year running and lifted their fourth consecutive conference championship title. Aly Hussein and Meagan Best, the men's and women's teams' No. 1 individual players, both made it to the semifinals of the CSA National Individual Championships this year and finished as first team All Americans.
---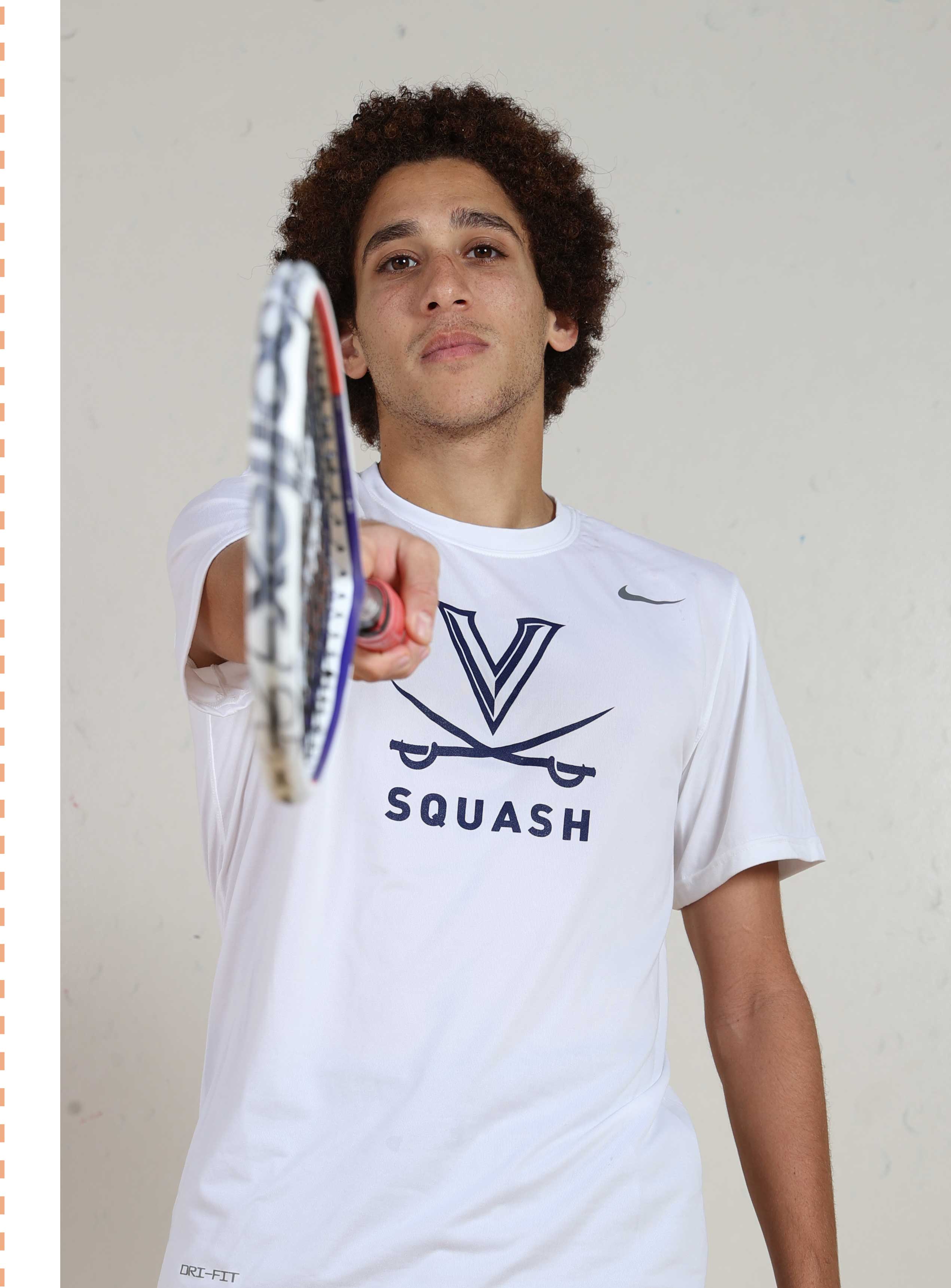 Aly Hussein
Aly Hussein, a fourth-year student from Cairo, Egypt, came to UVA from Tabor Academy in Marion, Massachusetts. He affirms there's nothing like the McArthur Squash Center at other schools or in Egypt. "I love UVA, and my friends from Tabor are amazed—they wish this was their school," he laughed. "Our courts are pretty much perfect, and that UVA logo on the glass [center] court is so motivating. It makes you push whenever you're tired."
The team members support each other, Hussein said. "We work hard every day, and everyone is helpful. Also helpful are the athletic trainers, Caroline [Fitch] and Emily [Buccigross], who make sure we're healthy and okay to play."
Hussein has spent a good deal of his time in center court, ending this season ranked No. 83 in the world. After graduating with a bachelor's degree majoring in foreign affairs, he will turn professional, with his sights set on being ranked a top-10 in the world player. He already knows he will miss the team and the center. "It holds a special place in our hearts," Hussein said.
---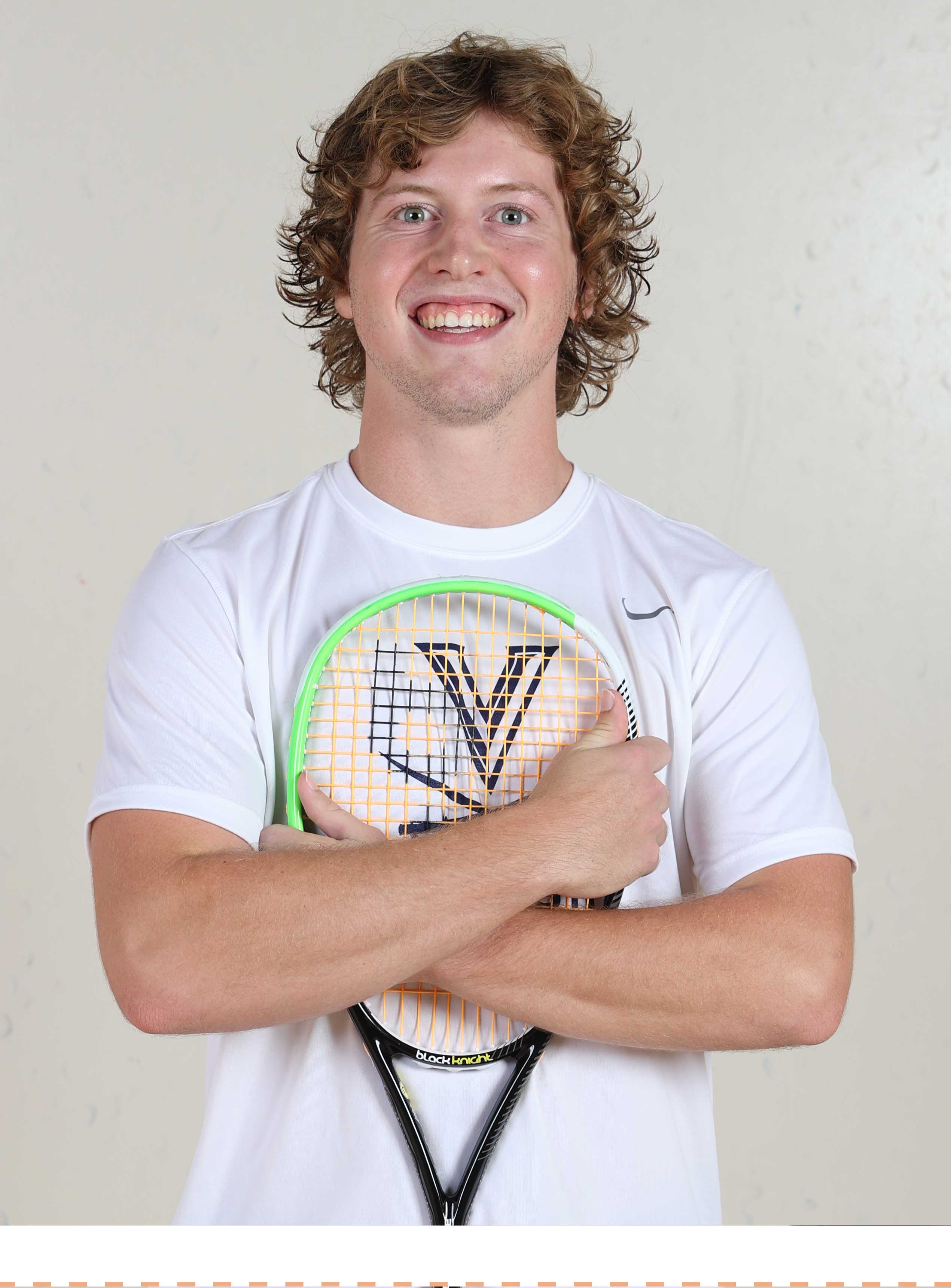 Evan Hajek
Evan Hajek is a second-year student for whom squash has been a lifelong passion. A kinesiology major, he is excited to see how far he can take his game in the years ahead. He's spending the summer training and coaching squash at the Boar's Head Sports Club.
Hajek agrees with Coach Allen and his fellow teammates about the center's importance to the community. "It's my home away from home, where I come to practice, do homework, work out, and just hang out. And I love the home matches. It's so much fun having all our friends come see us play, along with parents and the whole community."
A Charlottesville local, Hajek has played squash at Boar's Head since he was six, playing once a week with his dad, Fran. "The old courts then weren't even regulation size courts. They were built when squash was played with a different ball and dimensions. The new facility doesn't even compare," he said.
Hajek credits the center with strengthening the Charlottesville squash community and even helping other schools' varsity squash programs by providing a top-of-the-line environment for matches. "Without the McArthur Squash Center, no ACC school would have a varsity squash team, not a school our size."
---
Emma Jinks
Emma Jinks, a fifth-year from Stratford, Canada, can't remember not having squash in her life. "My dad was absolutely obsessed with the sport. It was a way of meeting people when he moved to Canada. And I grew up holding a racket," she said.
After visiting UVA and other schools during her senior year of high school, she finally got "that feeling" at UVA. "I went home, and my mom took one look at me and said 'oh, you're going, aren't you?'" Jinks said that while the warm weather didn't hurt, she had never felt so decisive or so welcomed as when Coach Allen took her on a hard hat tour of the 2018 expansion of the center.
She looks back at her time at UVA as having been filled with special moments. "It's such a special place. Everything works together in such a beautiful way: the team, the facility, and the people. All are the best possible."
Once Jinks completes the McIntire School of Commerce's global immersive experience this summer, she will move on from Charlottesville, UVA, and her teammates at the squash center. "I know that every time I return to McArthur it's going to be the most surreal experience, bringing back so many memories like being stuck there in a snowstorm, our first home matches and the last match in 2022 before I knew I'd do my fifth year. I'm so grateful to everyone to be here and on the team, and for this facility."
---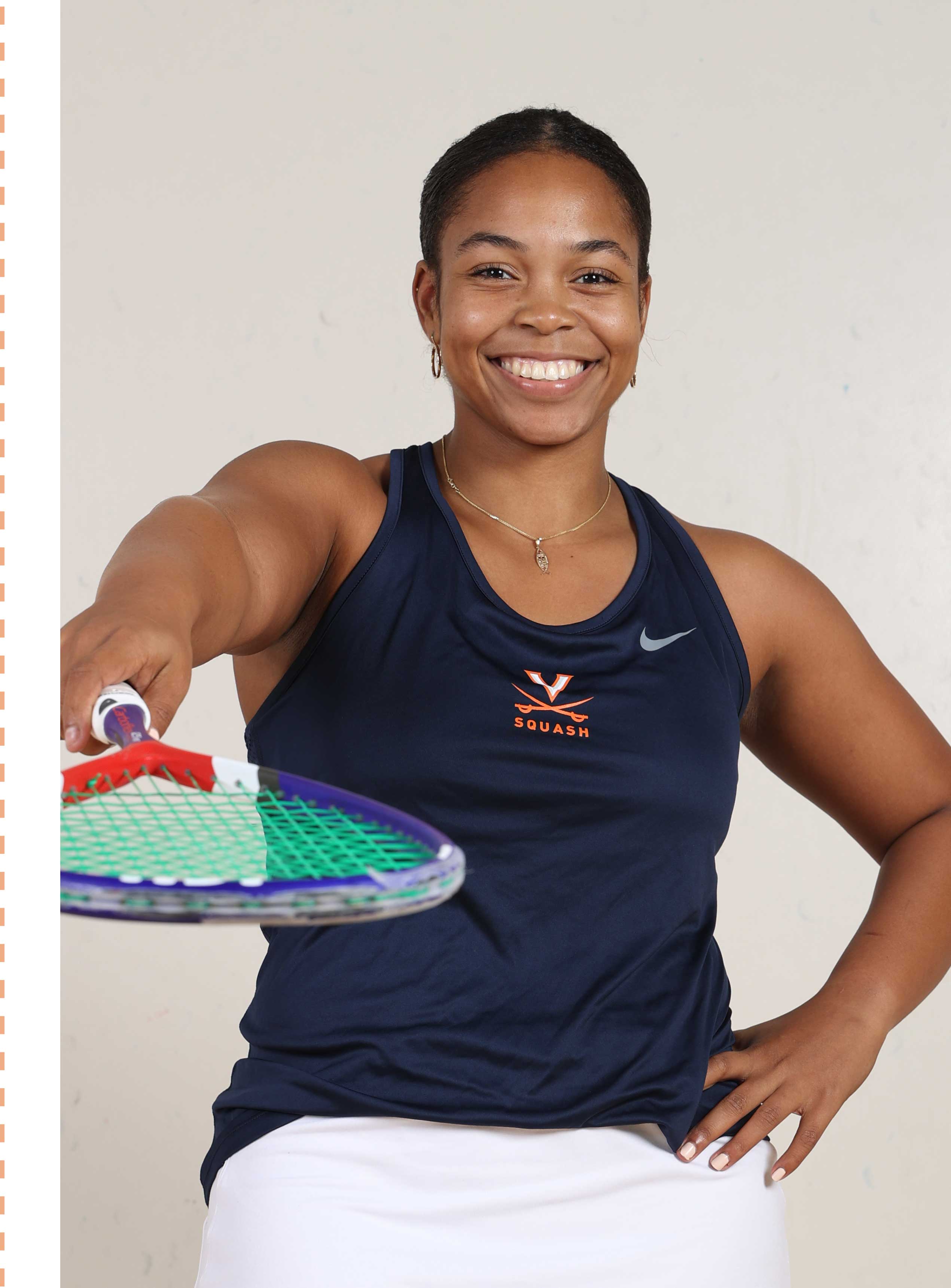 Meagan Best
All the team members have played squash since they were children, but third-year Meagan Best, from Christ Church, Barbados, wins the team award for being introduced to squash at the youngest age—her parents are both competitive squash players. "My mom played even while she was pregnant," she said. Best was hitting the ball as soon as she could walk but says the game is extremely challenging. "We are probably the most underrated sport there is. People assume it's 'tennis inside,' just hit the ball on the wall. It's actually very hard."
When her parents travelled to Charlottesville to visit, Best's father had the chance to play squash at McArthur Squash Center. He was amazed by the facility. "Sixteen courts. There are four courts on the entire island of Barbados!"
Best added, "The center is one of the best. You know we have the downstairs area—I feel like a pro walking there. I have a locker with my name on it!"
Competition drives Best, a psychology major who focuses her energy on attaining team goals. "It sounds simple, but what's exciting is just to win. It's part of seeing how far we've come. We haven't climbed the tip of the iceberg yet." Her plans for summer include an internship and more squash—playing tournaments in Barbados and continuing to train.
---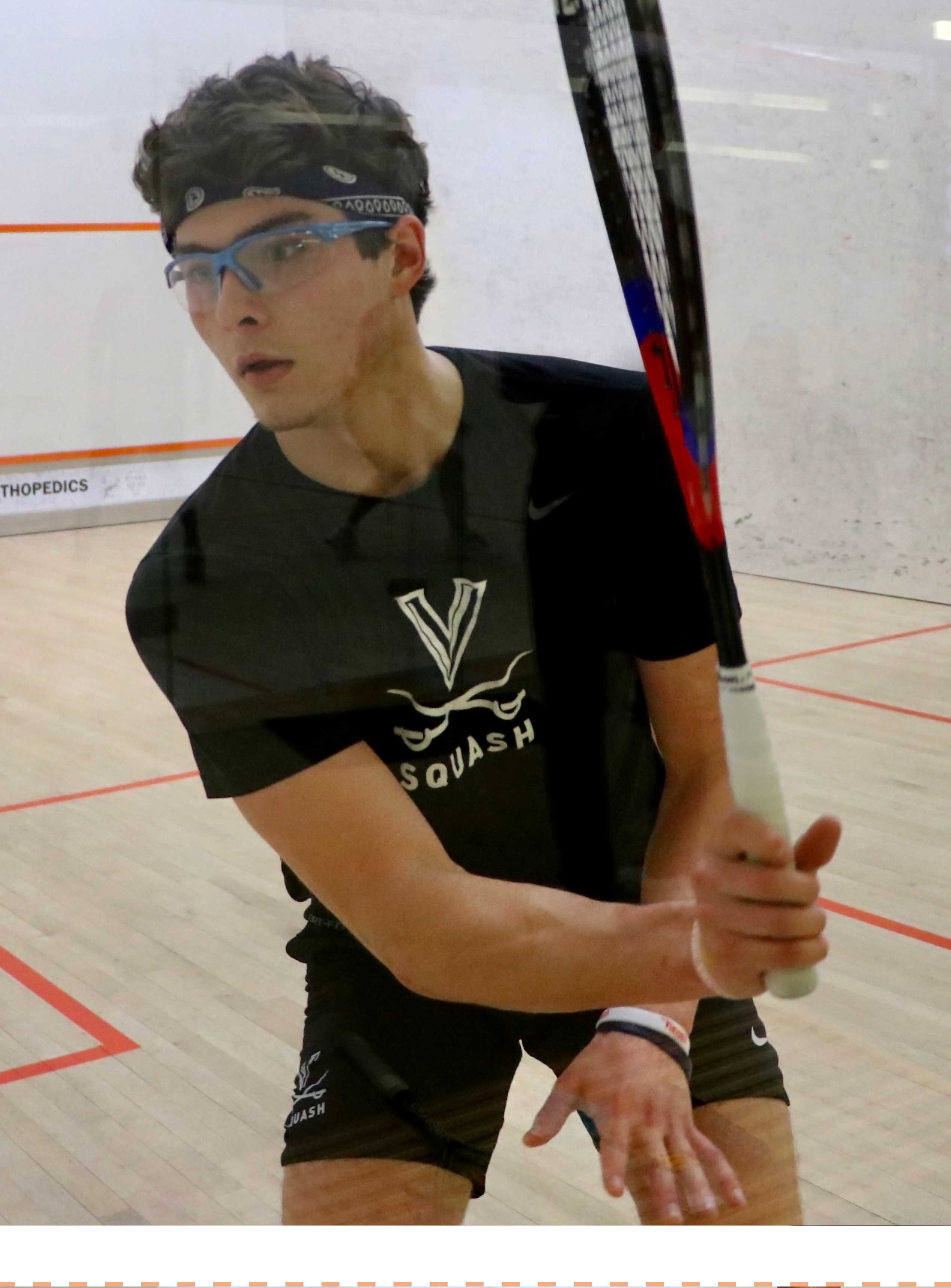 CJ Baldini
CJ is a second-year, majoring in political philosophy, policy, and law. He comes from a family of athletes in West Hartford, Connecticut, with three boys competing in college sports—lacrosse, swimming and squash—and both parents were athletes in college.
Virginia's "worry-free" environment is very appealing to CJ, as he explained, "Our facility is one of the best in the entire world, not just in the country. No team has access to the resources we do. No team has a locker room like we do. We have the gym and a coach who can work with us whenever available. All the little things count a lot at this level. It makes it easy for us. We don't have to worry about anything."
CJ appreciates what he calls the level of brotherhood at UVA—a quality often lacking at other universities. "Squash is an individual sport, you can just focus on yourself, but I want to win for UVA, for the guys outside [the court], not for me."
The team thinks alike, CJ continued. "And we are constantly reminded how lucky we are to have the facility that we do. The whole team is aware of how much work Jaffray put into the facility and the sacrifices he's made, financially and timewise. He gave us this opportunity to win at this level. He's a big part of it."
---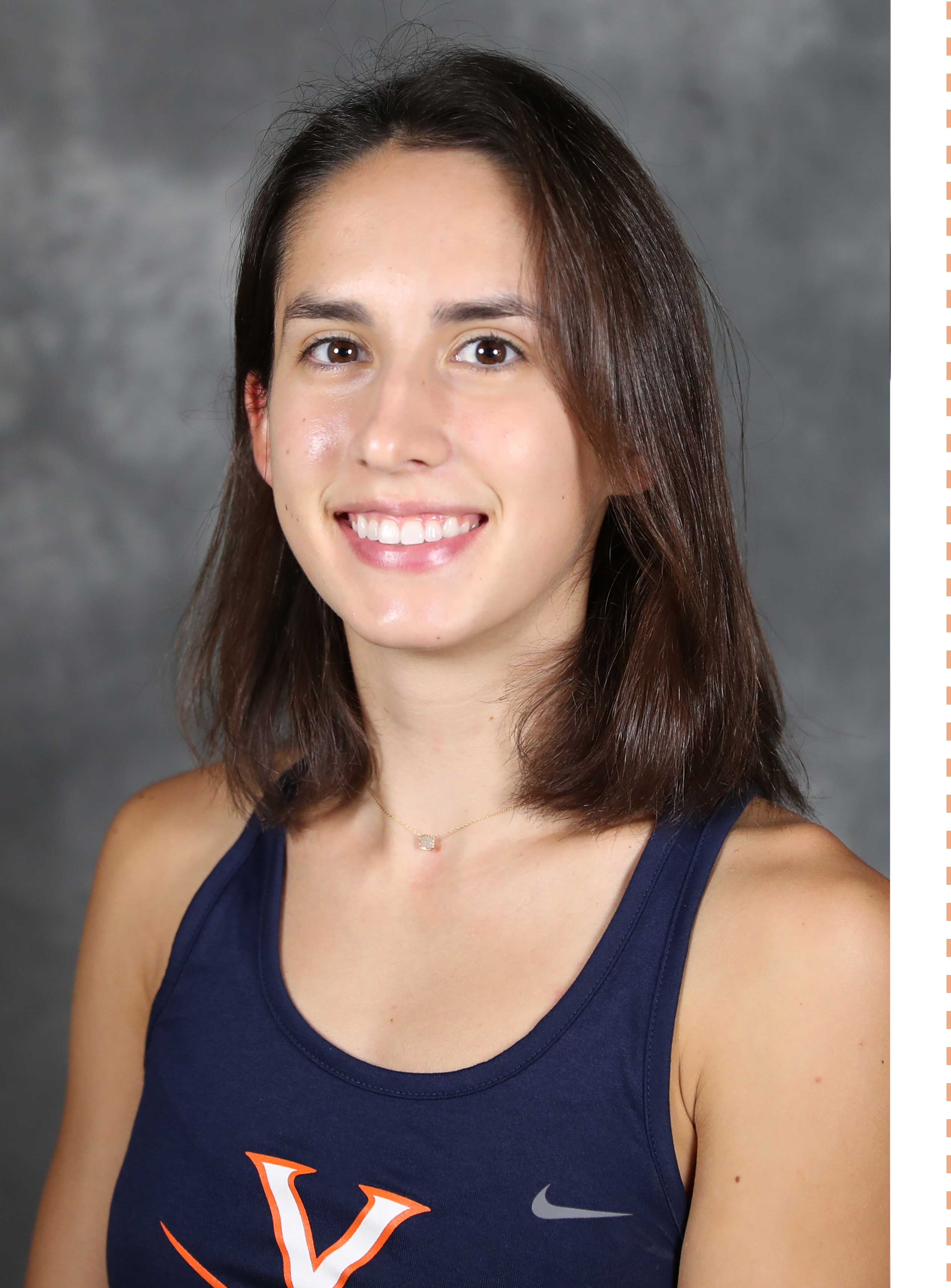 Olivia Walsh
Olivia, a third-year at the Batten School, comes from a tennis-playing family in Bryn Mawr, Pennsylvania. Her mother, brother, and sister play tennis, and Olivia enjoys playing tennis, too. In fact, she described herself as obsessed with tennis as a child but remembers that changed when she walked by some active squash courts early on. "They didn't have to pick up the balls afterwards. And they gave me Airheads candy." A squash player was born.
She also has a passion for playing doubles in squash and for UVA. "Squash has played a massive role in why I love UVA so much. My teammates are like my best friends."
Olivia explained that building the squash center built a new community within Charlottesville. "It's the Boar's Head and Charlottesville and UVA squash members all coming together," she said. "It's the people who stand out for me—who are absolutely obsessed by the sport. We have a common ground and something to talk about."
"I'd heard about the McArthur Squash Center before I came to UVA, and I'd played here before," Olivia said. "The coolest part about the center is having extremely high-end courts and then everything else within 50 feet of each other: the training, academic, and locker rooms are very nice. The competition's team members always comment on the locker rooms. They can't believe them."
---
A Grateful Community
Image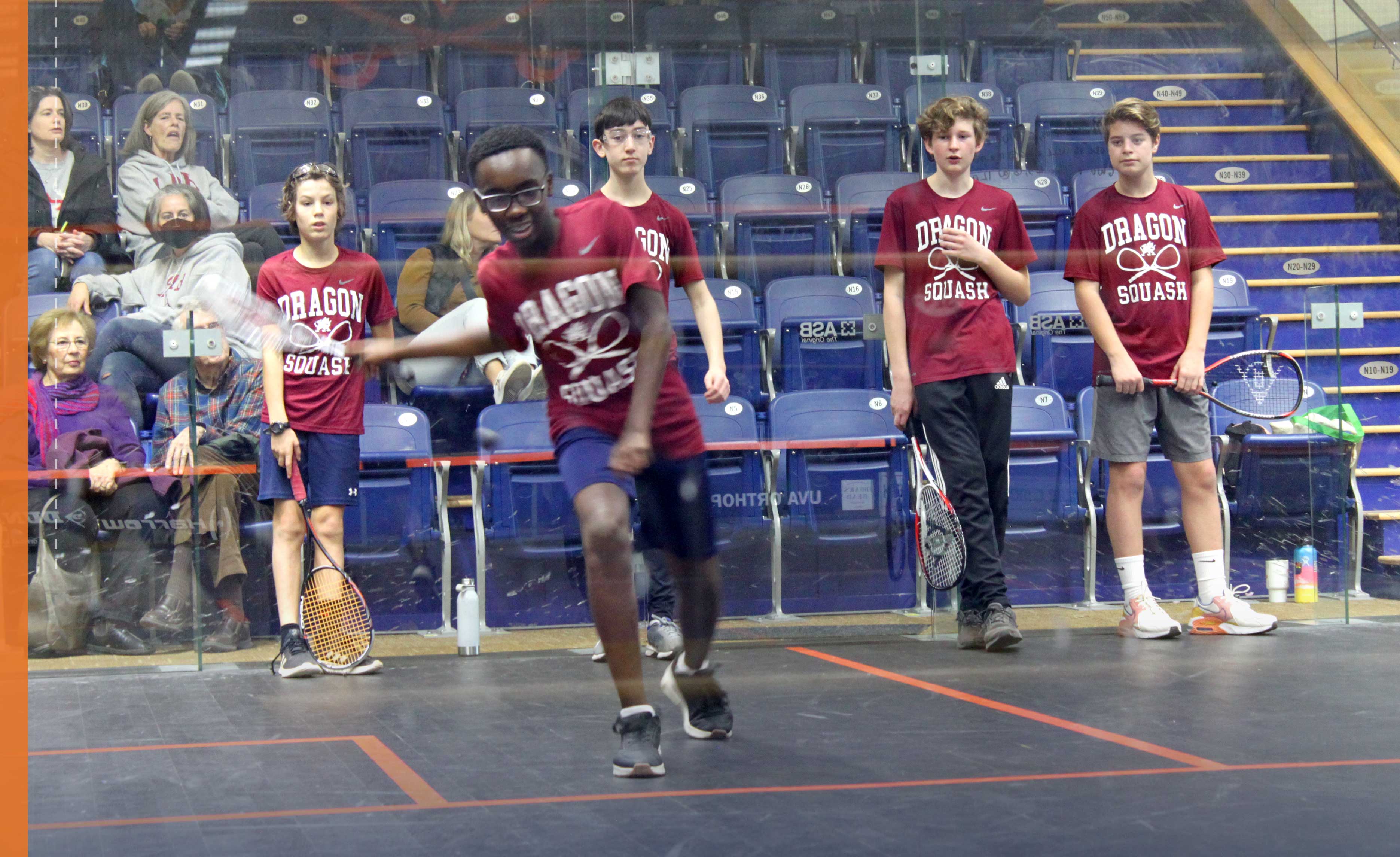 Fran Hajek, father of Evan Hajek and McArthur Squash Center regular
Fran Hajek, father of men's squash player Evan Hajek, has played squash for over 40 years and says it never gets old. He appreciates the McArthur Squash Center as a "world-class facility where everyone can find a game at their level." He also remembers well the old American-style singles court and doubles court that drew few players to Boar's Head. Now? "There's terrific growth, particularly in the junior ranks. When the center first opened in 2013, the courts were never busy. It was rare to have more than a few courts in use, even what should have been peak hours in the early evening," said Hajek. "Now, it is advisable to make a reservation."
---
S. Max Edelson, UVA faculty and McArthur Squash Center regular
Hajek's squash partner is S. Max Edelson, professor of history in UVA's Corcoran Department of History. After McArthur opened, his regular group of players joined box leagues, took clinics with the Boar's Head pros, and mixed and mingled with the UVA teams as they advanced to more competitive collegiate play.
The center draws many faculty and students, Edelson explained. "For a few years, history department faculty and graduate students took over the back courts for weekly open play—I bumped into a former undergraduate history major who joined our group as well and we struck up a friendship on the courts. A member of the law school faculty organized a weekly doubles squash game that is still going strong."
The community at McArthur is expanding and it's a social scene with healthy benefits. "I like meeting other professors on the courts—one of my regular partners teaches in the religious studies department—but I also like the community of players from outside the University," said Edelson. "There's real competition, especially in the league play, but we all realize the fun we have as grown men and women who get to play a demanding game together, get fit, and be social. Other than home and Grounds, I probably spend more time at the McArthur Squash Center than anywhere else."
Image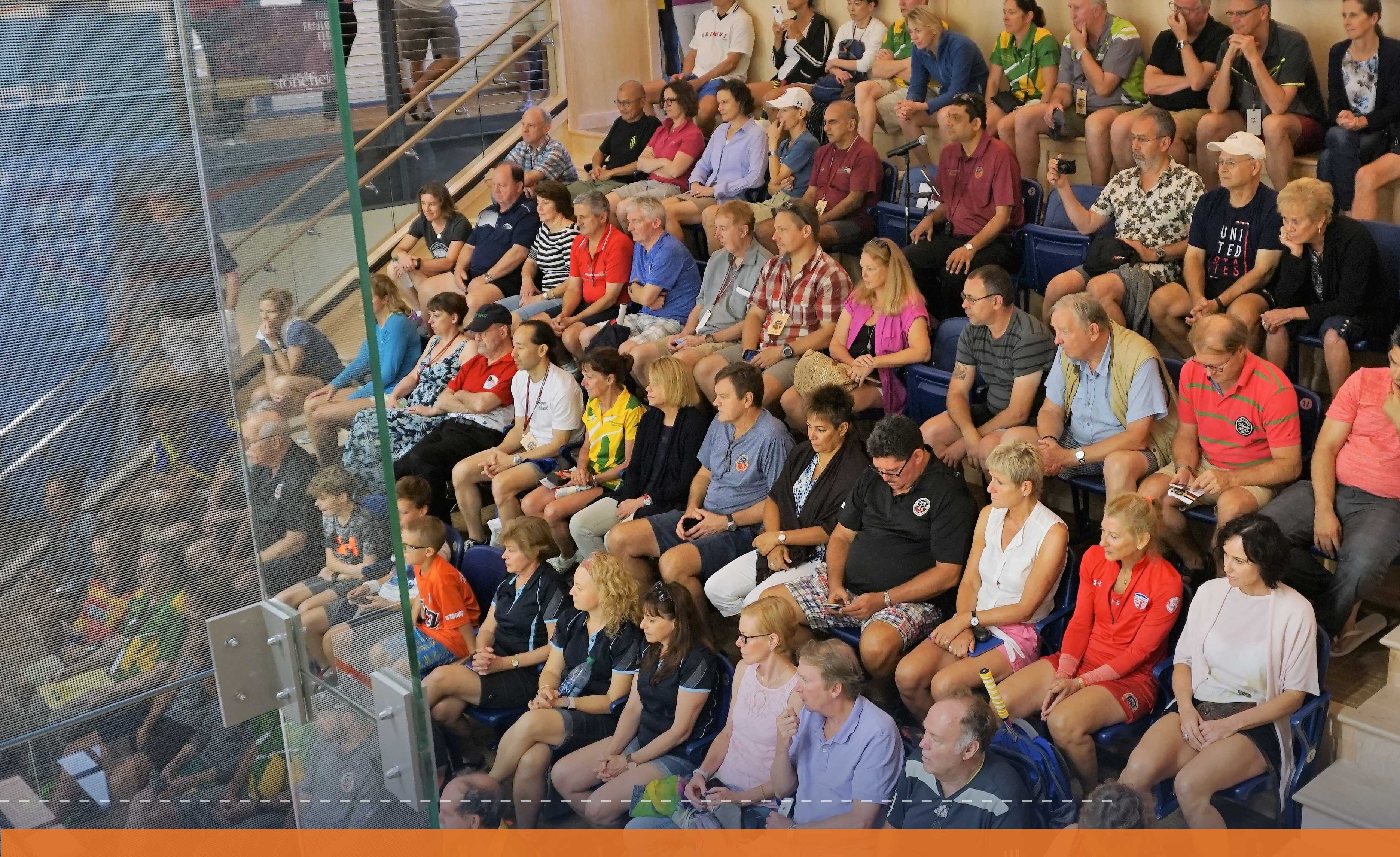 Coach Allen saw the tremendous potential of the McArthur Squash Center when considering the position at Boar's Head Sports Club. "Ten years ago, when I made the decision to take the job and move my family here from Cape Town, South Africa, it was because I believed the McArthur Squash Center was a world-class facility that had the potential to expand the sport I love—both locally but then also significantly beyond too, reaching other ACC schools and more southern cities and towns in the United States," he said.
He focuses on the future, which he describes as bright and promising. "The success of the UVA squash team and the hosting of world-class events have certainly helped live up to some of that potential, but it's exciting to think that we are still very much a work in progress with undoubtedly plenty of opportunity for the game to grow in Charlottesville. Squash has a sure footing in the local community now, and we are excelling as a varsity college team, but there's lots of grassroots work still to be done. I hope that in another 10 years from now we will see these courts full, from morning to night, and feel it's necessary to add even more."
Not to overstate the obvious, but none of this is possible without the vision and generosity of Jaffray and Merrill Woodriff.
James Neiderer, general manager of the Arlen Specter US Squash Center
James Neiderer, general manager of the Arlen Specter US Squash Center and former manager of Boar's Head Sports Club, shares Allen's outlook. "Because of McArthur and the events it has hosted and the programs it supports, coupled with the trajectory of the UVA Squash program, McArthur is serving as a beacon for squash in the mid-Atlantic," he said. "The importance of this for the sport of squash in the United States cannot be overstated. I will not be surprised, and I truly hope, that we will see more schools in the mid-Atlantic and ACC put energy and resources behind their squash programs and take them to varsity status. Colleges in this region only need to look to UVA for evidence of how a successful squash program can complement and help an athletics program and create so many ancillary benefits for their communities."
Neiderer acknowledged the crucial contributions of the Woodriffs and the Quantitiave Foundation. "Not to overstate the obvious, but none of this is possible without the vision and generosity of Jaffray and Merrill Woodriff," he said. "Their commitment to the sport of squash is unmatched. They've provided opportunities for squash players at all levels with an amazing venue to enjoy the game."