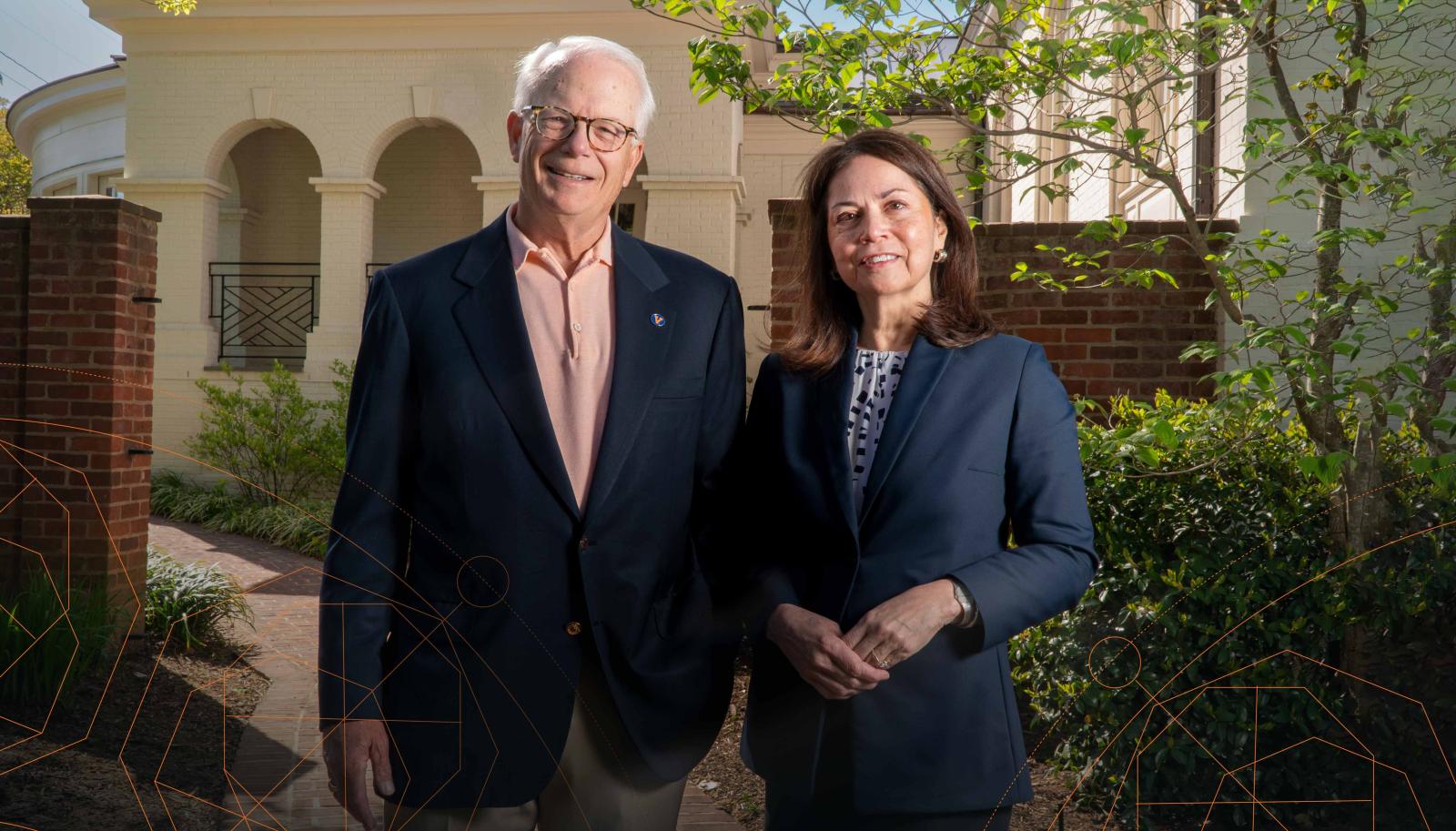 Fueled by Passion

John & Patricia Epps
Members of the LAWN Society

"I need to get to know that one."
It was the early seventies in the Cavalier Daily newsroom, and John Epps (Col '75) had just laid eyes on his future wife, Patricia Kyle Epps (Col '74, Grad Arts & Sciences '79, Law '83), for the very first time.
Not that she had any idea.
"Patty was my superior at the paper," John said. "I had to work up my courage for a while."
Fifty years later, here they are—happier than ever and still devoted to the University that shaped their lives.
The couple's devotion is most evident in their long history of support. Over the years, they've given to the Virginia Athletics Foundation, the College of Arts & Sciences, the School of Law, the Alumni Association, the Library, the Center for Politics, and the Maxine Platzer Women's Center. They also recently created the John and Patricia Epps Bicentennial Scholarship, providing support for an undergraduate student in the College.
Looking back at John's and Patty's time on Grounds, it's easy to make sense of their diverse philanthropic interests. Both enjoyed a robust undergraduate experience, taking part in a variety of extracurricular activities. John, whose father attended the University and was a lifelong UVA sports fan, inherited his dad's zeal. In addition to working at the Cavalier Daily, where he was editor-in-chief during his fourth year, he was a member of the IMP Society.
Patty, who holds multiple degrees from the University, was also highly active, serving on Student Council, as a resident advisor, and as a member of the prestigious Raven Society. As part of the first cohort of women to enroll at the University, she helped to pioneer the coeducation of many UVA clubs and organizations. She also holds the distinction of being one of the first women to live on the Lawn.
Image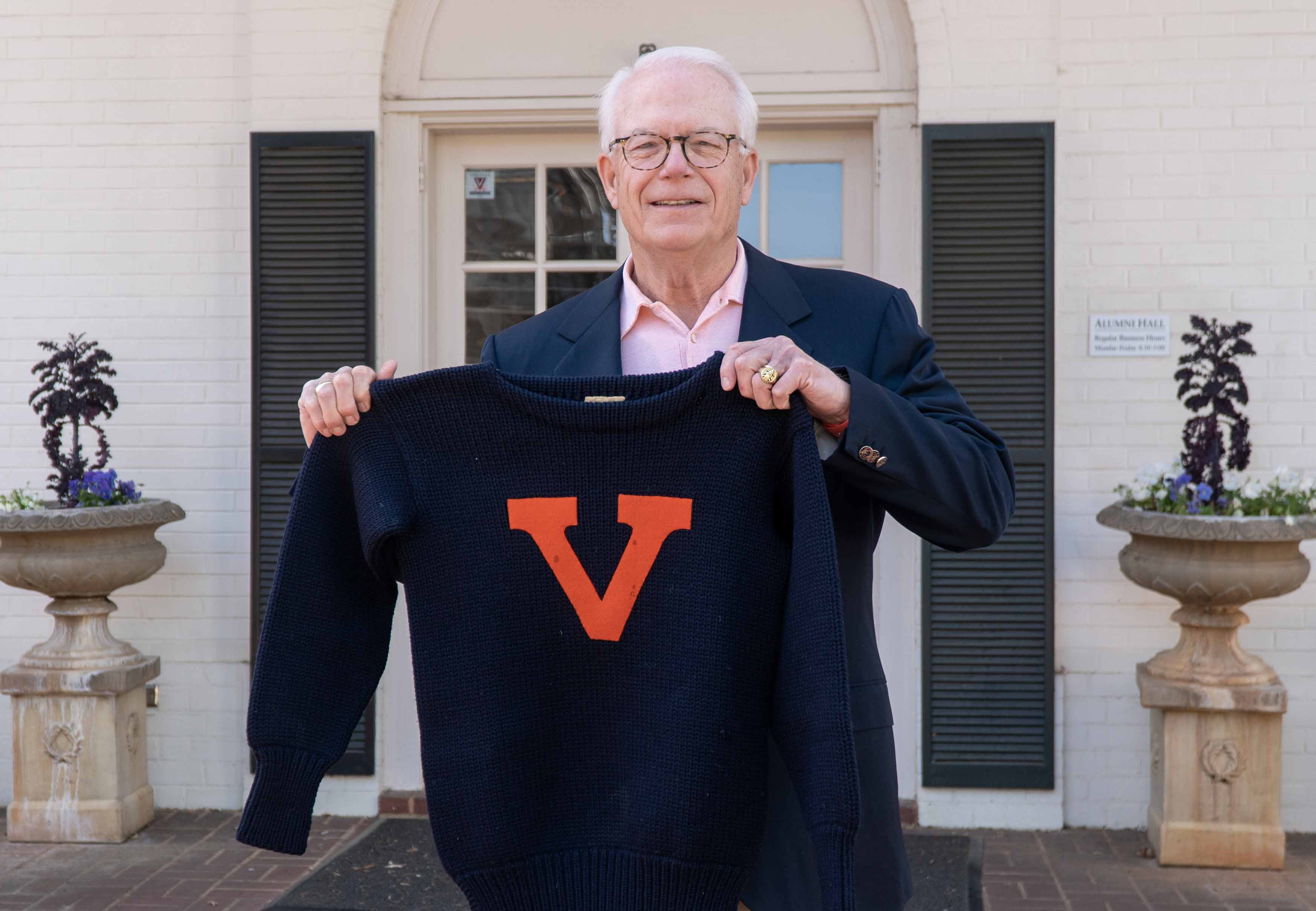 John Epps (Col '75) proudly shows off the vintage UVA boxing jersey worn by his father, Augustus C. Epps (Col '36, Law '38), during his time at the University.
"You can imagine what it was like having one small bathroom for 10-15 of us," Patty said. "But we had fun, and I've remained friends with a lot of the women from that time."
After graduating, the couple went on to successful careers in law. Now retired, they split their time between their primary residence in Richmond and Charlottesville, where they own a "game day house." Both remain connected to the University through board and volunteer work: John serves as an emeritus trustee of the College Foundation and was previously chair of the Foundation's Richmond regional board, while Patty has served as chair of the Alumni Association board of managers.
Reflecting on their many years of support, John and Patty note a few areas that they regard as important to the University's future, including attracting and retaining top-tier faculty and graduate students; maintaining a reputation as the commonwealth's premier public university; and providing access to a mix of new and legacy students.
"I've loved seeing UVA diversify since the 70s," Patty said. "It's been exciting to see it grow in that regard."
Having contributed so much to the UVA community, the couple are also taking time to enjoy themselves. Recently, they've noticed an uptick in the number of familiar faces they see around town.
"People from our era at UVA have been making their way back to Charlottesville on a full- or part-time basis," John said. "It's been a lot of fun reconnecting with friends from the past."