Image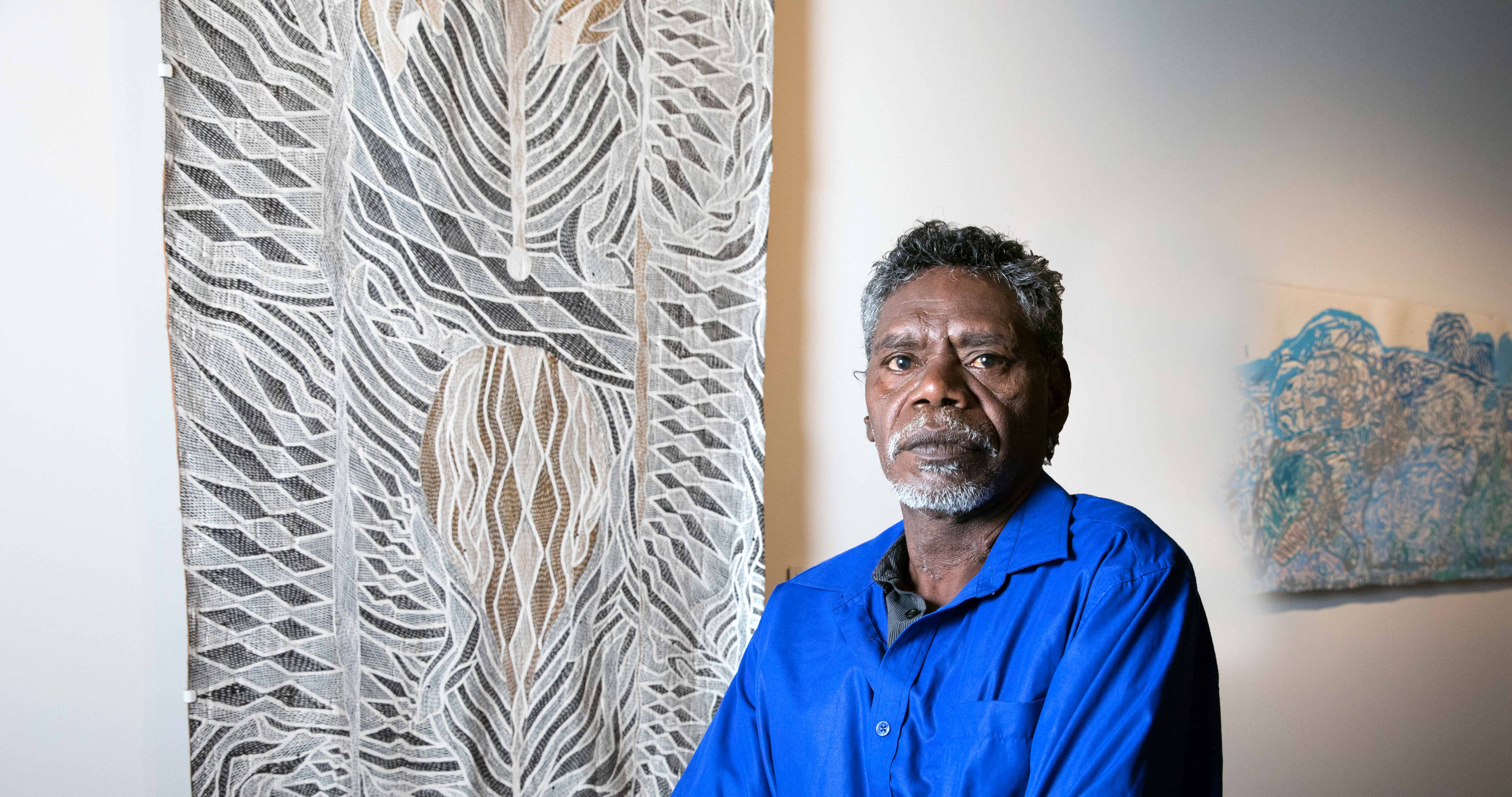 Eight Decades of Aboriginal Australian Bark Painting from Yirrkala
---
The Kluge-Ruhe Aboriginal Art Collection
When the only museum in the U.S. dedicated to Indigenous Australian art launches a national touring exhibition of bark paintings in fall 2022, we can fully expect that the museum world will radically change.
Traditional ways of thinking about and exhibiting works of Indigenous art will never be the same.
The reasons are many. The art itself is stunningly beautiful. But this new way of thinking is also due to the unique attitude toward collaboration. Over the last three decades enormous strides have been made in consulting with Indigenous people about exhibitions, but "Maḏayin" is entirely committed to giving control to the knowledge holders themselves. Today, university museums are the best creative laboratories for art, where experiments are happening, and changes are embraced. "Maḏayin" will be exclusively visiting university museums. It will open in September 2022 at the Hood Museum of Art at Dartmouth before traveling to American University Museum, Washington, DC.; the Fowler Museum at UCLA, Los Angeles; and The Fralin Museum of Art at UVA, Charlottesville.
In December 2021, UVA's Kluge-Ruhe Aboriginal Art Collection received two important grants that will support Maḏayin: a grant from the Andrew W. Mellon Foundation's Art Museum Futures Fund, part of which will support Maḏayin, and a grant from The Andy Warhol Foundation for the Visual Arts.
Kluge-Ruhe, which has established a 20-year relationship with the Indigenous Australian art community, is redefining the ways in which museums engage with art and artists. With this exhibition, led and directed by the Yolŋu artists—who produce the eucalyptus bark paintings—the museum is setting a new benchmark for promoting the expression of historically suppressed voices and acknowledging curatorial autonomy. "We are giving them the reigns," said Henry Skerritt, curator of Indigenous arts of Australia at the museum. "It's not just lip service. The exhibition is being approached ethically and inclusively—because that's the way to get a greater understanding and new, fresh perspectives." The Indigenous artists are considered authorities on their art. As Wukuṉ Waṉambi, one of the chief Yolŋu curators on the project noted, "It's very important that this curating job is done in the Yolŋu way. No Yolŋu have done this job before, only balanda (non-Aboriginal people) have done it, but in a different way because they have a different way of understanding . . . Yolŋu curating is about creating a clear picture."
I was really surprised to come from a long way across the sea and see my patterns there in Virginia. It was my first time seeing the collection—it was new to me. I'm really proud to make the connection to America. The art went first—all those old paintings in the gallery. What follows is reconciliation—and passing the knowledge to America through our art. Because art is really important to us. It represents our soul and our mind.
– Djambawa Marawili AM
Art in Abundance
When acclaimed painter, sculptor, and printmaker Djambawa Marawili AM spent a two-week term in 2015 as a resident artist at Kluge-Ruhe, he was struck by its extensive collection of Yolŋu bark paintings. The ceremonial leader of the Maḏarrpa clan of the Yolŋu people, Marawili discovered a vast treasure of impressive cultural significance. In conversations with Skerritt, Kade McDonald, a member of the Maḏayin project team, and the museum's director Margo Smith, the group realized the opportunity to show the history and fullness of Yolŋu cultural contributions through the paintings.
Kluge-Ruhe commissioned 33 new bark paintings by 28 Yolŋu artists for the exhibition. These professional artists are providing deep and sophisticated insights never before conveyed within museum walls. And, as a part of the process, the artists are involved in researching their works and those of their ancestors—and are learning from that research as well. Skerritt recalled, "During one particularly passionate discussion about which works should be included in the exhibition, we suggested to Djambawa he might want to cut some older works that showed some deep ceremonial content. 'No!' he said. 'Keep it in! In this process [of curating] we are also learning about our culture.'" As Smith noted, "This type of reciprocal research benefits everyone and exemplifies what we are trying to do every day at Kluge-Ruhe."
It was important to the Yolŋu artists and curators that Australians had an opportunity to see the newly commissioned paintings before they left Australia, so they were exhibited at the Art Gallery of South Australia in Adelaide during Tarnanthi, South Australia's annual celebration of contemporary Aboriginal and Torres Strait Islander art held Oct. 18, 2019 - Jan. 27, 2020.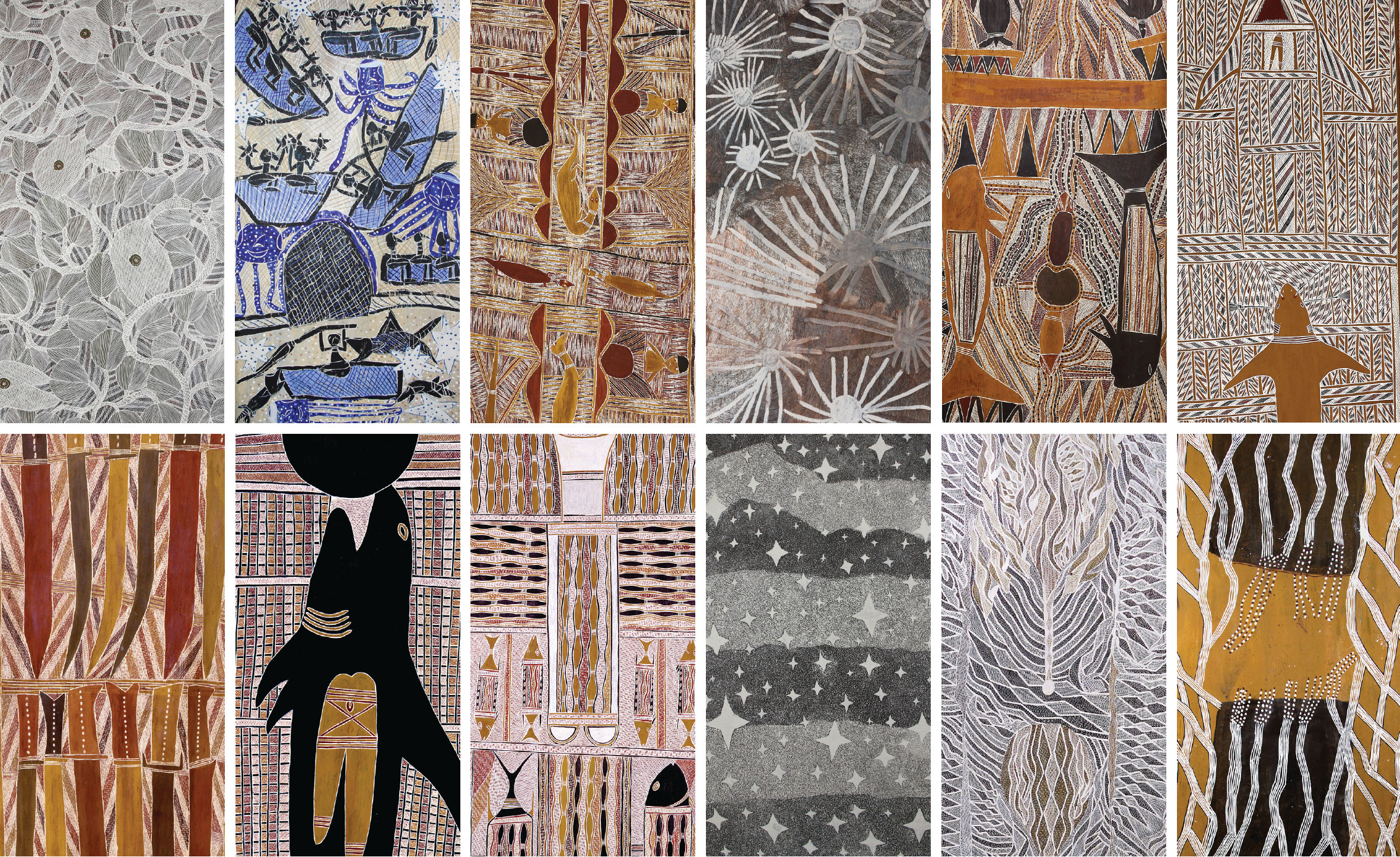 National Award
Kluge-Ruhe is already well-known in Australia. A recent national award has heightened its standing and strengthens its mission to expand knowledge and understanding of Indigenous Australian art and culture worldwide.
Artist Djambawa Marawili's bark painting "Journey to America" 2018, commissioned by Kluge-Ruhe for "Maḏayin," won Australia's most prestigious Indigenous art award—the Telstra National Aboriginal and Torres Strait Islander Art Award—in August 2019. Marawili was named the overall winner from 280 entries and 68 finalists for the $50,000 award.
Made of natural pigments on eucalyptus bark, "Journey to America" depicts five different states of water in Blue Mud Bay on the eastern coast of Australia's Arnhem Land, as well as the Statue of Liberty. The work reflects Marawili's personal narrative of his travels to visit the Kluge-Ruhe Collection in the U.S. where he spent his residency and relates to his sharing of knowledge with cultures across the seas. "Journey to America" presents these ideas flowing through it like sacred Maḏarrpa saltwater and fire from Australia (represented by the Australian coat of arms) to the U.S., represented by the Statue of Liberty.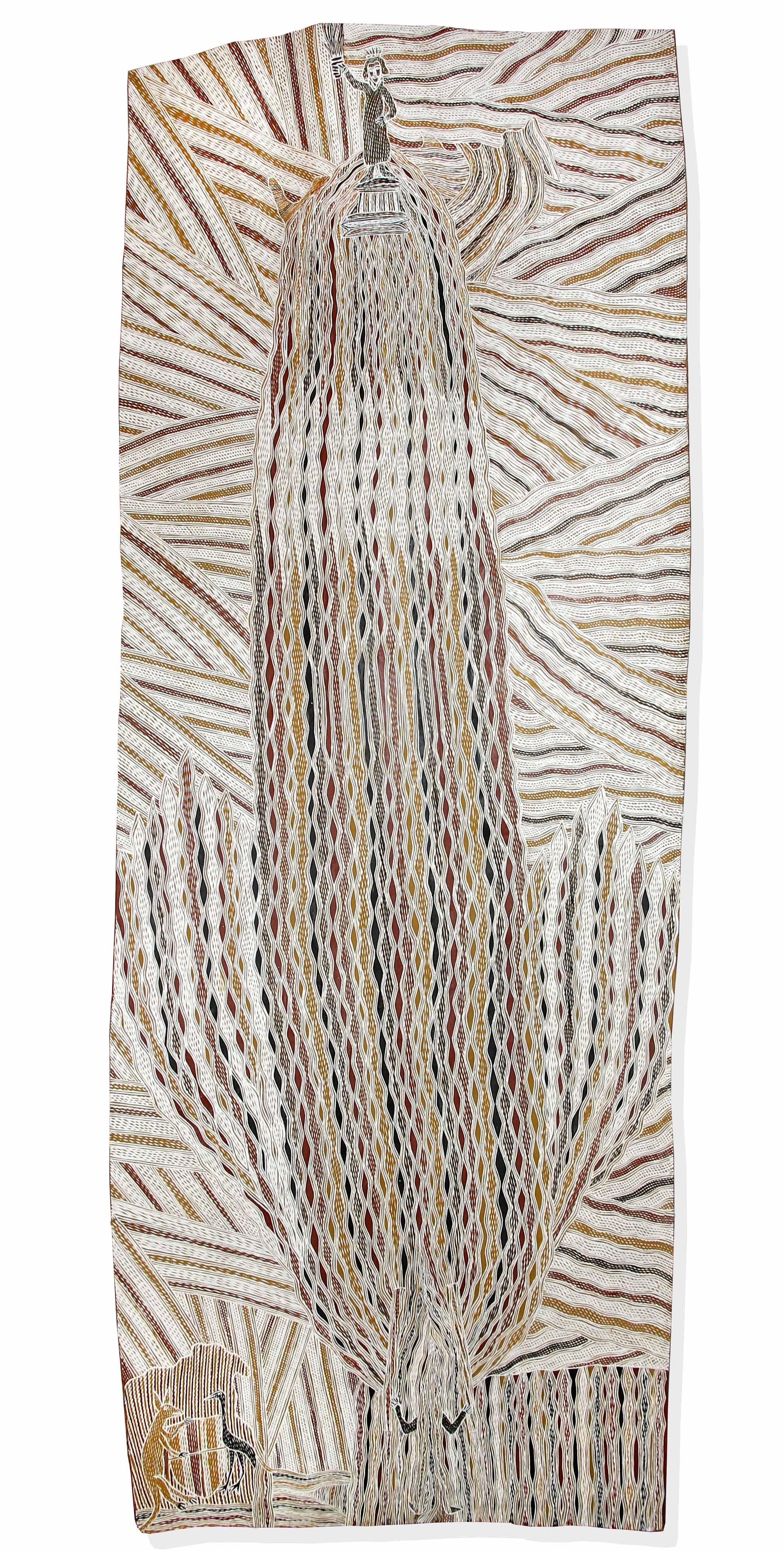 Djambawa Marawili AM, "Journey to America" 2019. Natural pigments on eucalyptus bark. 270 x 100 cm. Kluge-Ruhe Aboriginal Art Collection of the University of Virginia. The Madayin Commission. Museum purchase with funds from Geoffrey Hassall and Virginia Milson, 2019.
Impact on the Contemporary Art World
"Maḏayin" is a timely exhibition. Respect for artists who have been outside the narrative of the mainstream art world is quickly catching on. Smith noted the Mellon Foundation's and Ford Foundation's growing philanthropic support to promote greater diversity in arts institutions. The idea that museums must expand their practice to better represent previously silenced voices is also prevalent in the work of Holland Cotter, Pulitzer Prize-winning art critic and authority on non-Western art.
While many institutions are grappling with how to include minority voices within the museum context, UVA's museums are taking the lead and changing the context itself. Rather than just trying to absorb minority voices, Kluge-Ruhe is trying to reshape the ways in which today's museums can open their doors to a broader range of views. "The hierarchy at Australian museums must come down to the grass-roots level, to the Yolŋu people," Waṉambi said. "That is what happened with 'Maḏayin'—Kade, Henry, and Margo came down and sat with us, lived with us, sang with us. You opened your eyes, you two: nhäma ga ŋäma [look and listen] to the Yolŋu dhärak [words]. You listened to what we have done. And then you followed up, not like anthropologists, but like collaborators."
Philanthropy and Kluge-Ruhe
Established through a donation in 1997 from collector and philanthropist John W. Kluge (1914-2010), who had acquired the collection of the late Edward Ruhe (1923-1989), the Kluge-Ruhe Aboriginal Art Collection now has more than 2,200 artworks from across the Australian continent.
Others who have supported the museum in recent years include the Andrew W. Mellon Foundation, which enabled Kluge-Ruhe to hire Skerritt as the Curator of Indigenous Arts of Australia, and Kluge-Ruhe's Advisory Council, whose members have individually and jointly underwritten several of the new bark commissions for "Maḏayin." UVA alumni gifts through the Jefferson Trust and Parents Fund have also contributed to "Maḏayin" and the museum's other programs for the UVA community and the public. Kluge-Ruhe has received grants from the NEH, NEA, and the Australian Government to implement the Maḏayin exhibition.
The large size and dimensions of the bark paintings make "Maḏayin" a major undertaking, as special handling will be necessary to transport the pieces. The museum is seeking support to cover expenses associated with the exhibition as well as to fund the commissions of new bark paintings by Yolŋu artists.
"This exhibition is a game changer for the recognition of Australian Aboriginal art in the U.S. It's an opportunity to present the most contemporary of art on traditional media, created, curated and cultivated by Indigenous people," said Marc Sobel, member of the Kluge-Ruhe Advisory Council. "It's the ultimate manifestation of diversity in a major museum show and sets a high bar for the way art is presented in the future. It's imperative that the Kluge-Ruhe garners the necessary support to ensure that we can continue to mount equally challenging and important exhibitions so that they become the norm, not the exception."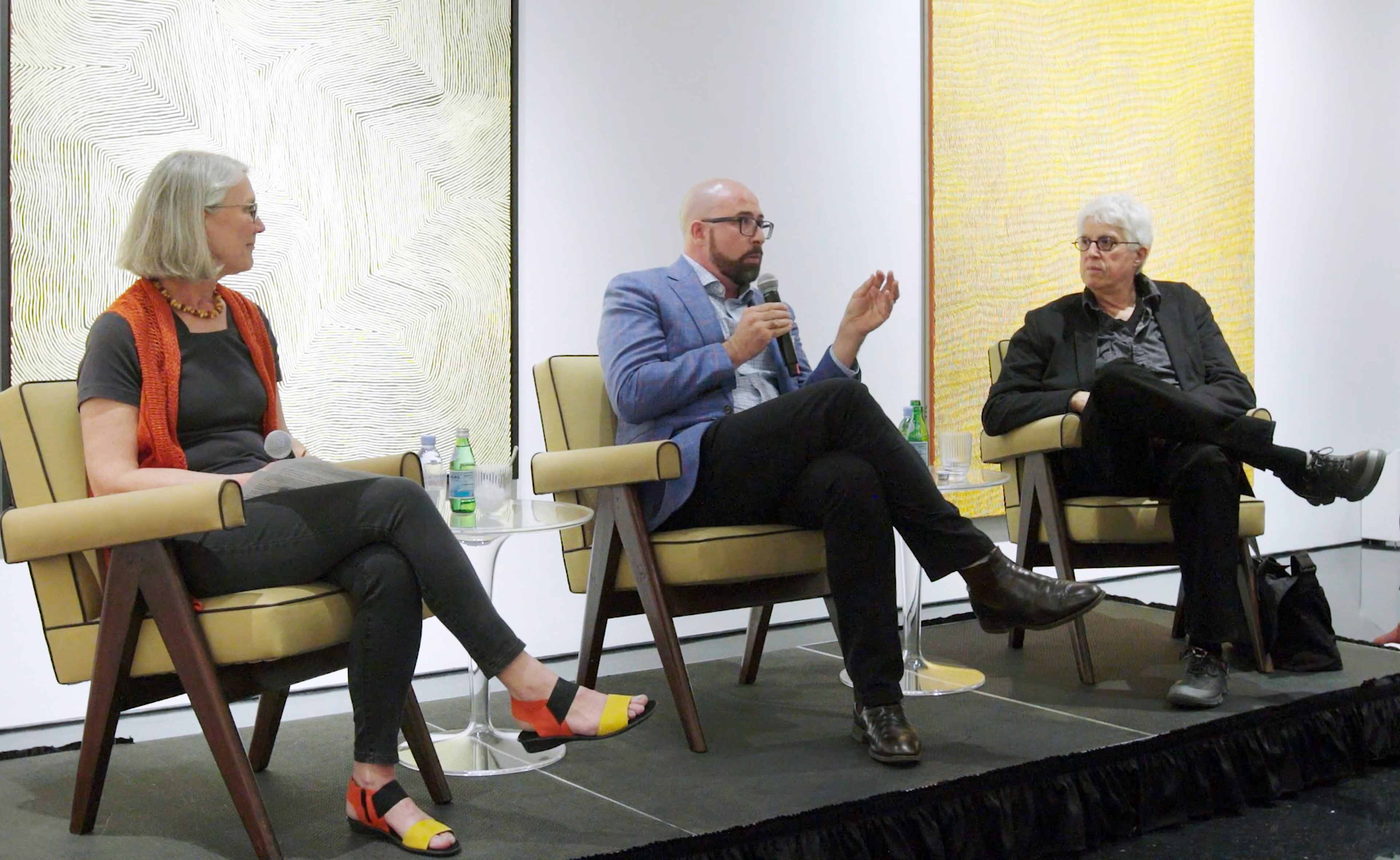 Teaming Up With Collector Steve Martin
In May 2019, Kluge-Ruhe made national news for participating in an exhibition at Gagosian Gallery in New York with actor and comedian Steve Martin. "Desert Painters of Australia: Works From the Kluge-Ruhe Aboriginal Art Collection of the University of Virginia and the Collection of Steve Martin and Anne Stringfield" included Kluge-Ruhe's "Hungry Emus" by Emily Kame Kngwarreye.
The non-commercial exhibition and a panel featuring Henry Skerritt and Margo Smith from Kluge-Ruhe with NYU professor Fred Myers raised awareness about Aboriginal Australian art nationally and helped Kluge-Ruhe to connect with collectors in New York, some of whom have connections to UVA. Martin, who mounted a private exhibition for family and friends in January 2020, is an avid collector of Aboriginal art and has helped focus attention on the art as clearly contemporary. The market for Aboriginal art has been growing in the United States over the past few years as evidenced by Sotheby's auction in New York in December 2019.