Image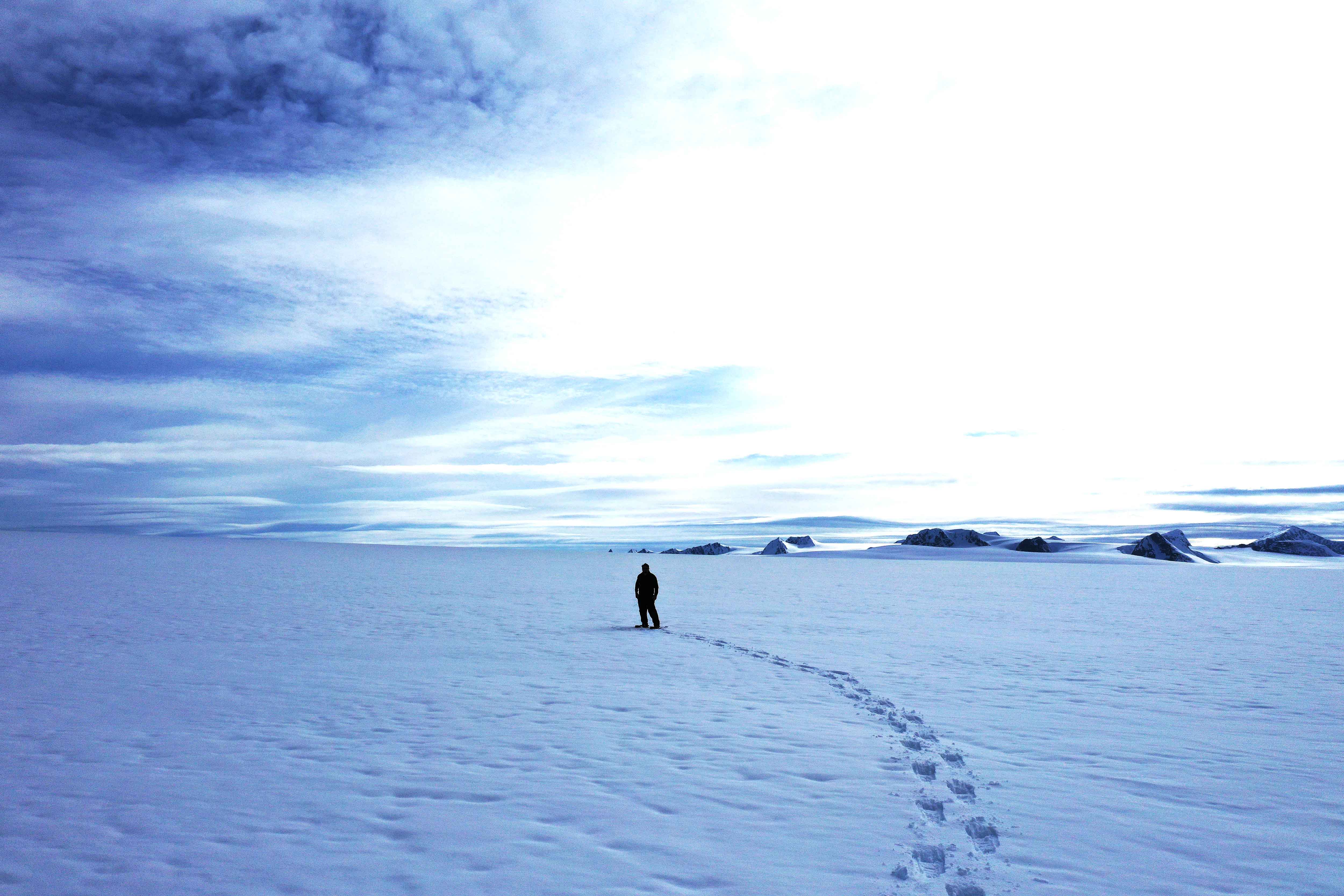 Update - January 2023    Jump to the update of Matthew Burtner's story below.
---
Reflecting on the time he spent working in artistic isolation as a court musician for Hungary's Esterházy family, Joseph Haydn once remarked: "I was cut off from the world. There was no one to confuse or torment me, and I was forced to become original." 
In many ways, the same is true for award-winning composer and Eleanor Shea Professor of Music, Matthew Burtner.
Born and raised in Alaska, Burtner knows what it means to live remotely. Growing up in Nuiqsut, an Arctic city accessible only by airplane or ice road, he spent much of his young life helping his family prepare adequate food, heat, and clothing.
That didn't stop him from developing a fascination with sound. Drawn to the natural world, Burtner found inspiration in the Arctic environment—the howling wind, cracking snow, and shifting sea. While he didn't yet realize it, these sounds would form the basis for his musical approach.
In college, Burtner studied music formally, and it was then that he began to search for his compositional voice. Intrigued by the idea of incorporating the native sounds into his work, he began to experiment. One day, he heard a piece of computer music by the Greek composer Iannis Xenakis, and a lightbulb went off.
"It was the first time I heard anything that matched the intensity of a storm or the sea," he said. "To hear music like that coming out of a field I didn't know about was incredible."

Burtner completed his undergraduate studies in 1993 and moved to Paris, with an eye toward working in Xenakis' studio. He wrote the composer a letter expressing his interest, and, to his surprise, Xenakis agreed. Over the next decade, Burtner immersed himself in computer music, working in Xenakis' studio for a time and obtaining both his master's and doctorate in the U.S.
Something had begun to change, however. During his summer trips to Alaska, Burtner, who worked on fishing boats to fund his education, started noticing differences in the Arctic environment. Trees existed where previously they hadn't. Rivers he frequented as a child were warmer. Climate change had arrived, and in it, Burtner discovered an urgent reason to create.
Matanuska Glacier
Matanuska Glacier with Music
Image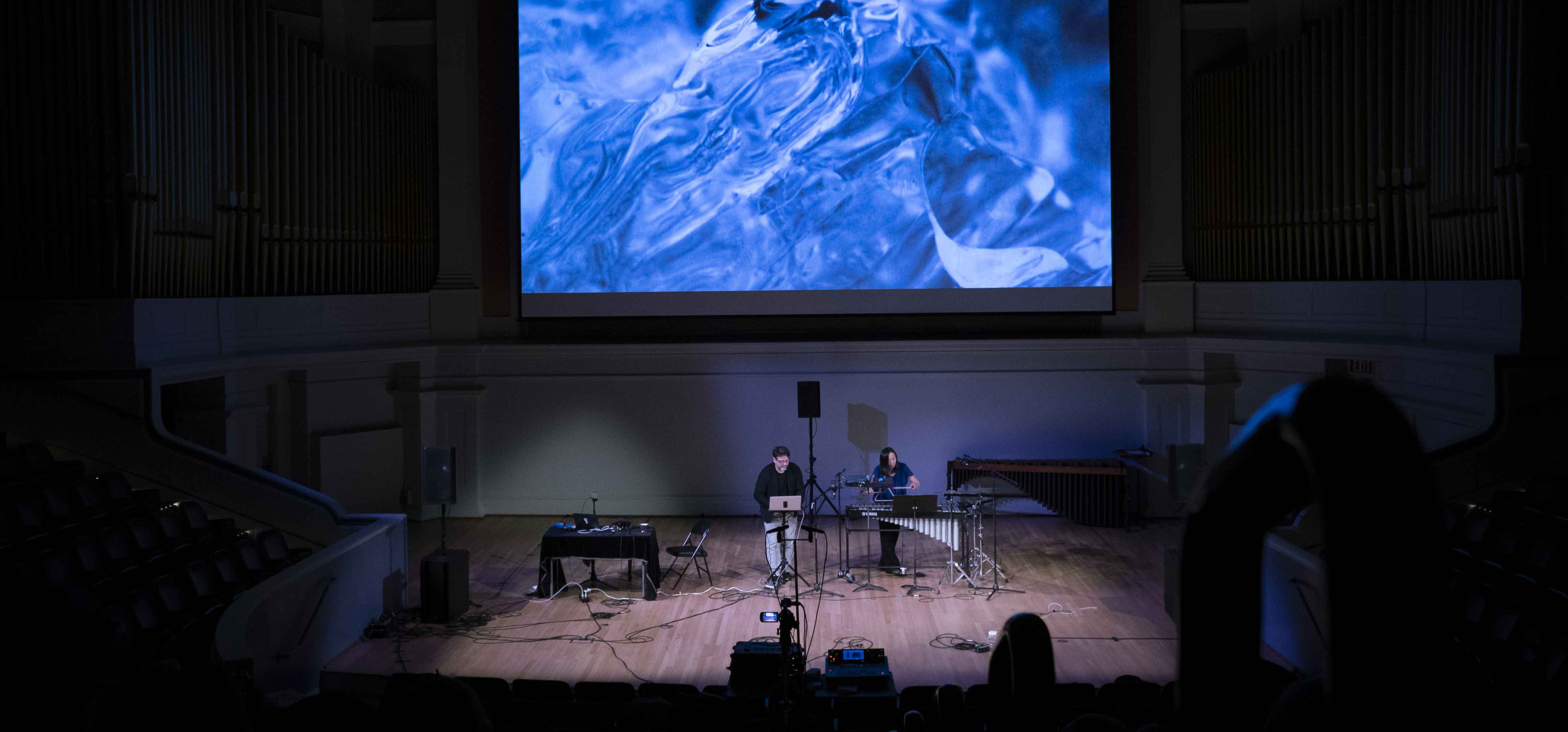 I realize that music on its own may not change the world, but through my work and collaborations, I can certainly influence the conversation. And I think I'm doing that.
Matanuska Glacier with Amplified Resonance
Sonic Physiography
A UVA faculty member since 2001, Burtner has for the last 15 years composed "climate change music." His work employs an eco-acoustic approach, fusing environmental sounds with traditional instrumentation via computer. Recently, Burtner has taken to presenting the music live with additional multimedia elements, creating an immersive experience for listeners.
"We often consider ourselves separate from the environment, and this has led to a lot of problems," he said. "By creating an interactive scenario, we can explore what it means to be part of the natural world and gain a better understanding of the impact we have."
Burtner has also brought his talents to other areas of UVA. He recently helped launch the Coastal Futures Conservatory, a research consortium uniting faculty from multiple disciplines—including music, environmental science, and the humanities—in the name of advancing knowledge about coastal change. Partnering with the Virginia Coastal Reserve, the group aims to deepen understanding by opening ways to listen to the dynamics reshaping coasts.
Burtner was named as the Eleanor Shea Professor of Music (Composition & Computer Technologies) in 2019, and he is currently enjoying the opportunities that come with holding the endowed chair. In addition to being allotted a portion of time to conduct research, he feels a renewed sense of purpose in knowing that the University—and those who support it—believe in his work.
"It's important to me," he said. "I realize that music on its own may not change the world, but through my work and collaborations, I can certainly influence the conversation. And I think I'm doing that."
When we first interviewed Eleanor Shea Professor of Music Matthew Burtner, the composer offered a fascinating view into his work as a creator of "climate change music." We caught up with Burtner this past fall, where we found him on a year-long sabbatical in Alaska. There, he's been working on new compositions and serving as artist-in-residence at the Anchorage Museum.
"Thanks to my endowed chair, I've been able to engage more deeply with my research than I otherwise would have," he said. "I feel very fortunate, and I know this work will strengthen my teaching when I return to UVA in summer or fall 2023."
It's certainly been an exciting few years for the composer. In addition to his sabbatical activities, Burtner recently released "Icefield," an album of original compositions featuring saxophone and other sounds captured at Harding Icefield in Alaska. He's also been hard at work—albeit remotely—with the Coastal Futures Conservatory at UVA. The group enjoyed a productive summer of research exploring seagrass meadow and oyster reef restoration initiatives on the Eastern Shore, culminating in the compelling "Soundscapes of Restoration" project.
In addition, Burtner was the subject of a documentary produced by Alaska Public Media. A reporter from the group shadowed the composer while he captured sounds, and the resulting piece aired on PBS' "Indie Alaska." PBS NewsHour then picked up the documentary, and it won an Emmy in the environmental category.
"I even got a little statue," Burtner said.
Despite his success, Burtner remains focused on his mission: embedding environmental change into sound-art.
"As a musician, my job is to listen," he said. "Listening is powerful. It can produce insights that science alone can't. Through sound, we can hear the beauty of the natural world and contemplate our role in it."
To hear Matthew Burtner's music and learn more about his work, please visit matthewburtner.com.
Image