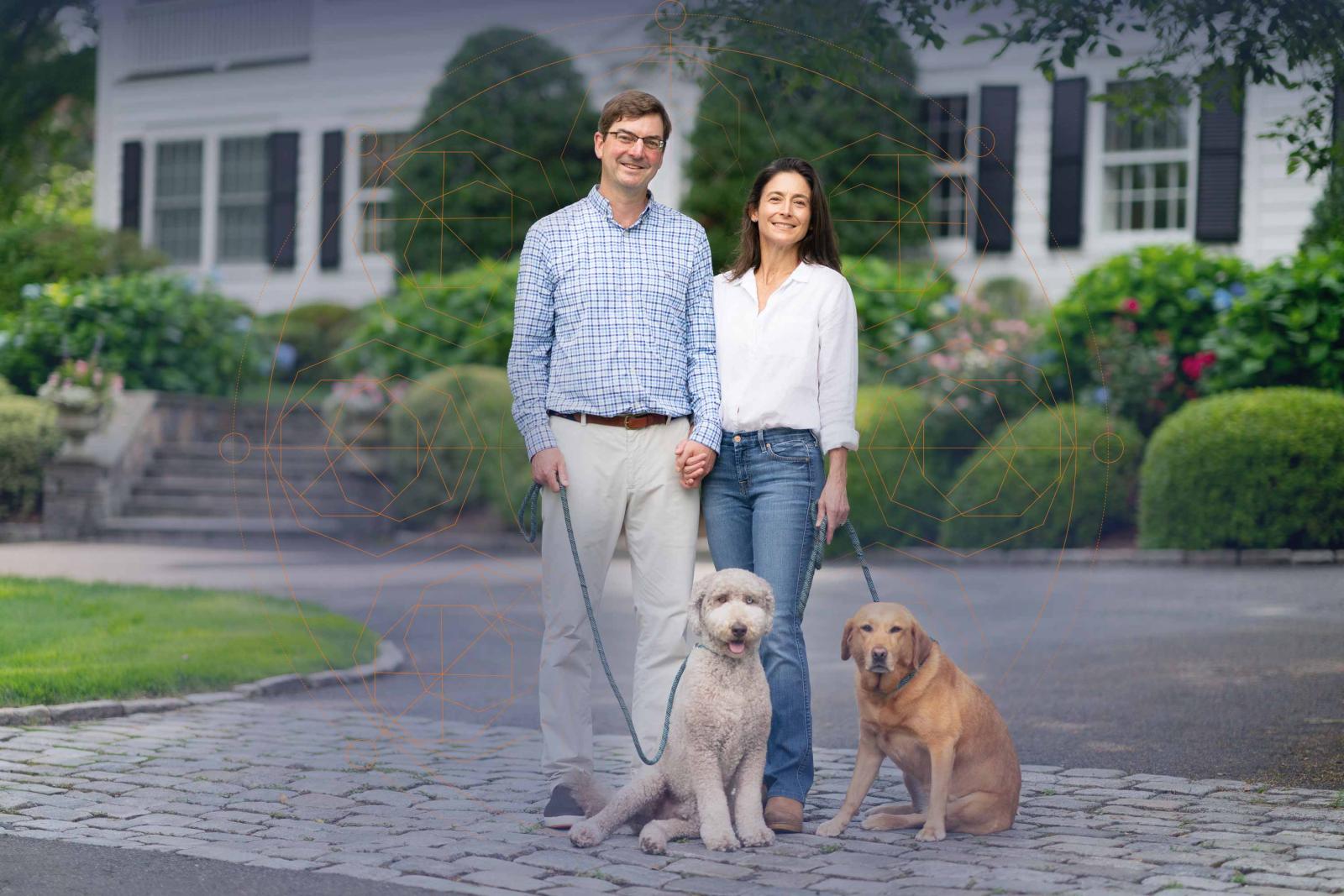 So Much to Solve

Maggie & Will Cook
Members of the LAWN Society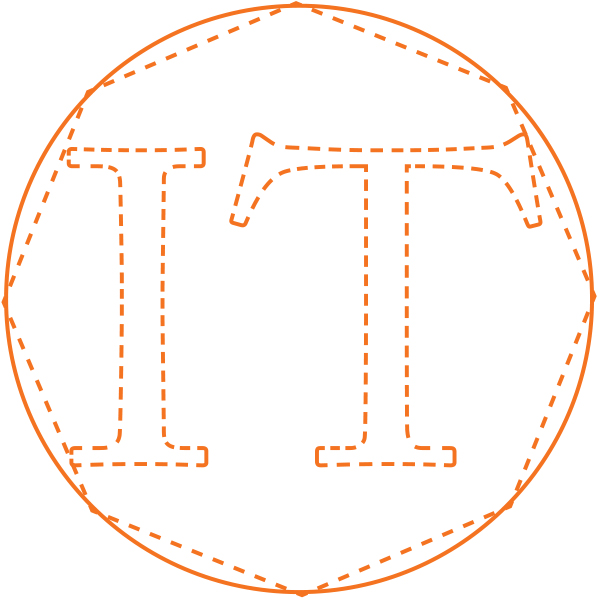 was in late July—a month before she was due to depart for her first year at another university—that Maggie Cook, M.D. (Col '95), was admitted to UVA off the waitlist. "The University called my guidance counselor, who called me and my family," Maggie remembered. "I told her I had never been to UVA, that I was committed and done with the process. My guidance counselor said, 'No one really says no to UVA. You should really go look first.'"
Maggie and her parents traveled from their home in Clearwater, Florida, to visit the University. "We realized what an awesome opportunity it was," she said. "And quickly shifted gears so I could attend UVA." Upon arrival she learned of the Echols program, committed to applying, and was accepted—most Echols Scholars are invited into the honors program when they are admitted, but at that time first-year students were able to apply for a few remaining spots.
Moving Medicine Forward
Maggie planned on attending medical school; her father was an anesthesiologist, and she envisioned a future practicing medicine. The flexible academic requirements of the Echols Scholar program allowed her to explore areas of study outside of the already extensive pre-med course load. "I wanted to do some hands-on research in a lab in the chemistry or biochem field," she said. Donald Hunt, her organic chemistry professor at the time and currently University Professor of Chemistry and Pathology, allowed Maggie to join his lab as an intern for the summer after her second year. She remained in Hunt's lab until she graduated—a rare opportunity for an undergraduate at the time [see sidebar].
Maggie moved to New York City after graduation with a plan to spend a gap year doing something different—outside of the lab environment—before she headed off to medical school and a life devoted to the sciences. On a fateful flight back to the city from a medical school interview, she met a Duke University graduate who was working for an internet startup. "He said, 'We can't find enough people who are good with computers. You're in med school, you must know how to use computers—do you have email?'" she remembered. "I was their eighth employee, working for the VP of sales, a few desks away from the founder and CEO. I was included in amazingly groundbreaking sales meetings, evaluating the potential value of online advertising—a real question in 1996—but didn't realize when he hired me, I was also supposed to be a receptionist. But that's what you do in a startup, right? Everyone rolls up their sleeves and gets the job done."
That was so much fun—going to scientific and medical conferences, looking at all the papers coming out, identifying innovative science to move forward, and working with entrepreneurs to launch companies.
Though the company had received venture capital funding and tried to convince Maggie to stay, she was deeply committed to her path in the sciences and began medical school as planned. But her experiences in Hunt's lab and at the startup stayed with her. By the end of her fourth year at Columbia University College of Physicians & Surgeons, she had realized that her place was not in the hospital or the clinic. "I wanted to be in a different setting," she said, "thinking about research, taking new ideas and putting them into action to move the field forward."
On graduating in 2000, Maggie moved directly into industry, taking a job with a health informatics startup in the oncology field. She worked as a venture capital investor and entrepreneur in biotechnology for nearly 20 years. "That was so much fun—going to scientific and medical conferences, looking at all the papers coming out, identifying innovative science to move forward, and working with entrepreneurs to launch companies." In 2018, she took on the role of CEO with Renovacor, a gene therapy company founded by a former colleague. Renovacor aimed to bring the promise of precision medicine to cardiovascular disease, developing targeted therapies for patients with genetically driven cardiovascular diseases. Renovacor was acquired by Rocket Pharmaceuticals, a leading gene therapy company, in late 2022. Maggie continues to focus her efforts on supporting life sciences entrepreneurs.
A scholarly investor
Will Cook (Col '95) was a high school senior with a passion for the humanities, an interest in the law, and the desire to venture beyond his home in New England for college. "I wanted a different experience overall, but importantly, I was looking for a school that would enable me to explore a wide variety of academic interests because my ultimate career path was so uncertain at the time," he said. He chose the University of Virginia.
"I would describe my first two-plus years at UVA as a time of intellectual curiosity," said Will. "I sampled a number of the humanities that UVA had to offer, including English, creative writing, government, and economics—but I was particularly fascinated by philosophy." His interdisciplinary major, political and social thought, gave him flexibility for discovery. "It's a small major," he said, "and it allowed me to have a small college experience within a wonderful university." He minored in philosophy and wrote a fourth-year thesis on the philosophy of law.
Will also took several music classes. He played percussion in the Charlottesville Symphony for a year and was the drummer for the Smith Cooley Band, which played fraternity and sorority parties and the occasional wedding. He remains friends with his bandmates and the group gets back together to perform when the friends return for Reunions. Will also connects with alumni through his service on the College Foundation's New York Regional Board of Trustees.
It was during his third year that Will's intellectual exploration took him to the McIntire School of Commerce. "I had come to learn that the day-to-day practice of law is different from studying the philosophy of law," he remembered. Several good friends were McIntire students, and he enrolled in a security analysis class. "We deeply analyzed a company for a semester, doing research on the business, and following the stock price in the Wall Street Journal every morning," he said, "I fell in love with that." He secured an internship through the career office at a regional brokerage firm, then applied to the investment banks that came to Grounds to interview and took a two-year analyst position with Morgan Stanley. He was working at a private equity firm during the dot-com bubble and subsequent crash.
"It was an impactful moment in my career," he said. "It helped me think about the types of risks I wanted to take and the types of risks I didn't." He decided to return to school and was accepted into Columbia University's MBA program. "I wanted to learn some of the finance I didn't learn as an undergrad and also step back and take a year or two and calmly think about what I could do in my career."
Advancing in biotech and data science is forward-thinking. This is where so much innovation in the future is going to be. An important part of President Ryan's goal of becoming the top public university by 2030 will be continuing to advance UVA's research efforts.
Will chose a career in the hedge fund industry, a decision he tracks back to a class at Columbia taught by John Griffin (McIntire '85). "That's how I was exposed to the hedge fund business," he said. "In my profession, John is a legend." He spent ten years working at Ziff Brothers Investments before starting his own fund, Sunriver Management, in 2014.
When describing his day-to-day work, Will draws a comparison to his experience as a student of the humanities at UVA. "My time as an undergrad taught me critical thinking. I learned how to formulate a thesis, search for evidence to support the thesis, then consider the counter thesis to try and disprove the original premise," he explained. "That is very similar to what we do when we're considering a new investment. We'll say, 'This is what we think our thesis is for this company— these are the reasons we think this company will be successful.' Then we do field research—talk to competitors, talk to customers—to find evidence that either supports or refutes our prior assumptions."
The Cooks were both part of the Greek system at the University and became friends at the end of their first year. They began dating at the end of the third year, sustaining their relationship long distance as they pursued their professions, and were married in 2001. Many of their closest friends—including multiple other double-Wahoo couples—graduated from the University.
Backing Biotech
The couple has made one of the first leadership gifts to the new Paul and Diane Manning Institute of Biotechnology. The Cook Family Biotechnology Institute Fund will provide unrestricted support to be used at the discretion of University and UVA Health leadership. The Cooks are confident in the Manning Institute's potential to launch life-saving gene therapies, create jobs for Virginians, and increase opportunities for undergraduate and graduate students. "While the Human Genome Project was launched in 1990, the promise of our understanding of genetic drivers of disease and our ability to translate that knowledge into effective therapies is in the early innings. We have so much to solve," said Maggie. "And as you look at building out the biotech industry in any community, there's a huge range of jobs that will be created—the creative scientists making discoveries and a variety of hands-on lab jobs, entrepreneurial opportunities for spinouts. The integration of advanced data science is essential in advancing life science projects as well."
"Advancing in biotech and data science is forward-thinking. This is where so much innovation in the future is going to be," said Will. "An important part of President Ryan's goal of becoming the top public university by 2030 will be continuing to advance UVA's research efforts.
"And the Manning institute will continue to broaden the opportunity set for UVA undergraduates in ways that are unique to UVA," he added. "If you're a student like I was, motivated and interested in a lot of different things, the University is a place to explore those different options."
The Cooks have also created the Cook Family Bicentennial Scholars Fund, a need-based scholarship for students at the College of Arts & Sciences, and are long-time supporters of Harlem Academy, an independent school that drives equity of opportunity for promising students in the local community. "We both believe that everyone should feel like they can access a high-quality education," said Maggie. "As the saying goes," added Will, "education is the great equalizer. Everyone should be given an equal opportunity to find success in their life, and education provides the foundation for that opportunity."
Image

Strength in Science
When Maggie Cook, M.D. (Col '95), was seeking out research experience as an undergraduate, she approached chemistry professor Donald Hunt. "He sent me around to lots of labs in the chem building to ask for spots. Generally, the response was 'No, no, we don't have undergrads in the lab,'" she said. She went back to Hunt, who allowed her to work in his lab as an unpaid intern the summer after her second year. "It was awesome. He had a vibrant lab with eight or nine grad students and postdocs. They welcomed me, and I got a great sense of lab life and how research happens."
The Human Genome project had launched three years earlier, and Hunt's lab had developed a new method of sequencing proteins, which act on the information stored in genes. "It was a simple, elegant method that used fairly basic math," Maggie said. "Scientists were coming from all over the world to learn the method from Dr. Hunt." She worked in Hunt's lab as a paid research assistant the following summer and for credit her third and fourth years. "I was included as an author of a paper in Science, which was so exciting," she said, "and I attended the annual meeting of the American Society of Mass Spectrometry in Chicago with the lab team where we presented a poster. I really was immersed with the graduate students. It was a phenomenal experience."
It was the lab's director, Jeff Shabanowitz, who taught Maggie the mass spectrometry techniques. "He had to help me learn how to pipette the tiny amounts of precious materials—samples transferred over from the medical school—in the right place and without breaking any of the highly specialized, expensive equipment," she said. Shabanowitz and the lab's grad students and postdocs made Maggie's integration as an undergraduate possible.
Maggie believes that strengthening the University's graduate programs in the basic sciences will benefit undergraduates and contribute to the success of the Manning Institute of Biotechnology. "I was thrilled to hear Dean Acampora's focus on building out the basic science grad programs, because strong grad programs provide so much to the undergrad experience," she said. "It allows the professor to have time to spend time with undergrads." Maggie gives examples of universities and medical schools with strong basic sciences—Harvard, the University of California system, Penn—and nearby successful biotech programs. "They really go hand-in-hand," she said. "The Manning Institute will be so much more successful if it has a strong basic sciences partner at the University."