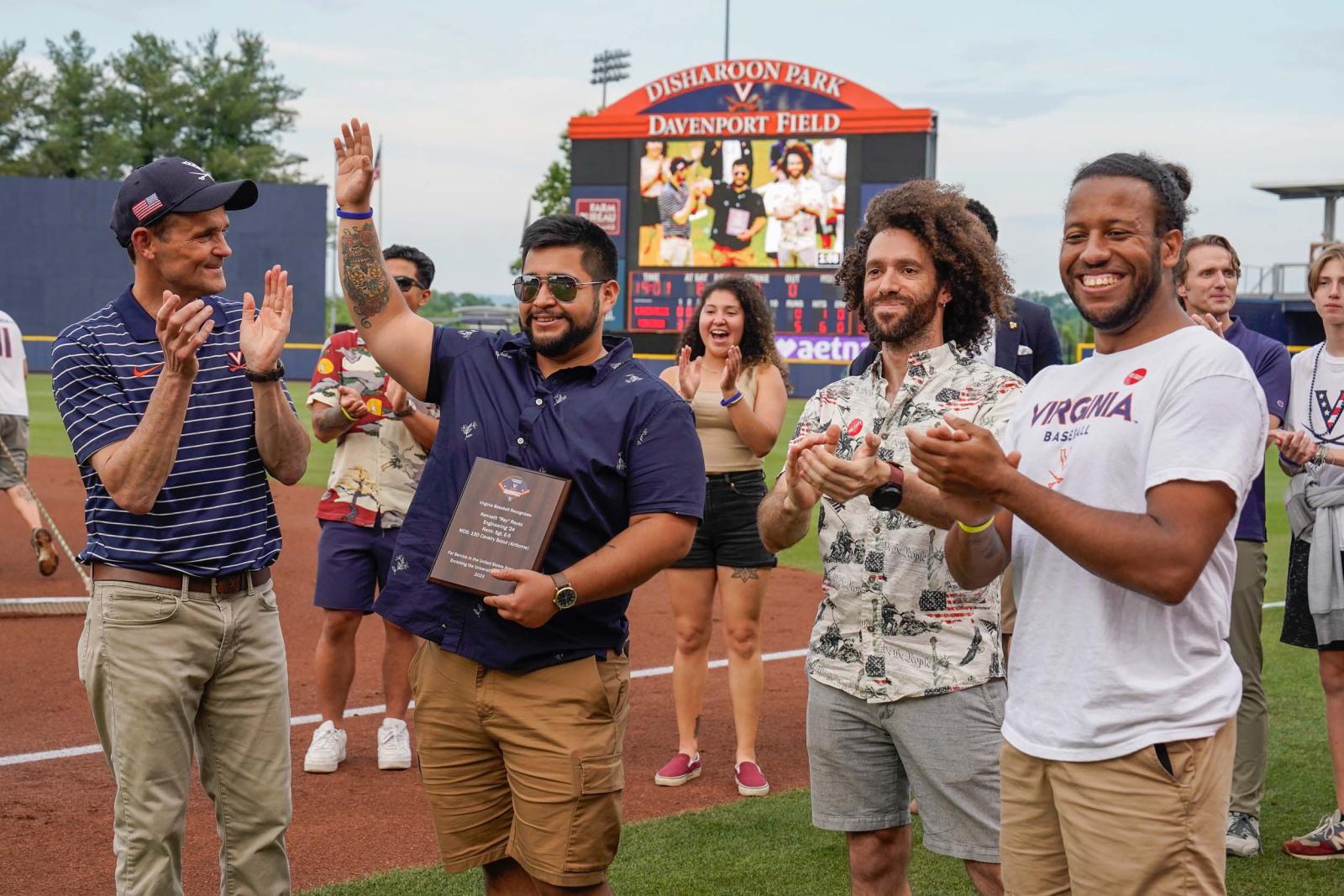 Supporting Their Service
An anonymous gift provides student veterans with on-field recognition during baseball games and additional support for unexpected expenses. 
Student veterans at the University of Virginia don't ask for a lot of fanfare. That's largely by design: no longer in uniform or on active duty, they've served their country and are quietly pursuing their studies at one of the premiere public universities in the nation.
Still, it's nice to be recognized for the sacrifices many of them have made to get to UVA, complete their education, and walk the Lawn during Final Exercises. Thanks to support from an anonymous donor, 10 home baseball games this spring included a brief on-field recognition ceremony to recognize a student veteran at UVA. As their photo flashed on the video screen, with name, rank, branch of service, and UVA school affiliation, they received a plaque, a gift certificate, and a standing ovation. The recognitions will continue in future seasons.
Image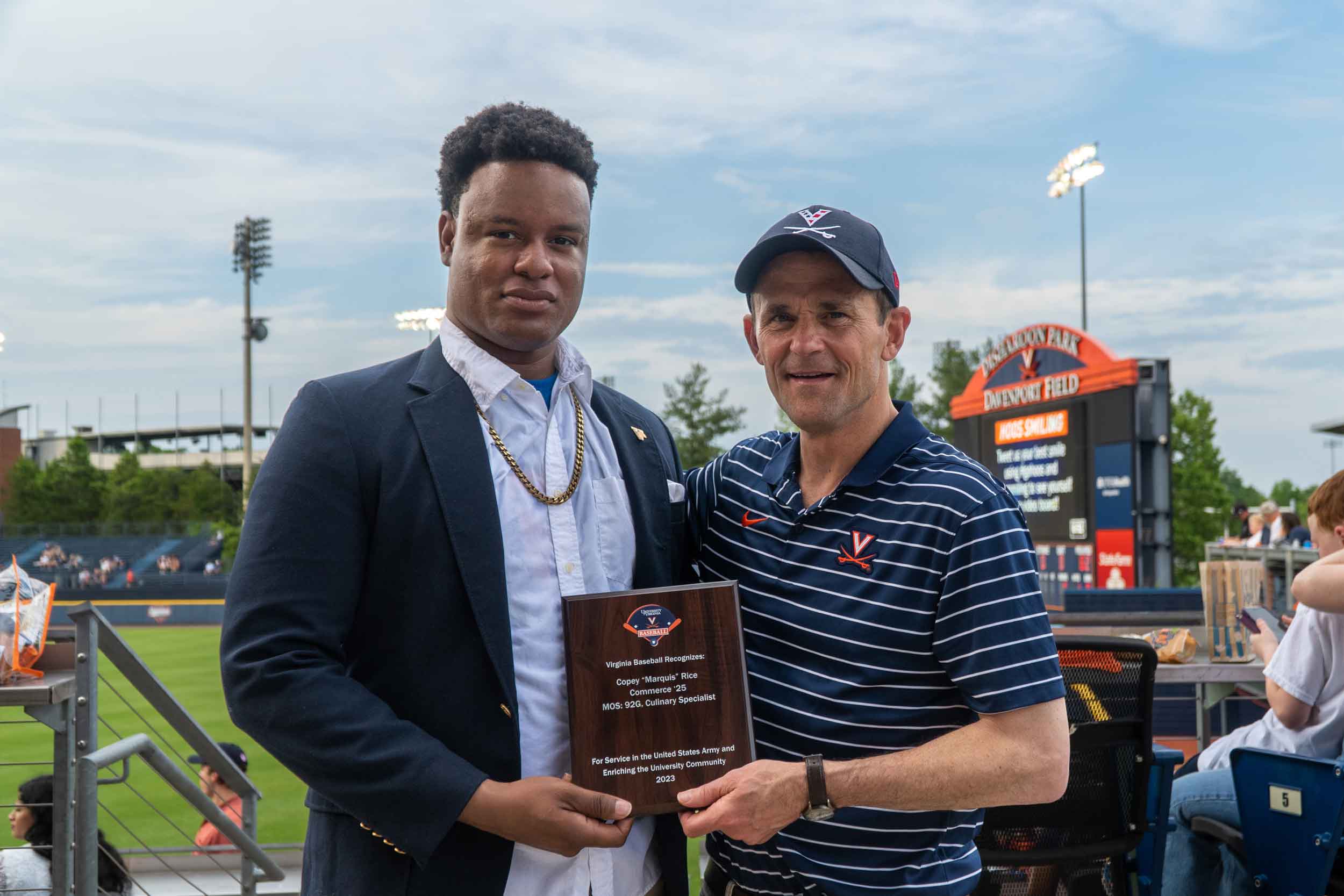 Copey "Marquis" Rice (McIntire '24) the first student veteran to be honored, woke up to a text early one morning in February. He was asked to report to Disharoon Park later that day for UVA's baseball game with Columbia University. "I tossed on my blue blazer, white shirt, and khakis," he said. "I wanted to look good."
Rice, who spent eight years in the U.S. Army as a culinary specialist at Fort Bragg and deployed to Afghanistan as a performer with the U.S. Army Soldier Show, made sure to wear his Student Veterans of America lapel pin. As chair of the veteran service committee for the UVA chapter of Student Veterans of America, Rice is also a first-generation college student and a Posse Veterans Scholar.
It was amazing to see everyone standing and applauding and I'm so grateful that they recognized my service. It was a priceless experience.
-Copey "Marquis" Rice (McIntire '24)
As he walked out onto the field, he was unprepared for the flood of emotions. "I had this happy, tumultuous feeling," he recalled. "It was amazing to see everyone standing and applauding and I'm so grateful that they recognized my service. It was a priceless experience."
Since then, other student veterans have had their own meaningful experiences, including a former high school baseball player who brought his entire family to the game. After the first Marine veteran was honored, baseball fans who were former Marines gathered around him to offer congratulations.
"We are honored that the Virginia baseball program can help pay tribute to student veterans at UVA," head coach Brian O'Connor said. "The service and sacrifice of these students allows us the many freedoms we enjoy every day in the United States. I am proud that Virginia Baseball can play a small role in recognizing these students, their sacrifices, and all the ways that they enrich our great University of Virginia community."
Bridging the GI Bill Gap
In any given year, there are anywhere from 60 to 80 undergraduate student veterans across Grounds. About 5% of graduate students are veterans, with individuals represented in the Darden School of Business and the Schools of Law, Medicine, Nursing, and Continuing and Professional Studies.
Undergraduate and graduate veterans alike tend to be slightly older than the overall student population. Many are first-generation students or come from underrepresented groups, and many are married with children, or single parents. Some have served in war zones and held military leadership positions. Most are attending UVA with funding and benefits through the GI Bill. But sometimes that lifeline comes up short.
Accordingly, a second feature of the anonymous gift will continue to support veterans after this year's baseball season concludes. The donors worked with the Office of Student Affairs and leaders within the Student Veterans of America chapter at UVA to identify one of the most pressing issues facing student veterans—the need for gap funding.
"You have these non-traditional students who are, for the most part, supporting themselves through school," said Jeffrey Lovelace, assistant professor of commerce at the McIntire School, faculty advisor to Student Veterans of America at UVA, and an Army veteran who served two tours of duty in Iraq. "The way military benefits are structured can lead students to experience lulls in their coverage. For example, if you finish a semester mid-December, you don't pick up the next semester until late January. That means the academic benefits that you've earned are not supporting you during those gap times."
Image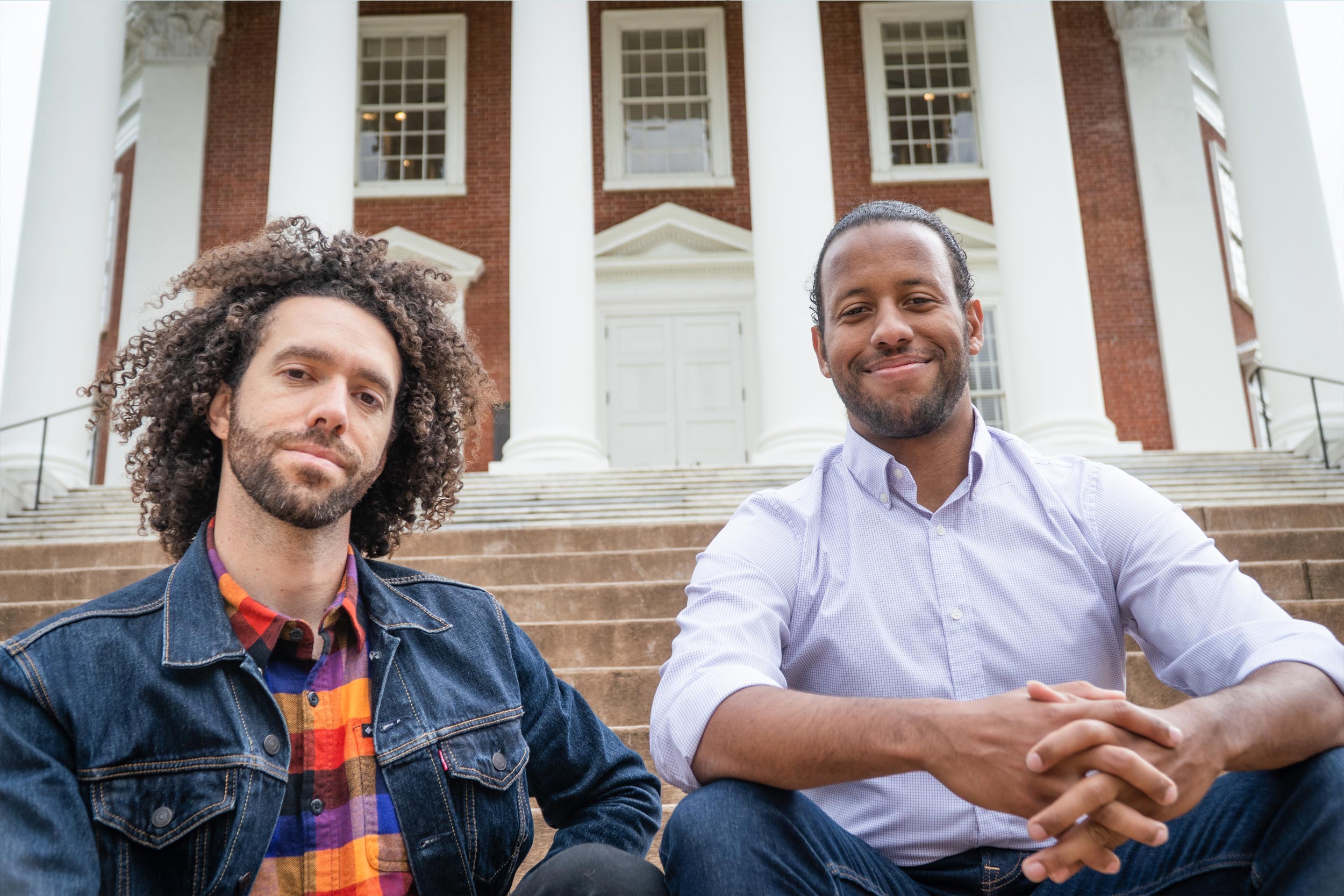 Former U.S. Navy Corpsman Tim Brown, right, is past president of the UVA Student Veterans of America chapter. Tomas De Oliveira, a former U.S. Marine sergeant, is the current chapter president. The two have helped coordinate the program honoring and assisting student veterans. (Photo by Jeneene Chatowsky, Advancement Communications)
Tim Brown (McIntire '24), a former Navy corpsman, is past president of the UVA Student Veterans of America chapter. He was instrumental in working with the donors and the University to iron out the details of the gift.
Brown knew that the quirks of the academic year could pose challenges for student veterans.
"The way the GI Bill works is that the Veterans Administration pays the school tuition directly," he said. "The VA also pays recipients a housing stipend which comes once a month and that goes away when you're on these breaks. So, functionally, this gap funding would be used for paying rent or maybe food for the kid, because that's what the housing stipend is for. It's your living allowance."
He added that many in the veteran community find it difficult to ask for help when facing financial issues, and as a result, experience higher rates of burnout. "We tough it out,"' he said.
Allowing student veterans to focus on their studies rather than worrying about paying the bills is important on several levels. "I look at it this way: How do you remove the obstacles that make it difficult for these veterans to focus on their academic experience and to excel during their time here?" Lovelace said. "And if you know you've got some backup and an emergency valve that you can go to, then it just puts your mind at ease. That's just huge."
The Thanos Snap
Tomas De Oliveira (Engr '24) is the current UVA Student Veterans of America chapter president. A third-year mechanical engineering major, he's a former U.S. Marine sergeant who served active duty for seven years followed by 2 ½ years of reserve time. He served in Afghanistan working in aviation mechanics as a flight equipment technician and as an embassy detachment commander for three years in Saudi Arabia, Moscow, and Tokyo.
Based upon his life experience and his current leadership role, he's keenly aware that many student veterans face challenges when it comes to higher education. "I think you'll find that very few traditional students at UVA have families, children, daycare needs, transportation needs," he said. "They're not all moving their entire lives, abandoning a job, a career, in order to try to come to school. We are a population that has unique needs."
One of De Oliveira's goals is to connect as many on-Grounds student veterans with the Student Veterans of America as possible, including those transferring from institutions such as Piedmont Virginia Community College. He knows that the learning curve for entering veterans can be a steep one. He graduated from high school in 2003 and went into his first year of community college in 2017. "I started using my GI Bill after I transferred to UVA and then have had some ups and downs trying to navigate the educational system," he said. "This was brand new."
De Oliveira likens the feeling of disconnection that can come with being a student veteran to the comic book character, Thanos, from the Marvel Universe. "There's Thanos, who snaps his fingers and half of the population disappears," he said. "And then, a few movies later, he undoes the snap and brings everybody back. As a veteran, that's kind of what it feels like. It feels like you were snapped out of society for a few years. Time has moved on, we live full lives, and then we come back to school to rejoin the same high-school peers we left all those years ago."
Added Support, Broader Acceptance
In 2018, a Cornerstone Project report conducted by the University outlined the challenges undergraduate military veterans face at UVA and proposed solutions to resolve them, bringing the school more in line with peer institutions that have robust veterans' programs such as Florida State University and the University of North Carolina.
Of the report's two primary recommendations—that the University create a director of veterans' services position and open a veterans' center—the second one has been fulfilled. In September 2021, the University opened a Veteran Student Center in the lower level of Newcomb Hall. The center is a joint project of the Student Veterans of America at UVA, the Office of the Dean of Students, and the UVA Alumni Association's Jefferson Trust. The Eli Banana Fund also provided support.
UVA President Jim Ryan was among those who delivered remarks at the center's opening ceremony. Ryan told the veterans in attendance that the center was a place for them to build a community.
"This is a place that I hope will help remind you that you belong here at UVA," he said. "No matter where you are from, or whether you are the first in your family to attend college, whether you are a graduate or undergraduate student, or what your background is, you are welcome here, and you are also part of what makes us the University of Virginia. You are part of what makes us among the most vibrant university communities in the world. When you graduate, I know that you will have helped to shape this place, just as UVA will have helped to shape you."
In April 2022, Ryan completed his 11th consecutive Boston Marathon. He wore a blue tank top with "Running for Veterans" written in orange and white across the chest. Ryan ran the 26.2 miles in support of the UVA Veteran Student Center. His campaign raised more than $16,000.
These gestures are not lost on veteran leaders such as Lovelace, Brown, and De Oliveira. They believe that while the University is moving in the right direction, more can be done to increase recognition and support.
"I think that University is setting off on the right foot, definitely," De Oliveira said. "But it's a tall hill to climb. And not just for UVA, but any university trying to properly serve its veterans has quite the mission ahead of them."
The anonymous gift, then, is a welcome addition on both practical and symbolic levels.
"Recognizing student veterans at baseball games does so much for our community," Lovelace said. "To be able to see that people who have decided to serve our country, put on hold their academic aspirations, and are here amongst us, to highlight them, is a great way for our community to know that these veterans are in our student population."
He added that the financial relief and the recognition ceremonies work in tandem to ensure that UVA is welcoming to veterans. "It goes to this broader sense of 'we want you here,'" he said. "We want student veterans to be part of our community, we're willing to support them, and we see value in them. We're going to do things to make sure you have the best experience possible here. I don't think we can underestimate that impact."
Despite a busy schedule this spring, De Oliveira tried to make as many home baseball games as possible. He wanted to support the veterans for whom, as chapter president, he feels some measure of responsibility. "I think the added value of the baseball recognition ceremony is the intrinsic support of the community," he said. "It also helps to legitimize the veteran population here and does a great job at recognizing some of their sacrifices. It's like having an arm wrapped around the shoulders of veterans by the rest of the community."
For more information about supporting gap funding for student veterans, contact:
Nicole Thomas, Ed.D., CFRE
Director of Development, University Advancement
Office of Vice President and Dean of Students
Chief Student Affairs Officer
University of Virginia
P.O. Box 400807
Charlottesville, Virginia 22904 USA
nicole.thomas@virginia.edu
+1-706-414-7446 M
+1-434-924-3947 P