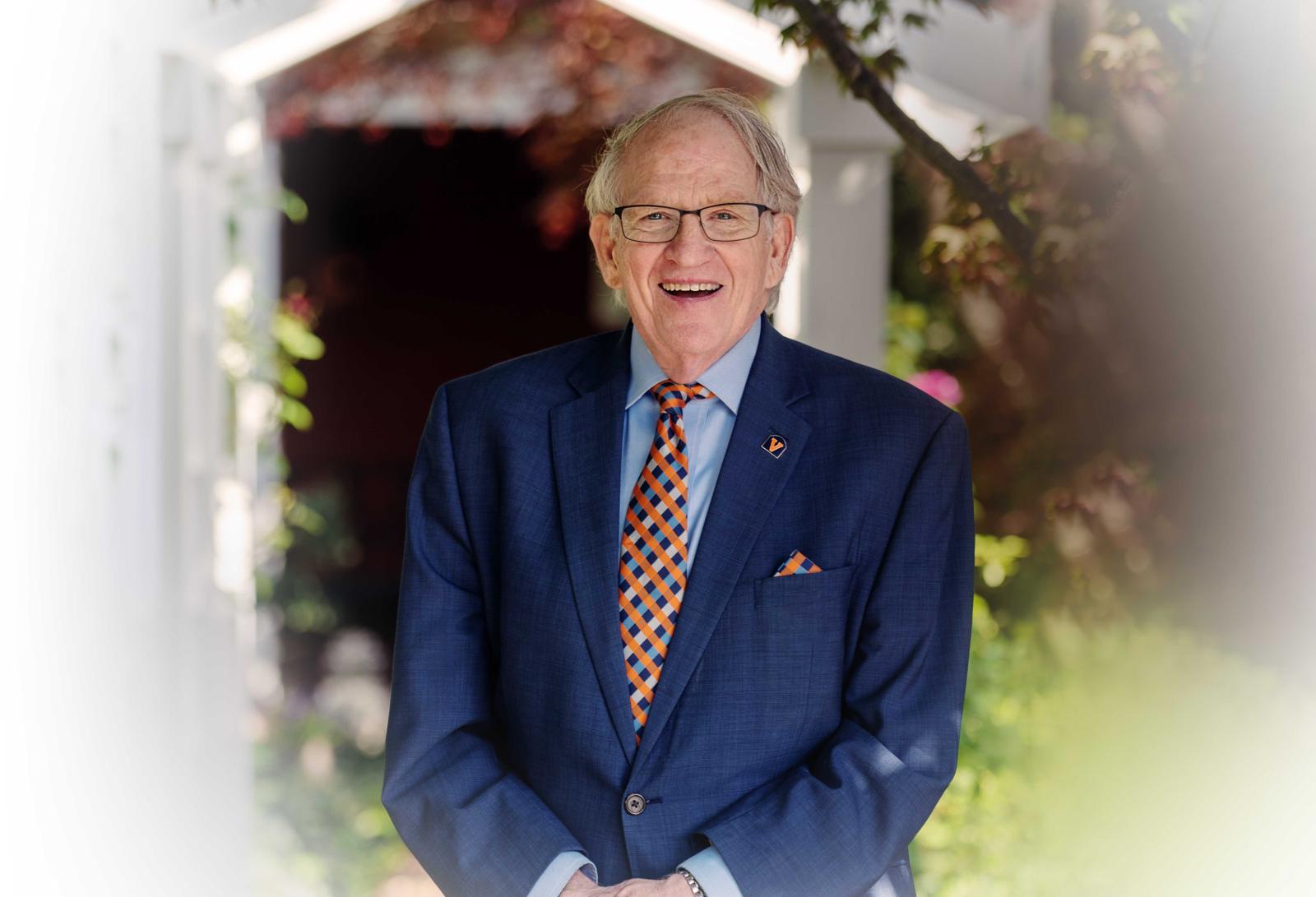 ---
"And I was in first place at the end. There was no recognition, or prize, or picture in the Norton paper. But it gave me satisfaction."
–Dr. Charles Henderson III
---
Before he was a radiologist, before he was a husband or father, before he was even in high school, Dr. Charles Henderson III (McIntire '61, Med '65) was a philanthropist.
It began in Norton, Virginia, when his fourth-grade class raised money for the March of Dimes. "Part of the project was to see if we could count the money. Our names were on the board with columns for each week, and the last column was the totals," he remembered. "After the first week, I could see I was near the top. I thought, 'I'm going to work harder, and I am going to expand my territory. I'm going to go back to those people who didn't give anything.'"
Henderson went back to his neighbors and convinced them they only needed to give a dime to participate. "And I was in first place at the end. There was no recognition, or prize, or picture in the Norton paper. But it gave me satisfaction." Henderson continued to raise money for the March of Dimes. As a middle schooler, he arranged with the manager of a local movie theater to collect donations between Sunday afternoon showings. In high school, he asked permission to pass a blanket to collect coins in the stands during halftime at basketball games.
Norton, in Virginia's Wise County, also prepared Henderson as a student. "Our schools were very, very hard," he said. "We had really good teachers and were well-prepared for college." At his mother's behest, Henderson enrolled at Davidson University in North Carolina. "When I went in 1956, there were no girls there. The town had three stores," he said. "And in my opinion, the student union did little to enhance your experience."
Image
Henderson's lifetime of giving back began in Wise County, Virginia, where he still supports students at UVA Wise.
Henderson transferred to the University of Virginia. He'd had a disappointing experience studying physics at Davidson and decided he would major in history at UVA. A McIntire School of Commerce student at registration questioned his choice. "What the hell are you going to do with that?" Henderson remembers him asking. "It was the same thing my father had said, except my father never cussed." He opted to enroll in the courses required for admission to McIntire instead.
"McIntire was a good school. I felt that I had a purpose studying there," Henderson said. "But I got to thinking how I was always interested in science. My father was a physician. I thought I'd like to go to medical school, and in that way, I wouldn't have to worry about making plans for the next ten years." He graduated from McIntire in June 1961, entered UVA's School of Medicine in September of that same year, and graduated from the Medical School in 1965.
After an internship at Cincinnati General Hospital, Henderson joined the Air Force. The United States was at war with Vietnam. His wife, Mary, whom he met when she came to UVA from Randolph-Macon Women's College for a mixer, was expecting their first child. Henderson reasoned there would be a greater measure of safety at an Air Force base should he be sent overseas.
Henderson was not sent to war. From an Air Force base in the Florida panhandle, he treated troops, retired military, and their dependents. In his free time, he studied radiology and eventually returned to UVA for a radiology residency. At a dinner for radiologists from across Virginia, he learned of an opening in Harrisonburg, where he would practice for 30 years. After his retirement, he trained students at the Rockingham Memorial Hospital School of Radiologic Technology on a volunteer basis for 14 years.
Image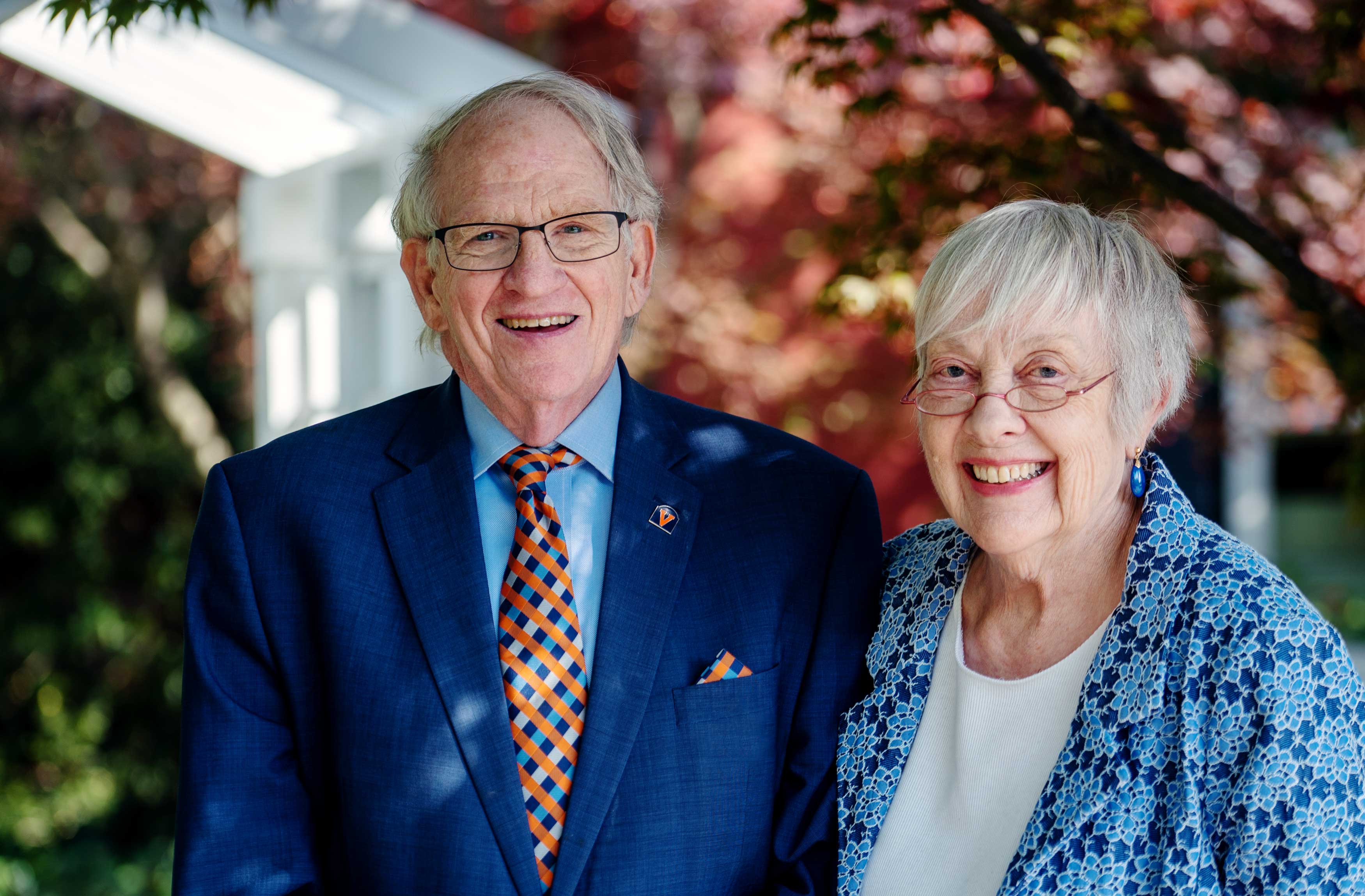 Charles Henderson III with his wife Mary. The couple met when Mary came to Grounds from Randolph-Macon Women's College for a mixer.
The Hendersons raised their sons Charles Henderson IV (Col '88) and Jim Henderson (Arch '92) in Harrisonburg, Virginia. The younger Charles is the Director of Demand Management for Western Digital in California. Jim Henderson is a principal at Moseley Architects and manages the firm's Harrisonburg office; he and his wife Amy Henderson (Col '93, Ed '93) have two sons at UVA, James (Col '23) and Nathan (Col '25).
It's hard to find an area of the University that Henderson does not support. Students and faculty at the School of Medicine benefit from his generosity. He's created a scholarship for students from Southwest Virginia and an endowment for the recruiting of and support for exceptional teaching faculty. Henderson created two bicentennial scholarships at the medical school—the Mary M. and Charles H. Henderson, III Medical Bicentennial Scholars Fund and the Mary M. and Charles H. Henderson, III MD/MS Dual Degree Bicentennial Scholars Fund to support students enrolled in the MD/MS Dual Degree Program with the McIntire School of Commerce.
To honor his children, Henderson gives to their schools. The Henderson Endowment at the College of Arts & Sciences helps attract and retain talented faculty, and the Henderson Endowed Scholarship supports future educators at the School of Education and Human Development. A planned gift will create the Henderson Family Endowed Lectureship in Architecture.
Henderson stays rooted in Wise County through generous support for students at UVA's College at Wise. He's also given his time to the University, serving on the School of Medicine Board of Trustees and Medical Alumni Board of Directors. Henderson is an emeritus member of the UVA Health Foundation's Board of Trustees, and was chosen for the Outstanding Medical Alumni Award in 2015. He has yet to miss a School of Medicine reunion.
All in all, Henderson has given well over $1 million dollars to the University and College at Wise. But he doesn't make much of a fuss over it. Like that fourth grader in Norton, he's satisfied knowing he's
helping others.