Image

Julius Caesar once proclaimed that experience is the teacher of all things. Having lived her life in constant pursuit of new experiences, Geneviève Frempong Boye (Col '99) has surely learned a lot.
The daughter of parents who emigrated from West Africa, Boye grew up in Alexandria, Virginia. Attending school there, she excelled academically and socially. When it came time for college, Boye was unsure where to go. After conferring with her AP English teacher, Boye's father—a strong proponent of education—encouraged her to apply to UVA. Reluctant at first, Boye applied nonetheless. To her surprise, she was accepted.
"My dad and I were both ecstatic," she said. "UVA was one of the top schools in the nation, and the fact that I was going to be able to study there was unbelievable."
Once on Grounds, Boye dove right in, making friends, joining organizations, and exploring the possibilities of undergraduate life. She fondly recalls some of the early volunteer initiatives in which she took part—particularly those centered on helping high school students plan for their futures.
"A group of us would get together every Tuesday and Wednesday and trek over to Charlottesville High School," she said. "After classes let out, we'd meet with students to discuss what they wanted to do with their lives."
Ironically, Boye was still figuring out her own path. She'd noticed the majority of her classmates pursuing premedical studies and, not having an overwhelming sense of direction, followed suit.
While she enjoyed the major's rigorous coursework and the chemistry classes that involved creating sophisticated chemical solutions, she was decidedly less enthusiastic about her biology labs. She quickly realized she may need to pursue another field
It's money that's already being taken out of your paycheck, so you never see it. Why not direct it somewhere important to you?
"I figured that if I was getting that freaked out by what I was seeing in a lab environment that I may not be well-suited to the medical profession," she said.
Fortunately, Boye had also been attending a series of informal meetings held by Professor Larry Sabato. The distinguished politics professor had been hosting pizza nights, during which students could ask questions and discuss their studies in a casual environment.
When Sabato realized that Boye was struggling to connect to her major, he suggested she consider switching to government. Having always been interested in the field, Boye took his advice and made the leap.
Her choice to do so was clearly not in vain: These days, Boye works as a Government Relations Specialist for the Motorcycle Industry Council, a not-for-profit trade association dedicated to promoting motorcycling in the U.S.
While she enjoys her role, which requires her to translate state legislation for the council's partner companies, she's quick to point out that you won't soon find her on a motorcycle.
"As much as I respect the ride, I prefer to be in an enclosed vehicle," she said.
In her free time, Boye maintains a number of hobbies, including travel, fashion, and décor. Travel, in particular, holds a special place in her heart. Having grown up the daughter of immigrants, she developed an early appreciation for new cultures and places.
In the past two years alone, Boye has been to Ghana, London, and Singapore. While she considers each trip to have been special, she regards her visit to Ghana as particularly meaningful.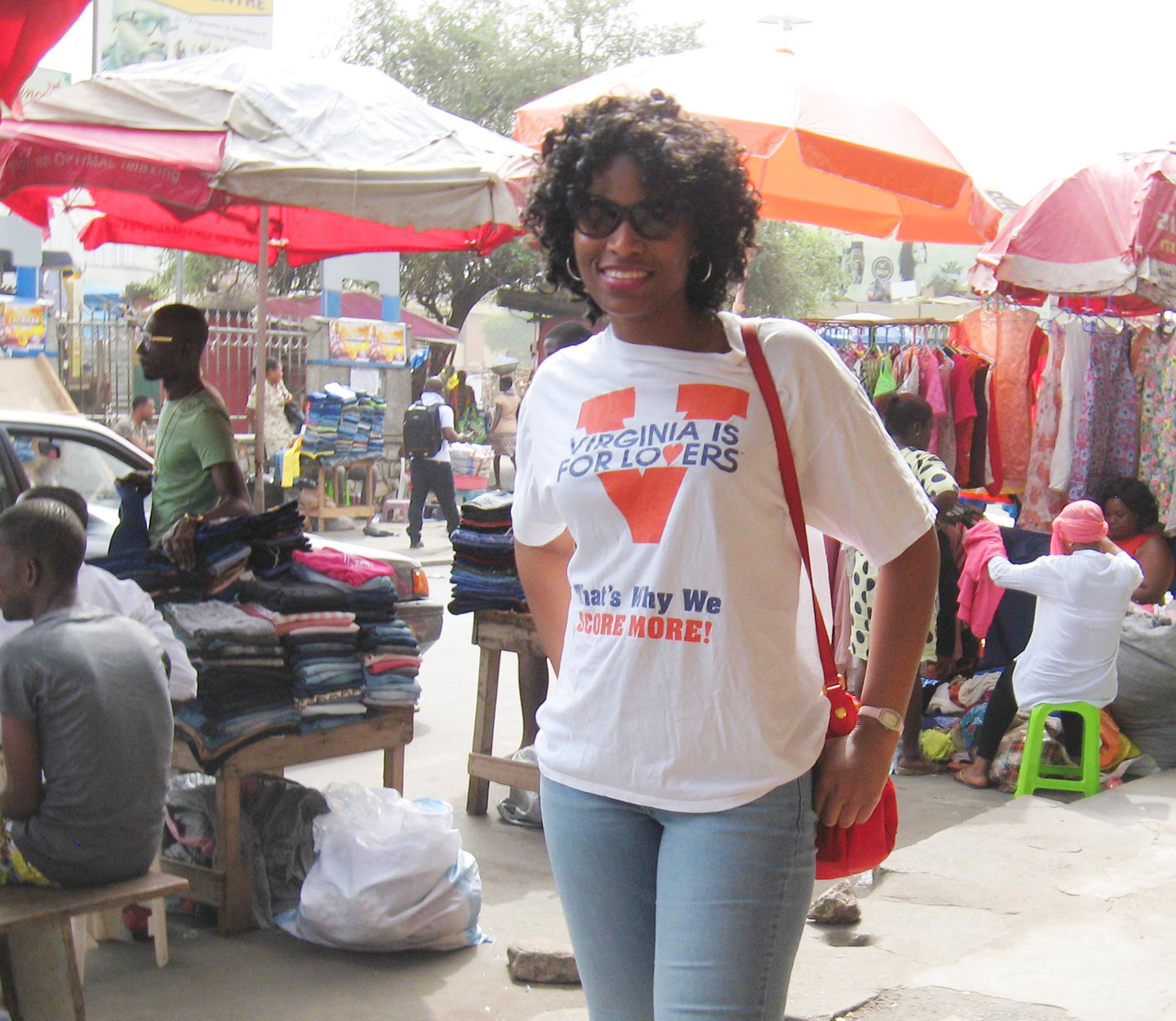 "I hadn't been there since 1989," she said. "This time, I went to different relatives' homes, and we explored the capital of Accra together. It was an amazing way to reconnect."
Boye is extremely grateful for where she's ended up in life. She enjoys her job and is thankful to have the resources to pursue her interests. This gratitude is largely what inspired her to make a gift to UVA, the institution she feels propelled her to success.
Boye has made the University a beneficiary of a portion of her 401(k) retirement account, allocating funds to the College of Arts & Sciences, the Alumni Association, the Virginia Athletics Foundation, and the University's highest priorities. She sees her gift as an easy and painless way to make an impact.
"It's money that's already being taken out of your paycheck, so you never see it," she said. "Why not direct it somewhere important to you?"
Clearly, many things are important to Geneviève Frempong Boye. And while it's unclear where her next adventure will take her, one thing is for sure: Her legacy will live on at UVA.
Retirement Plans
Assets from your individual retirement account, pension plan, profit sharing plan, stock bonus plan, 401(k) or 403(b) can constitute a large portion of your retirement portfolio.