The
Power Generator
---
Jill Tietjen (Engr '76) is a trailblazer and champion among women. She entered the University of Virginia in 1972 as a member of UVA's third fully coeducational class and was one of the first 10 women to earn a bachelor's degree from the School of Engineering and Applied Science. Tietjen earned her MBA from the University of North Carolina at Charlotte while working full time as a planning engineer for Duke Power, then relocated to Colorado to continue her career, first as a planning analyst for Mobil Oil Corporation, then as a consultant and manager in electric utility planning.
From 1997 to 2000, Tietjen was director of the Women in Engineering Program at the University of Colorado at Boulder. In 2000, she formed her own company, Technically Speaking, Inc., to provide consulting services to electric utilities. During this time, she also served as an accreditor for engineering education programs across the country and built a reputation as an author and in-demand speaker.
Tietjen has been widely recognized for her leadership and service. She is a Fellow of the Society of Women Engineers, served as SWE president in 1991-92, and received the SWE Distinguished Service Award in 2002. Tietjen is an inductee into the Colorado Women's Hall of Fame and the Colorado Authors' Hall of Fame. She has been honored as a Woman of Distinction by the Girl Scouts in Colorado; named a distinguished alumna of UVA, UNCC, and CU-Boulder; and received the distinguished alumni award from engineering honor society Tau Beta Pi.
Tiejen is also a champion for women. In an anniversary celebration of the Women of Distinction program, Girl Scouts of Colorado recognized her with its Advocate for Women and Girls award. She has nominated women to the Colorado Women's Hall of Fame, National Inventors Hall of Fame, and National Women's Hall of Fame; for awards from the Society of Women Engineers; and for distinguished alumni awards from universities and colleges around the country.
AUTHOR
and

ADVOCATE

Jill Tietjen's books grew out of the research she engaged in for her nominations and speeches. She co-authored "Her Story: A Timeline of the Women Who Changed America" and "Hollywood: Her Story, An Illustrated History of Women and the Movies" and is series editor for the Springer Women in Engineering and Science book series. The challenges presented by the pandemic inspired her latest book, "Over, Under, Around, and Through: How Hall of Famers Surmount Obstacles," co-authored with Elinor Miller Greenberg.
There have been just so many that saw something in me. I didn't see it then, but I do now, because I see it in other women. I encourage it. I make sure that they get the tools, the support, and the encouragement that they need.
—Jill Tietjen
Her passion for this type of advocacy began with her nomination of computer scientist and United States Navy rear admiral Grace Murray Hopper for the National Medal of Technology. Tietjen accepted the award on Hopper's behalf in a ceremony in the White House Rose Garden in 1991. It was the first time an individual woman had won the medal.
Tietjen is also inspired by those who have advocated on her behalf. She describes them as sponsors, not mentors, distinguishing between the two: "A mentor is someone who helps you develop skills and provides advice. A sponsor recommends you for assignments and promotions and sees that you have opportunities. I've had that all along." Engineering professor Paul Allaire hired Tietjen as a research assistant to doctoral candidate John Thacker (Engr '67, '73, '76)—the work she did with Thacker became her undergraduate thesis. At Duke Power, her second-level manager Bill Reinke recommended Tietjen for the speaker's bureau, for which she received special training. "I'm still using that training now," she observed. "It was incredibly valuable and probably life- and career-determining."
Image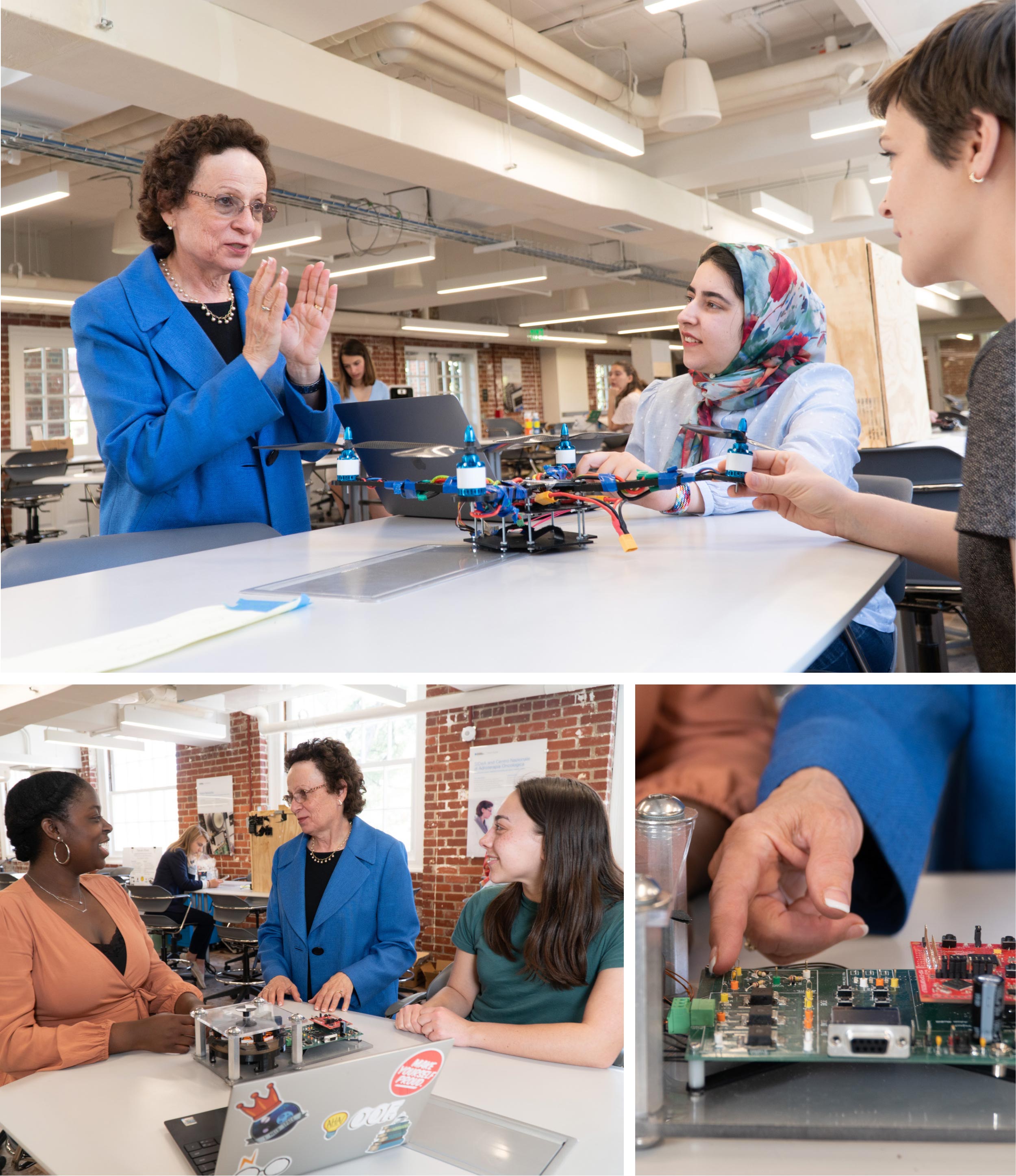 Jill Tietjen has made it her life's work to advance the work of women like these engineering students she met while on Grounds for a meeting of the Board of Trustees for the School of Engineering and Applied Science. Tietjen's books shine light on the accomplishments of women throughout history.
"There have been just so many that saw something in me," recognized Tietjen. "I didn't see it then, but I do now, because I see it in other women. I encourage it. I make sure that they get the tools, the support, and the encouragement that they need."
Tietjen will be giving future engineers the tools for success through a scholarship in the School of Engineering, which will be established from a charitable remainder trust and through the Jill S. Tietjen Internship Fund. "Internship and service-learning opportunities are very important for engineering students to get a real grasp of what kind of work they might be doing," she said, "and to help them understand how much value engineers provide to the world."
Tietjen is on the Board of Trustees for the School of Engineering and Applied Science as a pro tempore member and has served on the Board of the Virginia Engineering Foundation. She returned to Grounds earlier this year to speak at the School of Engineering's first Women in Engineering symposium. "The education that I got at UVA has served me so well," she said. "That's one of the reasons I feel it is incumbent on me to give back."