Support for Annual Fund Helps UVA Darden Reinvent Career Services
Intro Media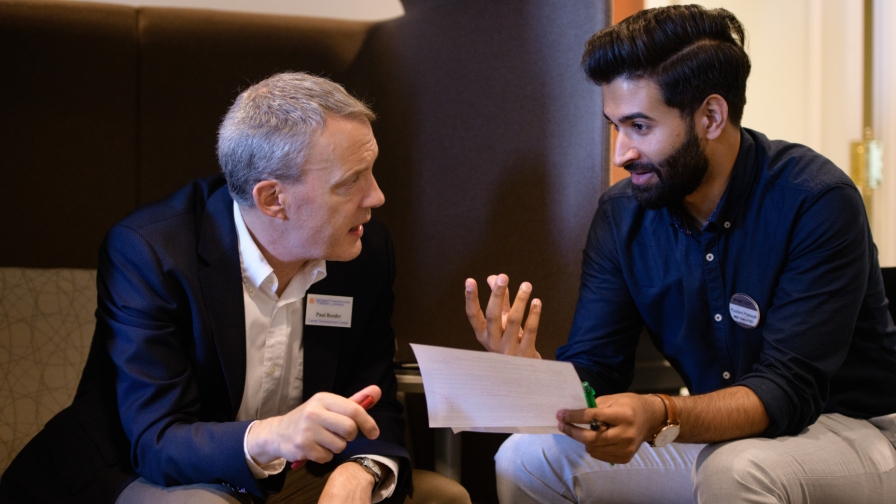 Posted on The Darden Report | By Sally Parker
The Darden Annual Fund is a critical resource powering the exceptional career outcomes of recent University of Virginia Darden School of Business graduates. As students lock in another successful year securing summer internships and post-Darden jobs, the school recently looked back at highlights of the record-breaking career outcomes for Class of 2019 graduates across all degree programs and formats.
Full-time MBA graduates secured the best salary results and placement rates in Darden history.
Executive MBA graduates generally join the program with a goal to switch careers ("switchers") or climb within their current organization ("climbers"). Switchers notched an average salary increase of 76 percent from the start of the program while climbers earned salary increases of 45 percent on average, lifting their average salary to $208,500.
Among the first cohort of the Master of Science in business analytics (MSBA), nearly two-thirds of students seeking to change careers were able to secure a new role by the end of the program, raising their average salary by 19 percent to $123,604.
To build on these successful results, Darden must ensure students receive the level of support they need throughout their journeys, which is unique to each individual. The career search is both challenging and stressful for students, which is why the School has tapped the Darden Annual Fund to fuel innovation and expanded support for students through investments in the Career Center.
"Our students' career success is a priority because it is our duty to help each student pursue a path to realize his or her full potential and a lifetime of meaningful work," said Jeff McNish, assistant dean for career development. "Not only do we aspire to great career outcomes, we aspire that each and every student will be satisfied with the process—something we have learned is not necessarily correlated with career outcomes and also relates to expectations."
Annual fund support recently allowed the career center to hire three new senior directors with industry expertise in the areas of consulting, technology, and financial services. Their work opened new doors for students in highly sought industries and companies, driving 2019's record career results. In the 2019–20 academic year, support from the annual fund for the center is driving numerous additional enhancements:
Darden will hire two new senior directors for the full-time MBA coaching team: a senior director of marketing and general management careers and a senior director dedicated to specialized career-search recruiting. These additions will bring the senior director team for the full-time MBA to six, up from zero before the 2017–18 academic year.
In summer 2019, the center launched a self-paced online program titled Career Development Why Finding — CDWhy, for short — to help Darden's full-time MBA Class of 2021 prepare for the MBA internship and job search earlier than ever. Through the innovative program and for the first time, students had access to career resources and support anytime, anywhere. Its success preparing first years for internship recruiting led the center to develop new CDWhy programs tailored for Executive MBA and MSBA students.
The center is developing closer partnerships with research centers and student career clubs. Darden seeks to ensure all students have access to the full range of career opportunities offered by the school, the clubs, and others.
The center launched new opportunities for students to explore career pathways in different geographies and sectors, such as job treks to industry hubs around the country. Darden also plans to launch significant programming in the Washington, D.C., area in 2020–21.
Learn more about the impact of the Darden Annual Fund at giving.darden.virginia.edu. 
Read the latest issue of Pillars — Darden's publication dedicated to the power of philanthropy.
About the University of Virginia Darden School of Business
The University of Virginia Darden School of Business delivers the world's best business education experience to prepare entrepreneurial, global, and responsible leaders through its MBA, Ph.D., MSBA and Executive Education programs. Darden's top-ranked faculty is renowned for teaching excellence and advances practical business knowledge through research. Darden was established in 1955 at the University of Virginia, a top public university founded by Thomas Jefferson in 1819 in Charlottesville, Virginia.
Press Contact
Sophie Zunz
Director of Media Relations
Darden School of Business
University of Virginia
ZunzS@darden.virginia.edu
+1-434-924-7502