Genovese Fellowships Spark Next-Generation Giving From Past Recipients
Intro Media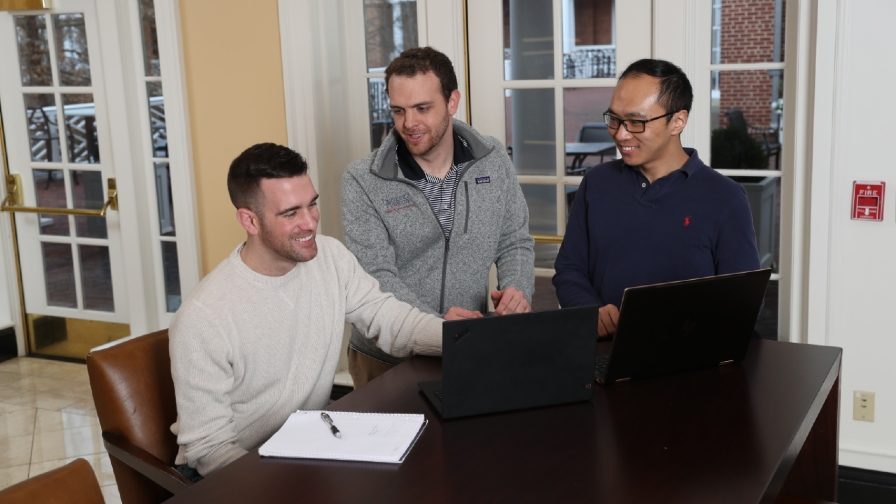 Posted on The Darden Report | By Jay Hodgkins
To University of Virginia Darden School of Business supporter Frank Genovese (Darden '74), the best business career is an act of creation—from building a company or product line to leading collaborative, effective teams.
Genovese, founder and president of the Rothbury Corp., a Richmond, Virginia-based investment firm, said the wealth he has created over the years is a result of doing work he enjoys, and he has earmarked millions of it to build a new generation of Darden supporters.
Through an original gift of $2 million more than 25 years ago, the Genovese scholarship endowment has funded 74 full-tuition fellowships for second-year students and 12 scholarships for first-years. The scholarships have totaled $5 million, while strong returns have also allowed the fund to have a balance of $6 million.
The fellowship goes to students who have "the fire in the belly" to build and lead a business as general managers or owners, Genovese said.
"The greatest joy is running something and being your own boss. I wanted to impart that to others," he said. "I also wanted to produce alumni so beholden to Darden that they will give back just like I did. I am just trying to perpetuate the giving."
That wish is coming true, as three Genovese Fellows recently launched scholarship funds of their own to support future Darden students, leveraging matching funds from the UVA's Bicentennial Scholars Fund to maximize their giving.
All of them remember Genovese's clear expectation the day they received their awards: that they would pay it forward to Darden with a million-dollar gift someday.
'A Commitment I Had to Honor'
Mike Augins (MBA '99) has launched a pooled scholarship fund. He is an owner in a suite of Charlotte, North Carolina, firms: Charlotte Management Advisors, MAP, and Magic Money.
"Upon awarding me the Genovese Fellowship, Frank made it clear to me that his expectation was that I would return 10 times the value I received back to Darden. That has always felt like a commitment that I had to honor," said Augins, who serves on the Genovese Fellowship selection committee.
"I established the scholarship as the first step toward honoring my promise to Frank and to Darden. I did it in order to recognize the impact Darden had on my life and fulfill my promise to Frank as a measure of my gratefulness for his benevolence."
'Darden Overdelivered'
Dave Banyard (Darden '04) spent 11 years as a Navy pilot before entering Darden. He says the tuition break the Genovese Fellowship provided helped accelerate opportunities for him and his family at a time when finances were tight.
"Darden overdelivered on what I was hoping to get out of business school. They're first and foremost focused on the student and teaching, and that really changes the game for the students," he said.
Banyard is president of MasterBrand Cabinets Inc. As his career evolved, he began looking for ways to support the places and people who have made a difference for him "so others behind me can have the same advantage."
In addition to other support for the School and for the Cleveland, Ohio, community where they live, Banyard and his wife started a Darden scholarship fund with $100,000. He expects it will be fully funded in five years.
'Receiving the Genovese Fellowship Was an Aha Moment'
Genovese Fellow Darren Fultz (MBA '06), co-founder and CEO of Dorilton Capital Advisors, a private investment firm in New York City for small and medium-size businesses, has supported the Darden Annual Fund since he graduated. A few years ago, he started thinking about personally meaningful ways to give back.
"I spent more time thinking about what it is I'm trying to do by giving to Darden each year. I realized the program fundamentally changed my career trajectory and future earning capability," Fultz said.
So last year, Fultz established a scholarship fund and committed to funding it fully within five years. His gift has everything to do with Genovese's generosity.
"I had lofty aspirations for myself as a young kid, but receiving the Genovese Fellowship was definitely an aha moment: 'Wow. Here's someone who's a Darden alumnus, who's very successful saying I believe in you guys,'" Fultz said. "That was definitely a vote of confidence that reinforced that the whole experience, the network you create and the opportunities you find afterwards could be really meaningful."
Learn more about the impact of the Darden Annual Fund at giving.darden.virginia.edu. 
Read the latest issue of Pillars — Darden's publication dedicated to the power of philanthropy.
About the University of Virginia Darden School of Business
The University of Virginia Darden School of Business delivers the world's best business education experience to prepare entrepreneurial, global, and responsible leaders through its MBA, Ph.D., MSBA and Executive Education programs. Darden's top-ranked faculty is renowned for teaching excellence and advances practical business knowledge through research. Darden was established in 1955 at the University of Virginia, a top public university founded by Thomas Jefferson in 1819 in Charlottesville, Virginia.
Press Contact
Sophie Zunz
Director of Media Relations
Darden School of Business
University of Virginia
ZunzS@darden.virginia.edu
+1-434-924-7502