Image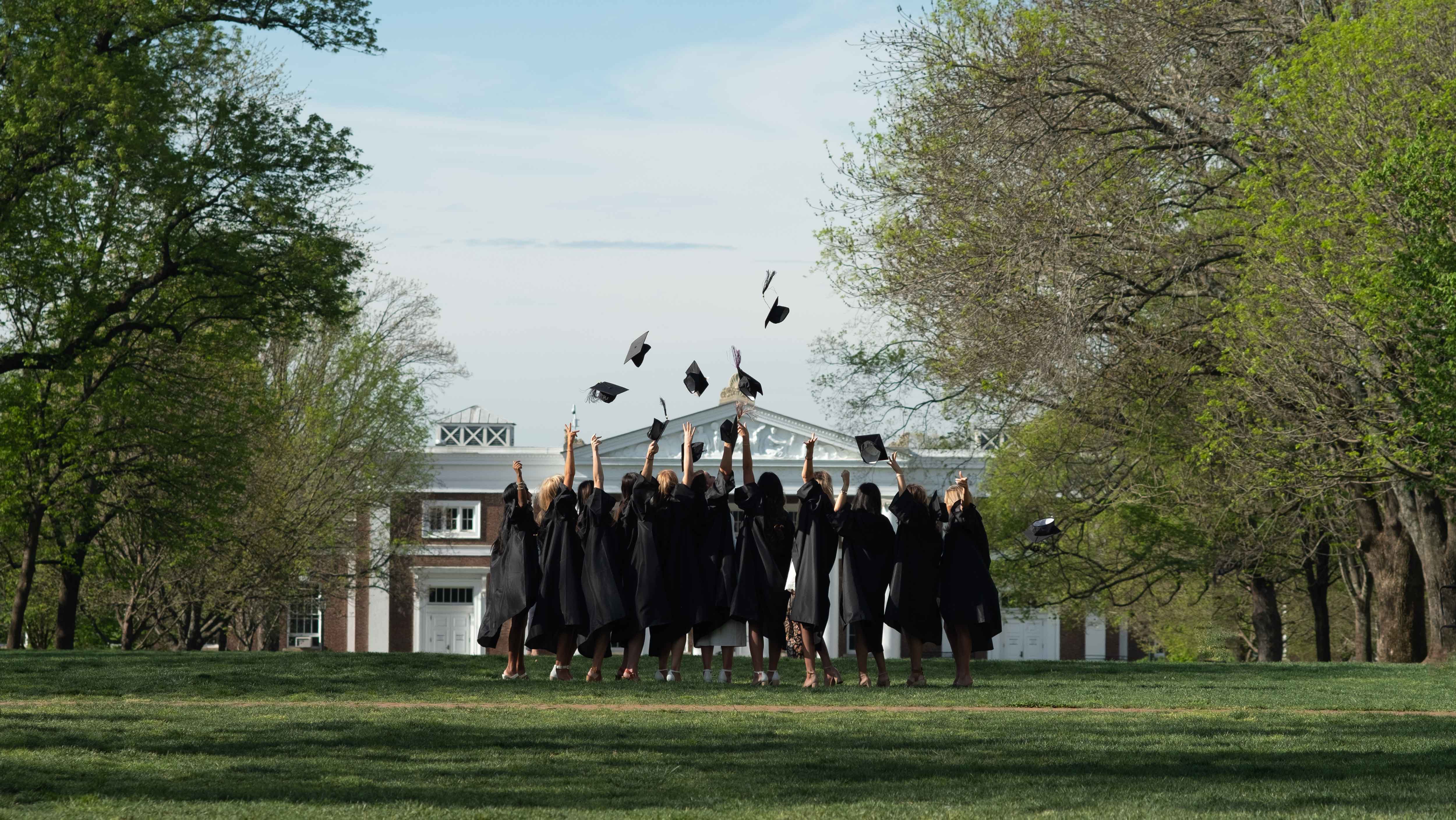 When the Class of 2023 walked the Lawn on Sunday, a noteworthy group of students also participated in the happy occasion.
Ten Piedmont Virginia Community College graduates who transferred to UVA for the fall 2021 semester comprised the inaugural cohort of students selected for a scholarship program that creates new opportunities for students who wish to transfer from the Charlottesville-based community college to UVA.
The Piedmont Scholars Program is an endowed fund that provides scholarships covering full in-state tuition and fees to qualifying PVCC graduates who transfer to UVA, and who have also been selected as recipients of UVA's University Achievement Award. All in-state students who apply for transfer admission to UVA as full-time, degree-seeking students, and who will earn an associate degree from PVCC, are eligible to be considered.
The program was established by an anonymous $5 million gift, matched by $4.5 million in UVA funds, creating a nearly $10 million endowment to support annual scholarships.
PVCC and UVA have had a unique partnership since the 1980s. Each year, approximately 150 students transfer from PVCC to UVA, many of whom have attended local high schools in Charlottesville, Albemarle, and the surrounding counties. The Piedmont Scholars Program enables a broader, more diverse pool of PVCC students to attain their educational goals of a degree from UVA.
"We're grateful to these first Piedmont Scholars for choosing UVA," said Stephen Farmer, UVA's vice provost for enrollment. "They're an incredible group—as distinguished in their achievements at PVCC as they are different in the paths they've traveled. We're confident they'll make everyone around them better, and we hope they'll inspire other PVCC students to follow them."
We spoke to two Piedmont Scholars who exemplify the promise of the PVCC-UVA partnership.
Image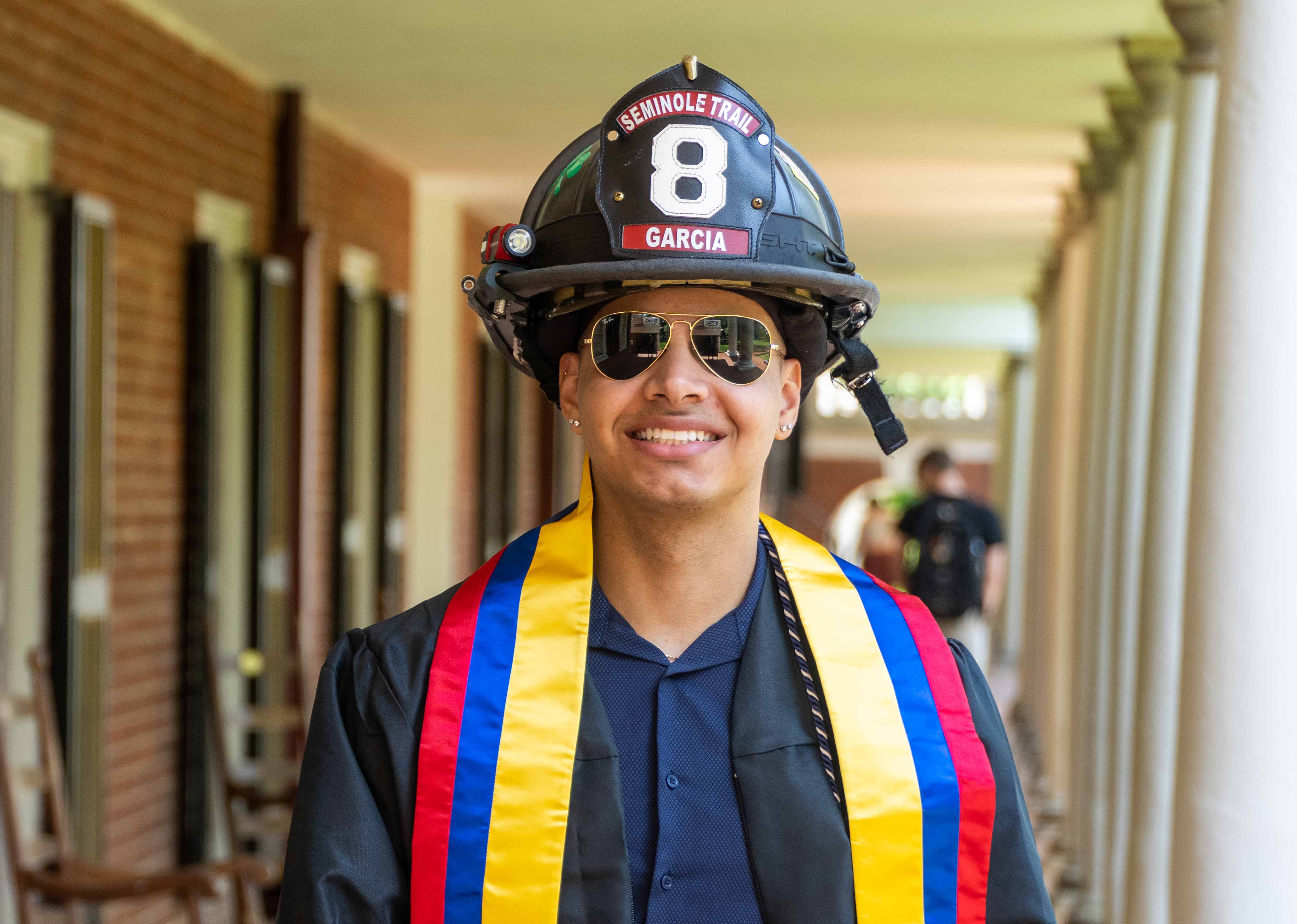 Christian Garcia
Growing up in Palmira, Colombia, Christian Garcia (Col '24) emigrated to the U.S. as a teenager. Knowing very little English, he immersed himself in ESL classes at PVCC before graduating in 2021 and transferring to UVA. He's grateful for his start at PVCC. "It taught me how to communicate," he said. "It was the right move for me, because I could not have done it without first being in community college. After three levels of ESL, I felt that I was ready to come here."
While at PVCC, and continuing through his two years at UVA, Garcia served as a volunteer firefighter and EMT based at the Seminole Trail Volunteer Fire Department. His service at one of the busiest stations in the area helped him with his communication skills and to meet the station's large contingent of UVA student firefighters. "It's a really good feeling to help the community," he said.
Garcia was able to volunteer as a firefighter and concentrate on his studies because of his Piedmont Scholarship. It was a life-changing experience. "All the stress went away for me," he said. "The only worries I had after that were about school."
A psychology major, he intends to become a clinical psychologist. Reflecting on his experience at UVA, he shared some advice for future PVCC students entering UVA. "Be optimistic," he said. "The world works in ways that we cannot comprehend, and the universe has no responsibility to make sense to us. But we have to be optimistic. Good things are coming. Keep dreaming."
Image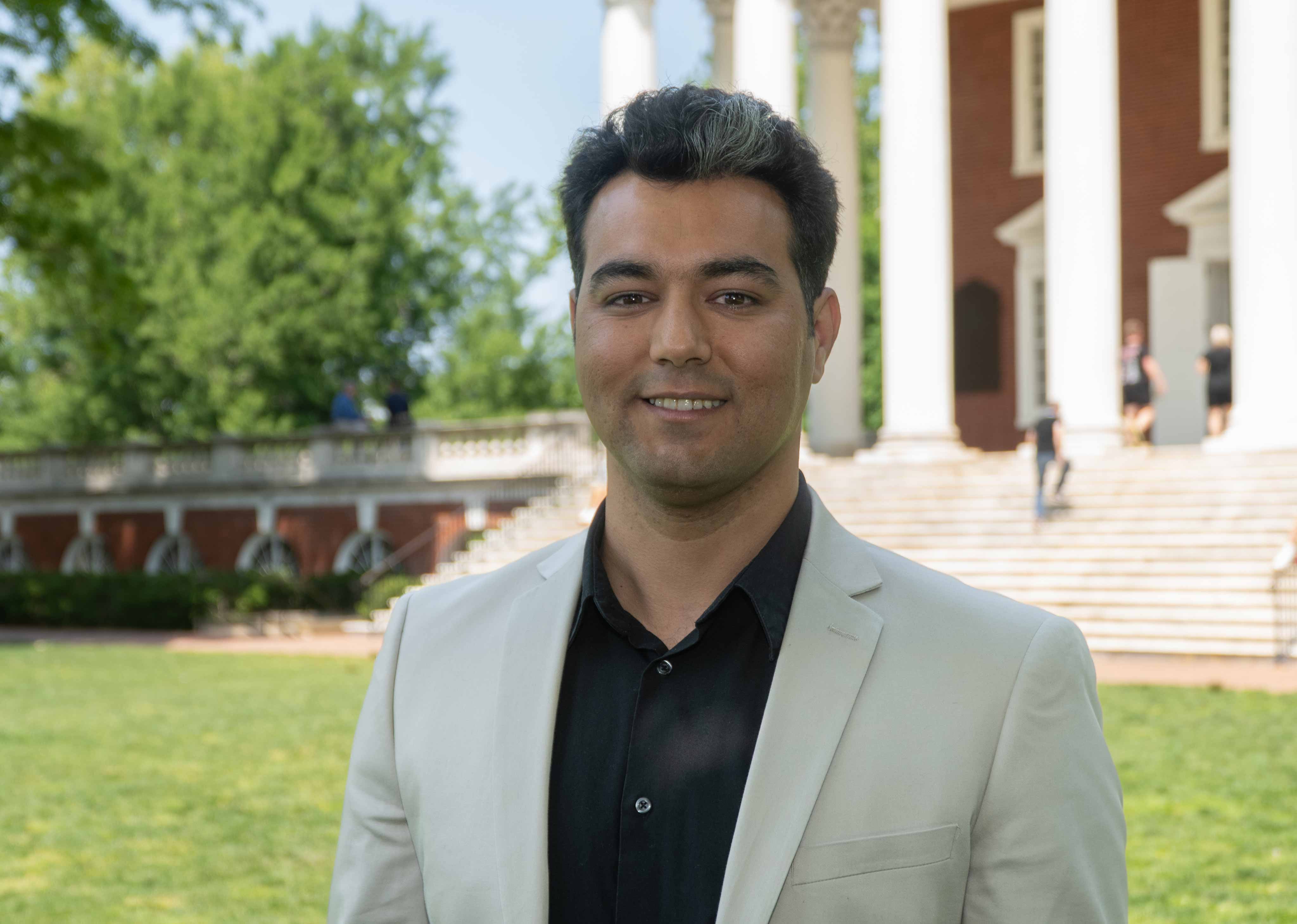 Abdullah "Sam" Al samaraee
In 2010, Sam Al samaraee (Engr '23) and his family arrived in Charlottesville. They were escaping the sectarian violence in Iraq that had claimed the life of his father. With two sisters in middle school and his mother in poor health, he had to postpone his studies to support the family.
Taking a job at the UVA Medical Center as a cardiac monitoring technician, he worked as many shifts as he could, including night shifts. But he wanted something more. He started taking part-time classes at PVCC. His professors there and the academic support staff all pointed him to UVA. "I found that I had a passion for engineering and math," he said. "But it was hard juggling a full-time job with going to school. I applied to UVA and was over the moon when I was accepted two years ago."
Two weeks before he started at UVA, he received the news that he'd been selected as a Piedmont Scholar. "Words cannot describe the amount of gratitude and the happiness I felt," he recalled. "That's an opportunity I never imagined would be available. It just made me more passionate about UVA. I hope to one day be in a place to help students that are in my shoes."
Al samaraee majored in civil engineering at the School of Engineering and Applied Science. He plans to return to Iraq to pursue work in the area where construction intersects with water resource security. "I'm hoping I can go back there and make a difference."
His advice for other transfer students: "Don't stress too much. Keep calm. Stay calculated. Just focus on your studies and you'll get there," he said.