Image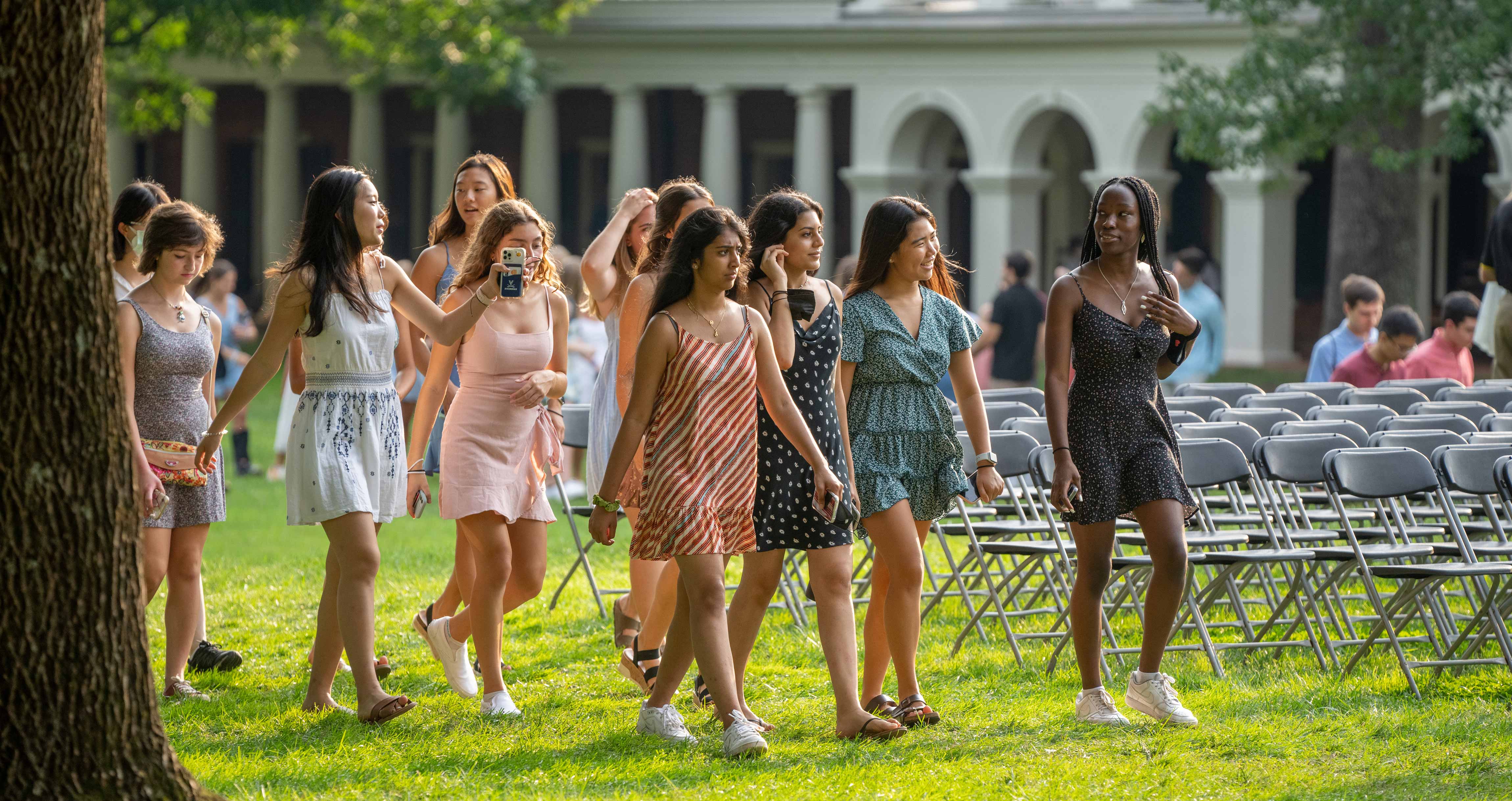 Incoming first-year student Kiara Barrientos (Col '25) described herself as "very outgoing, interested in all kinds of activities, and always involved." Then she listed a few examples: academics, extracurriculars, sports, dance, and Latino culture.
It's clear that at the University of Virginia, Barrientos will be just as active.
Image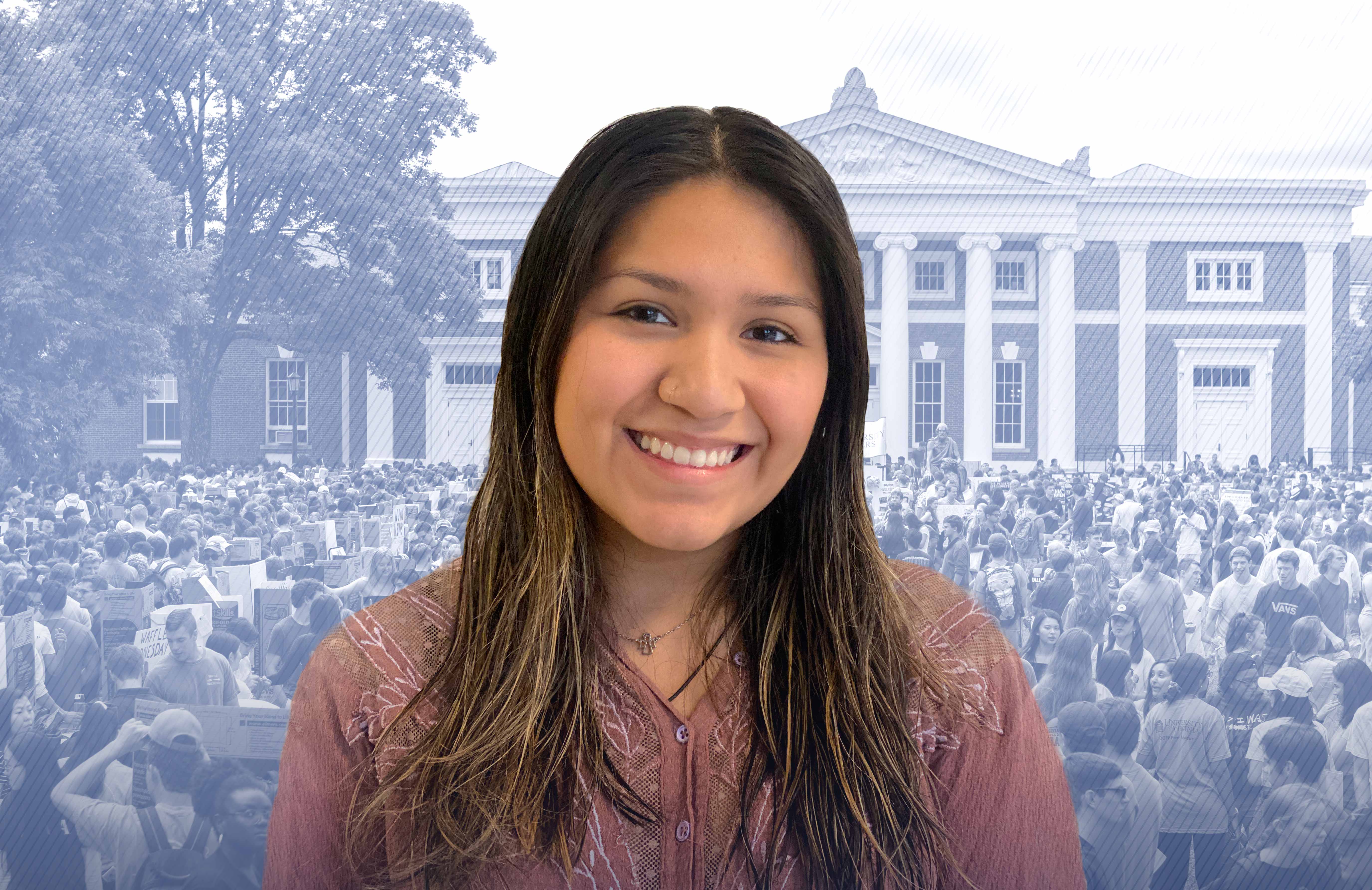 After a hectic day of moving into Hereford Residential College and a long goodbye to her parents, she already had plans to check out some evening events offered as part of UVA's Welcome Week activities for new and returning students. She also mentioned several service groups across Grounds that are on her list to investigate, such as Girl Up, an organization she was a part of at Heritage High School in Leesburg, Virginia.
Barrientos's academic agenda is full as well. Her fall classes include courses in philosophy, Spanish, and the Engagements sections in the College of Arts & Sciences. She plans to study political philosophy, policy, and law and has set her sights on attending law school after graduation.
Among the many efforts of the Bolívar Network, encouraging students like Barrientos to attend the University is a top priority. In recognition of her outstanding achievements, the network's scholarship committee selected Barrientos over the spring to receive its first-ever, UVA Bolívar Network First-Year Scholarship. "All the candidates were top-notch, really. But her profile was simply excellent. We couldn't help but choose her for the scholarship," said Hernando Herrera (Col '89).
Start and Restart
The First-Year Scholarship was originally created in 2009 under the leadership of Herrera and Jenny Willier Murphy (Col '89) during their time on the Bolívar Network's board and with a generous donation from Alexandra Arriaga (Col '87). In honor of their 20th reunion, Herrera and Murphy made five-year pledges and launched the network's first capital campaign (2010-2015), raising $22,000 of its $100,000 goal. The scholarship, which recognizes students who demonstrate the network's founding principles of leadership and service to the Hispanic/Latinx community, is designated for an exceptional Hispanic/Latinx high school student from the commonwealth of Virginia to attend UVA.
Following a period of inactivity, the revival of the scholarship initiative was marked by the 2020 Bolívar Network Virtual Annual Awards Brunch, which saw the announcement of Undergraduate Book Scholarship recipients, the inauguration of the Valerie Gregory Impact Award—named for the longtime UVA admission dean—and the awarding of the Pablo J. Davis Award to Wayne Cozart (Col '82), the recently retired vice president for development and executive director of the Jefferson Trust at the University of Virginia Alumni Association.
The awards brunch relit the passion to relaunch the First-Year Scholarship Campaign.
When Herrera and Murphy attended the 2020 Awards Brunch, they quickly recognized the Bolívar Network's renewed energy. "Both of us were texting: 'We've got to get the First-Year Scholarship going again!' and that started it," Murphy said.
The Bolívar Network's accomplishments are many, but one stands out: its ability to connect Hispanic and Latinx alumni to encourage them to share experiences, give advice, and inspire a strong sense of unity.
Gina M. Flores Stumpf, a current Bolívar Network vice-chair of fundraising & development
Their excitement spread. Since then, many others have joined the effort, often with much-appreciated insight and helpful advice, including Ashley Cullop (Col '06, Ed '10 '12), chief development officer at the Alumni Association; Molly Bass (Col '88, Ed '90), director of scholarships and endowments at the Alumni Association; and Chelsea "CC" Duncan (Col '09, Ed '12), associate dean and director of diversity, inclusion and outreach in the Office of Admission.
Led by Claudia Quintero (Col '11), the Bolívar Network board chair; Hannah "Mel" Borja (Col '19), vice-chair for scholarships & awards; as well as Gina M. Flores Stumpf (Col '00) and Brian Zuluaga (Batten '20), both fundraising & development vice-chairs, the Bolívar Network has reset the original $100,000 goal, raising $8,000 over the last few months of $30,000 for the scholarship.
For Murphy, Herrera, and the many others involved, it's time to keep up the momentum and enthusiasm to promote giving to the scholarship. Herrera credits Murphy for championing the scholarship and restarting the fundraising effort. "Jenny never forgot. She would regularly remind me (and others) that we had started a dream . . . a project that was meant to address a real need. We couldn't do it without a campaign, so now we are committed to it," he said.
Connections that Unite
Flores Stumpf is proud of the high-level volunteer effort and its impact on the Hispanic and Latinx community. She's also grateful for the collaborative relationships between the Bolívar Network; Student Affairs; the Office of Admission; the Office of Diversity, Equity, and Inclusion; and schools across Grounds in helping coordinate the scholarship award.
"The Bolívar Network's accomplishments are many, but one stands out: its ability to connect Hispanic and Latinx alumni to encourage them to share experiences, give advice, and inspire a strong sense of unity," said Flores Stumpf. "It's a way to honor the future for our entire community."
"When we first came to the University, there were no Hispanic or Latinx organizations. That's changed," said Herrera. "The Bolívar Network's accomplishments since it began are extensive. It's built connections between different generations of alumni and brought them together. People like Alexandra Arriaga, with her vast experience at places such as Amnesty International USA, and the White House as special assistant to President Bill Clinton and chief of staff to the President's Special Envoy for the Americas; Luis Fortuño (Law '85), the recent governor of Puerto Rico; and Ricardo Padrón (Col '89), who graduated in our class and is now a full professor in UVA's Department of Spanish, Italian, and Portuguese—they are meeting and mentoring brand new students and other graduates."
The Bolívar Network is important to the UVA Hispanic/Latinx community and our future.
Kiara Barrientos
"Reunions are a great opportunity to meet up with classmates but are also good occasions for supporting the scholarship," Murphy added. "Small gifts—especially recurring gifts that are automatically made each month—really do add up. The scholarship can make a difference for students, especially the first-generation students who need support."
Barrientos is honored by the scholarship and optimistic about the possibilities to increase its impact. "I hope others can join in to support the scholarship," she said. "The Bolívar Network is important to the UVA Hispanic/Latinx community and our future."
Quintero added her thanks: "The current Bolívar Network board is grateful for the groundwork fellow alumni laid years ago to make this inspiring milestone for our community possible today and is excited to continue to build off of that progress."
Learn more about the Bolívar Network and how to support the First-Year Scholarship.